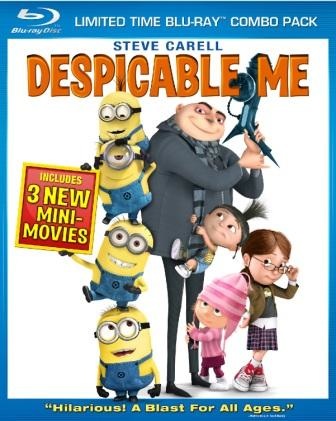 SYNOPSIS
[dropcap]I[/dropcap]n a happy suburban neighborhood surrounded by white picket fences with flowering rose bushes, sits a black house with a dead lawn. Unbeknownst to the neighbors, hidden deep beneath this home is a vast secret hideout. Surrounded by an army of tireless, little yellow Minions, we discover Gru (Steve Carell), planning the biggest heist in the history of the world. He is going to steal the moon. Yes, the moon!
Gru delights in all things wicked. Armed with his arsenal of shrink rays, freeze rays and battle-ready vehicles for land and air, he vanquishes all who stand in his way. Until the day he encounters the immense will of three little orphaned girls who look at him and see something that no one else has ever seen: a potential Dad.
One of the world's greatest super-villains has just met his greatest challenge: three little girls named Margo, Edith and Agnes.

CAST AND FILMMAKERS
Directed By: Chris Renaud, Pierre Coffin
Screenplay By: Cinco Paul, Ken Daurio, Sergio Pablos (Story)
Produced By: Chris Meledandri, Janet Healy, John Cohen
Executive Producer: Nina Rowan, Sergio Pablos
Production Designer: Yarrow Cheney
Editors: Pam Ziegenhagan-Stephan, Gregory Perler
Original Music: Pharrell Williams, Heitor Pereira
Cast: Steve Carell, Jason Segel, Russell Brand, Julie Andrews, Miranda Cosgrove, Will Arnett, Kristen Wiig, Jemaine Clement, Danny McBride, Jack McBrayer
BONUS FEATURES EXCLUSIVELY ON BLU-RAY 3D Combo Pack, Blu-ray Combo Pack, and DVD Double Pack:

THREE ALL NEW, MINI-MOVIES Starring THE MINIONS — The fun continues with three all-new mini-movies, created exclusively for the Blu-ray Combo Packs and DVD Double Pack! Available for a limited time only! Get more laughs and more minion mayhem with "Home Makeover", "Orientation Day" and "Banana" – you'll want to watch them again and again!

THE VOICES OF DESPICABLE ME —Go behind-the-scenes with Steve Carell, Jason Segel, Russell Brand, Miranda Cosgrove, Kristen Wiig and Julie Andrews as they give life to their animated characters. Includes character profiles for each of the cast members!

SUPER SILLY FUN LAND—Join Agnes, Margo and Edith at the Super Silly Fun Land Theme Park and play Feed the Creatures and Freeze the Floating Minions to win super cool prizes.

BONUS FEATURES EXCLUSIVELY ON BLU-RAY 3D COMBO PACK AND BLU-RAY COMBO PACK:

GRU-CONTROL – Through a picture-in-picture window, see the making of the film with behind-the-scenes footage and cast/filmmaker interviews

MISS HATTIE'S TOP SECRET COOKIE RECIPES—Margo is proud to present the recipes for those wonderful cookies that the loveable orphans under Miss Hattie's care enjoy so much!

BD-LIVE—Access the BD-Live™ Center through your Internet-connected player to get even more content, watch the latest trailers and more.

MY SCENES—Bookmark your favorite scenes from the movie.

pocket BLU app— For the first time available on iPad, owners can enjoy a new, enhanced edition of pocket BLU made especially to take advantage of the tablet's larger screen and high resolution display. Consumers will be able to browse through a library of Blu-ray™ content and watch entertaining extras on-the-go that's bigger and better than ever before. USHE's groundbreaking pocket BLU™ app uses iPhone™, iPod® touch, iPad, Blackberry, Nokia Smartphone, Android, PC and Macintosh to work seamlessly with a network-connected Blu-ray player and offers advanced features such as:

MINION ME—Exclusively for iPhone and iPad — Personalize photos of friends and family by turning them into Minions. Pictures can be customized with glasses, bowties, hats and hairstyles to make it really hilarious! Send it to your friends with a Minion laugh.

MINION DOMINION APP—Exclusively for iPhone and iPad Control a Minion by turning, tilting, rotating and shaking your phone. Tap the screen to make him speak, tap it again to hear him laugh. Or do battle with the two-player "minion mash up." Download to your iPhone and see who can inflict the most damage on the other's minion.

Advanced Remote Control: A sleek, elegant new way to operate your Blu-ray player. Users can navigate through menus, playback and BD-Live  functions with ease.

Video Timeline: Users can easily bring up the video timeline, allowing them to instantly access any point in the movie.

Mobile-To-Go: Users can unlock a selection of bonus content with their Blu-ray discs to save to mobile devices or to stream from anywhere there's a Wi-Fi network, enabling them to enjoy exclusive content on the go, anytime, anywhere.

Keyboard: Enter data into a Blu-ray™ player with your device's easy and intuitive keyboard to facilitate such Blu-ray™ features as chatting with friends and sending messages.

BONUS FEATURES AVAILABLE ON DVD AND ALL VERSIONS:

The World of Despicable Me

Despicable Beats—Director Chris Renaud talks about the cool factor of renowned music producer Pharrell Williams.

Gru's Rocket Builder—In an all-new game, Vector has stolen some of the most famous landmarks from around the world and replaced them with the pieces to Gru's rocket. Players must return all the stolen landmarks to the correct countries in order to build their own rockets before Vector hacks into the system and steals the rocket plans. The reward for completing the rocket is a launch to the moon!

A Global Effort—Learn all about the global effort behind Despicable Me. A director from France and another from the USA, plus an American and English cast created a movie in France, with artists from all over the world for a truly international movie!

Commentary with directors Chris Renaud and Pierre Coffin, featuring the Minions!

I LOVED IT!

I was sent a standard definition copy of Despicable Me to review.  After seeing the first 15 minutes of the movie,  I shut it off and went to Walmart to buy the Despicable Me Blu-ray combo pack!  I had to watch this movie in full 1080p High Definition!  The combo pack also came with an adorable free 12″ inflatable Minion which is a Walmart exclusive that my son just had to have.  Too cute!

Steve Carell (Gru) is simply amazing in this movie!  He is hilarious as you would expect and adds a sense of charm in an odd sort of way with his exaggerated Russian accent.  Despicable Me is filled with fun imagery, explosives, adorable orphans plus cute yellow Minions, heartfelt moments, and humorous gut-busting scenes!  It happens to be one of the best animated movies I have had the pleasure of seeing all year.

Despicable Me makes a fantastic last minute gift idea!  Pick it up now and stuff your kiddos stocking with laughter.  It's an EXCELLENT movie for the whole family to enjoy.

Despicable Me Giveaway!




To celebrate DESPICABLE ME on Blu-ray and DVD and Golden Globe nomination, Universal Studios Home Entertainment would like to offer A Happy Hippy Mom readers the following DVD giveaway:

1 GRAND PRIZE

DESPICABLE ME Single Disc DVD

DESPICABLE ME Blu-ray and DVD Beannie (one size fits most)

DESPICABLE ME Blu-ray and DVD Stickers

DESPICABLE ME Blu-ray and DVD Activity Sheets

4 PRIZES

DESPICABLE ME Blu-ray and DVD Beannie (one size fits most)

DESPICABLE ME Blu-ray and DVD Stickers

DESPICABLE ME Blu-ray and DVD Activity Sheets

To enter the giveaway please leave me a comment letting me know you want to win!

Extra Entries
1. Read any of my other reviews without a giveaway and leave me a comment there.  Then come back here letting me know you did. Make sure you leave ten separate comments  (example: Left a comment at review extra entry 1, Left a comment at review extra entry 2, Left a comment at review extra entry 3, ect.).   This is worth 10 extra entries.
2.Mention the giveaway on your own blog linking back to this post.  Leave an additional comment with a link to where you blogged about the giveaway. This is worth 5 extra entries.  Make sure you leave five separate comments. (example blogged extra entry #1, blogged extra entry #2, blogged extra entry #3, ect…)
3. Follow my blog and leave me an additional comment. ( There is a little widget on my sidebar that shows my followers. Just click follow). If you already follow leave me a comment letting me know you already do. (3 extra entries)
4. Enter any of my current giveaways and let me know you did here. (3 extra entries)
5. Follow @ahappyhippymom on Twitter and tweet about the giveaway. Please make sure you leave the link where you tweeted in your comment. YOU CAN TWEET ONCE PER DAY TO INCREASE YOUR CHANCES OF WINNING.  USE THE RETWEET BUTTON AT THE BOTTOM OF THIS POST FOR EASY ENTRY.
6. Subscribe to my feed and leave a comment. If you already subscribe leave a comment telling me you are already a subscriber.
Winners will be chosen at random via Random.org.   Info will be forwarded to sponsor.
Open To US Residents Only- age 18 +
The contest ends Jan 12th,  11:59 PM eastern