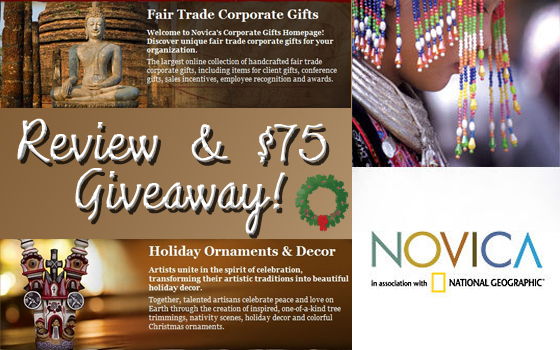 I enjoy shopping for gifts, yet there always happens to be a couple of family members and friends  on my holiday shopping list that seem impossible to buy for and purchasing the right item to surprise them on Christmas day is like going on a treasure hunt without knowing what your looking to find.  It's frustrating and time consuming,  which is the last thing I need when I'm scrambling to be at holiday school concerts, Christmas parties, and social gatherings.  Not to mention the distress I have to go through by taking my rambunctious toddler into high-end stores and fearing he is going to break something expensive.  AND you know the rules—–If you break it, you buy it!  Thank goodness  for  NOVICA , where I can quickly shop online in the privacy of my own home and have access to thousands of unique gifts.
NOVICA, in association with National Geographic, unites you with more than 2,000 extraordinary master artists around the world.  You can let you fingers do the traveling to places afar and dazzle your family members with hand crafted gifts from places like Africa, India, Bali,  and Java.  With over 30,000 exquisite works of art including fair trade corporate gifts, green gifts, jewelry, home decor, and other fine collectibles just a click away—–there is something for everyone!   Furthermore, the NOVICA website is easy to navigate to help make  holiday shopping effortless.  Example, under the "Gift Finder" tab you can narrow products down by targeted price ranges and specific gifts suitable for "him" or "her."  This diminishes the time needed to find that perfect something for the person on your list.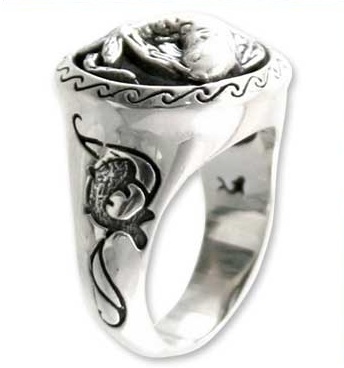 A while back ago I had the opportunity to shop at NOVICA and purchased a gorgeous "Lucky Koi" men's sterling silver cocktail ring for my husband.  The ring was designed by Henry Anthony Sanny who was born in Jakarta and moved to Bali in 2002 where he has since established his own workshop.  Henry's fine detail in crafting men's jewelry is influenced by his Indonesian surroundings, as well as by his admiration of Japanese artistry.  I LOVE his work and think he is extraordinarily talented.  I was happy to discover him through NOVICA and be able to purchase a ring from his collection.  When the ring arrived it came in a beautiful jewelry box along with an artisan story card and a handwritten note.  I thought this added such a delightful personal touch to know who actually made the gift.  My husband has worn the ring ever since the first day I gave it to him and loves it.
Recently I was contacted again by NOVICA and given a complimentary gift certificate code to go shopping and share my experience with all of you.  I've been having so much fun browsing through the one-of-a-kind items!  I'm thinking about purchasing this citrine and carnelian choker.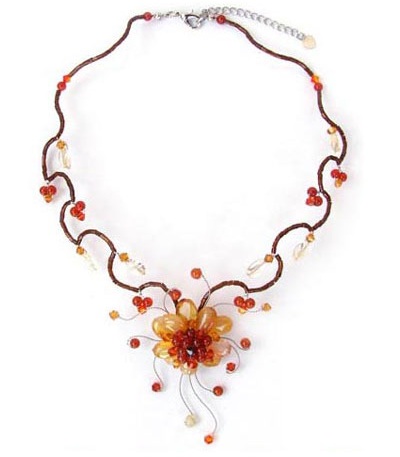 Isn't it fabulous?  I've NEVER seen anything quite like it!  The "Fire Flower" choker was created by an artisan named Busarin Hutawarakorn.  She says most of her patterns display butterflies, dragonflies, flowers and other images that put people and nature back together.  Absolutely GORGEOUS!  You can view additional items by Busarin here.
I was going to wait to post my review until after I received the item I decided upon.  However, I wanted one of you to be able to  shop  at NOVICA during the holidays and experience all the wonderful gifts the website has to offer!  It truly is one of the most exceptional places I have ever had the pleasure of shopping at!
Microfinance Website
Novica has impacted the lives of thousands of artisans by connecting them to customers around the world.
Now, on our 10th anniversary, we want to continue helping artisans expand their businesses by providing access to microcredit.
For many years, Novica artisans have asked us if we could help them get loans so they could expand. We tried everything. We connected them with financial institutions. We introduced them to local banks. We even introduced them to microfinance institutions. But, unfortunately, most artisans could not obtain loans, and when they did, the interest rates were very high.
In the Novica spirit, we cut out all the financial middlemen and took the matter into our own hands!
We're launching the first-ever microfinance website where customers can purchase products and lend money directly to artisans.
And with no middlemen involved in the process, our Artisan Loans will carry 0% interest.
Yes – artisans will not be charged any interest. This revolutionary concept is possible only because Novica has offices in developing nations working directly with artisans and fulfilling customer orders. Now, our offices will also serve as disbursement centers for Artisan Loans, providing artisans access to the credit that they need to grow. We're very excited about this effort.
GIVEAWAY!
Courtesy of NOVICA, one reader will win a $75 gift certificate code to go shopping and buy anything their heart desires!  To enter the giveaway, please take a look under the "Corporate Gifts" section and  leave me a comment sharing your favorite corporate gift.
EXTRA ENTRIES
1. Read any other review (WITHOUT A GIVEAWAY) and leave me a comment there.  Then come back here letting me know which review you did. Make sure you leave ten separate comments  (example: Left a comment at review extra entry 1, Left a comment at review extra entry 2, Left a comment at review extra entry 3, ect.).   This is worth 10 extra entries
2. Mention the giveaway on your own blog linking back to this post  and  NOVICA.  Leave an additional comment with a link to where you blogged about the giveaway. This is worth 5 extra entries.  Make sure you leave five separate comments. (example blogged extra entry #1, blogged extra entry #2, blogged extra entry #3, ect…)
3.Place my button on your blog and then leave an additional comment with a link to the page where you put the button. If you already have my button leave a comment letting me know you already have it.
4. Follow my blog and leave me an additional comment. ( There is a little widget on my sidebar that shows my followers. Just click follow). If you already follow leave me a comment letting me know you already do.
5. Follow ahappyhippymom and NOVICA on Twitter and tweet about the giveaway. Please make sure you leave the link where you tweeted in your comment. TO INCREASE YOUR CHANCE OF WINNING I AM ALLOWING 1 TWEETS PER PERSON DAILY.  USE THE RETWEET BUTTON AT THE BOTTOM OF THIS POST FOR EASY ENTRY.
6. Subscribe to my feed and leave a comment. If you already subscribe leave a comment telling me you are already a subscriber.
7. Like NOVICA on Facebook.  This is worth 2 extra entries.
8. Like ahappyhippymom on Facebook. Worth 2 extra entries
9. Enter any of my other ACTIVE giveaways.  Leave a separate comment for each one entered.
A winner will be chosen at random via Random.org. Upon notification the winner has 72 hours to send me their contact information.  Information will be forwarded to sponsor for prize fulfillment.
Open to residents WORLDWIDE  18+
The contest ends Dec. 11th ,  11:59 PM eastern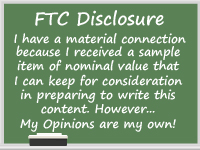 [ad#Google Adsense]
Check out my Holiday Gift Guide for more great gift giving ideas!