I have a thing for coffee!  Do you?  Every morning the FIRST thing I reach for after stumbling out of bed is a cup of coffee.  My family knows I'm rather worthless until I have had my coffee and  it's best to wait  at least 10 minutes after the cup is completely empty before attempting to speak to me.  Having a great tasting cup of coffee is important and I need it as quickly as possible to get my day going.  NESCAFÉ Dolce Gusto recently launched a line of stylish machines that serve single-cup coffeehouse caliber coffee made of premium 100% Arabica beans, dispensing a quality cup of Espresso, Cappuccino, Latte Macchiato and Lungo (traditional cup of coffee) in under a minute!  In addition to their 100% Arabica hot and cold coffees, NESCAFÉ machines can also brew peach iced tea and hot chocolate too!  Now how cool is that!
The sleek machines look more like robots than coffee makers and come in four different styles which include the Piccolo, Creativa, Melody 2 and Circolo.  Each machine carries  an individual style and personality!  Check it out!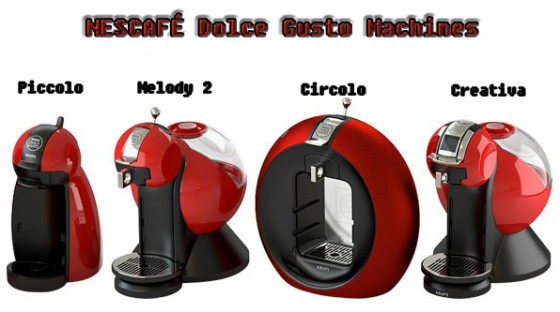 What makes the NESCAFE Dolce Gusto single-cup coffee machines different?
Besides the obvious ultra modern and compact design, the NESCAFE  machines deliver a  professional 15-bars of pressure compared to most competitors offering zero to two bars.  The result is a delicious cup of frothy coffee in the convenience of your own home just like you would expect to receive from a premium coffee house.  Additionally, the exclusive KRUPS Thermoblock technology heats the water fresh every time eliminating the stale taste you find in standard coffee machines and provides a greater heating capacity producing a more even temperature,  giving you a quick superb beverage.  BUT what really sets the NESCAFE Dolce Gusto machines at the top is the unique capability of letting you decide the strength of your coffee.  Unlike other single serve brewing systems which decide how much water should be added, the NESCAFE Dolce Gusto coffee makers feature a patented "Custom Control Lever"  giving you complete determination of the beverage's strength and texture .
Flavor Capsules
NESCAFE Dolce Gusto machines use flavor capsules. The coffee that is used in the capsules is made of premium 100% Arabica pure coffee beans and the milk capsules contain sweetened, hormone-free whole milk.  Varieties available include:
House Blend / Caffè Americano
Caffè Lungo
Caffè Lungo Decaf
Espresso
Cappuccino (w/ milk capsule)
Latte Macchiato (w/ milk capsule)
Chococino (w/ milk capsule)
Mocha (w/ creamer capsule)
Cappuccino Ice (w/ milk capsule)
Nestea Peach Iced Tea
Vanilla Latte Macchiato (w/ milk capsule)
Dark Roast / Caffè Grande Intenso
Cappuccino Skinny (w/ milk capsule)
The capsules retail for $8.99 for 16 beverages.   For those varieties utilizing a milk capsule, the box will contain half milk and half coffee capsules giving you 8 beverage servings instead of the 16.
The Test Drive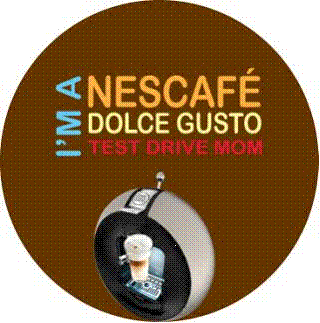 Mom Central recently selected me to participate in the "NESCAFÉ Dolce Gusto Test Drive"  campaign and sent  a Circolo machine  for me to try out.  When I opened the box to take a peek at the coffee maker my first reaction was OH WOW this thing looks AWESOME!  Before receiving the Circolo,  I was using another single cup brewer that I thought was amazing and couldn't live without.  NOW I feel the same way about the NESCAFÉ Dolce Gusto Circolo!  I have been using it for about two weeks and LOVE IT!  Honestly, if you enjoy a frothy cup of latte or cappuccino like you get at Starbucks, the Circolo can nearly duplicate the same results in your own home.  NO JOKING!
Overlook of the Circolo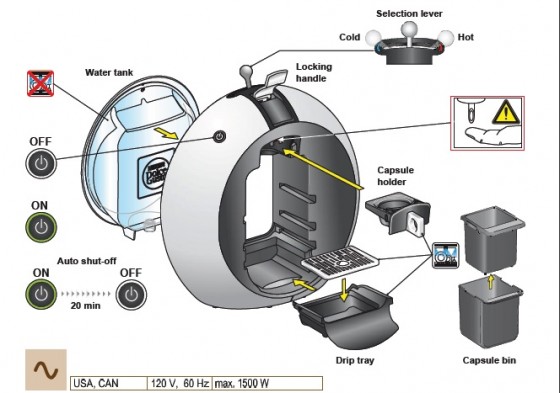 How To Use It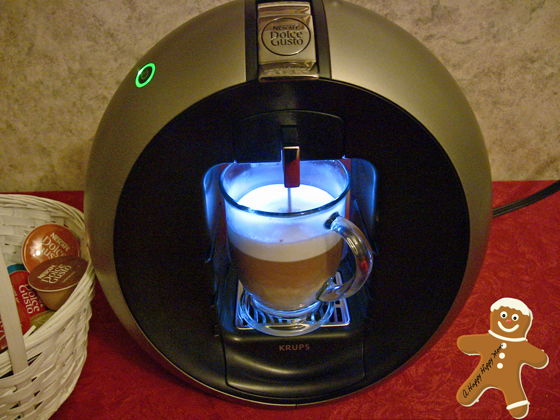 The NESCAFE Dolce Gusto Circolo may look complex, but it's very simple to use.  Depending upon the beverage your making ( like the latte or  cappuccino) you will need to select both a coffee and milk capsule.  The coffee capsules are darker in color and the milk capsules are white.  The company also recommends when making latte or  cappuccino that you use the milk capsule first then the coffee capsule to keep the foam white which gives the beverage a more authentic look.
Next you fill the machine with water,  turn on the machine and wait for the light to turn green (it only takes about a minute).  Then pull out the capsule holder and drop the pod into the tray.  Push the locking handle down to pierce the capsule and lock it into place.
To start brewing shift the lever over to the "hot" (red) or "cold" (blue) position. Don't walk away from the machine and leave it unattended, because it will not stop automatically.  Once you have the desired amount of coffee in your cup move the lever back to the off position and discard the used capsule.
If your using a milk capsule just repeat the steps above.
Now your ready to enjoy your delicious beverage.  Even if your not using a milk capsule your coffee will have a nice layer of froth. YUM!
My Favorite Flavor Cup
I have tried almost all the flavors available within the two weeks of testing the Circolo.  I don't think I can choose just one flavor as my favorite, because each one has it's own delicious uniqueness.  However the Nestea Peach  Tea was incredible!  I used hot water instead of the cold to make the tea and it was so soothing.  The aroma and sweet taste of peaches left a lasting impression.
I fixed my daughter the hot cocoa and the first time I made it she said it was too weak and tasted watery.  Then a few days after,  I made her another cup using less water, topped it with some whipped cream and a drizzle of chocolate sauce.  She LOVED it!
Being that I'm controlling how much water is being used, I had to experiment with the flavors to get my desired strength.  Now I can just look at my cup and know how far to fill it.  There is a guide on the NESCAFE Dolce Gusto website giving directions of the recommended water to be used for each flavor, but I go by what I think tastes the best.
Why I Like A Single Serve Machine
Using a single serve machine creates less waste!  I don't necessarily want to drink a whole pot of coffee on my own and by brewing one cup at a time I tend to drink less. PLUS, I like a variety of flavors and the single serve machines give me the option to mix it up!  AND each cup of coffee comes out tasting fresh in under a minute.
What I Would Change

The capsules can become an expensive habit and there is no option of not using them,  since the machine is designed specifically for the flavor cups.  Furthermore, the capsules are made of plastic and aren't exactly eco-friendly neither.  They can pile up!
BUY IT!
The NESCAFE Dolce Gusto Circolo can be purchased online for $149.99 and makes the perfect gift idea for the coffee lover on your list!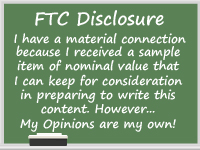 "I wrote this review while participating in a test drive campaign by Mom Central Consulting on behalf of NESCAFÉ Dolce Gusto and received a coffee machine to facilitate my review."
[ad#Google Adsense]