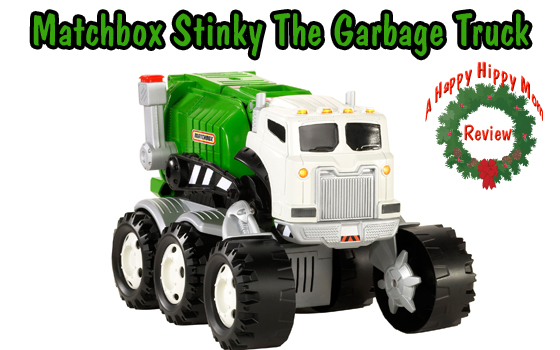 Take a good look at Matchbox Stinky The Garbage Truck by Mattel!  The newest addition to the "Big Rig Buddies"  assortment is going to be one of the HOT toys topping the Christmas wish lists of children this year.  Why?  Because Stinky is not your average run-of-the-mill toy garbage truck.  The highly sought after interactive buddy has a larger than life personality and provides hours of playful entertainment.  The attitude plus garbage truck , recommended for kids aged 3 and up, is likely to sell out quickly around Christmas.  Here is why.
This lovable and interactive garbage truck has trash talking capabilities of over 90 entertaining phrases and sounds!  At the touch of a button and depending upon his mood,  Stinky talks, tells jokes,  exercises, sings, and gobbles up garbage.  He is definitely not shy about letting you know when he is hungry and yells out "FEED ME."  The grille of his cap drops down and functions as a mouth in which you can feed him Matchbox cars or other small toys that can later be dumped out the back.   He even knows when he is being loaded up and belts out "More!  More!  Give me more!"
Just like a real garbage truck, this robotic toy can be "Stinky" and  features gas sounds.  He sometimes belches when he is fed something or makes obnoxious farting noises after being tickled.  Why kids find this to be amusing, I'll never know, but they LOVE IT and will squeal with laughter!
Getting this big green garbage eating machine to react is as easy as pressing  or pulling his smoke stack, touching his belly button, or opening the rear door.  Additionally, pushing him forward or pulling him backward in his vehicle position activates lights and sounds.  When pushed along,  his big white head will turn side side to side and he'll blink his bright headlights. However, Stinky is no dummy and when he is being ignored for too long will fall asleep and snore.
My two rough and tough boys (hubby & son) got down on the floor together and played with Stinky.  They had fun getting him to belt out tunes, giving him high fives, loading and dumping, and pushing the garbage truck around.  For the price tag of $59.99 (amazon.com has it for $49.00) there is tons of fun to be made with this interactive buddy and kids big or small will not get bored easily.  Stinky takes 4 "C" alkaline batteries (included), but can be switched off to be played with manually.  This is nice, because if the batteries run out and you can't immediately make it to the store to purchase more the garbage truck can still be played with.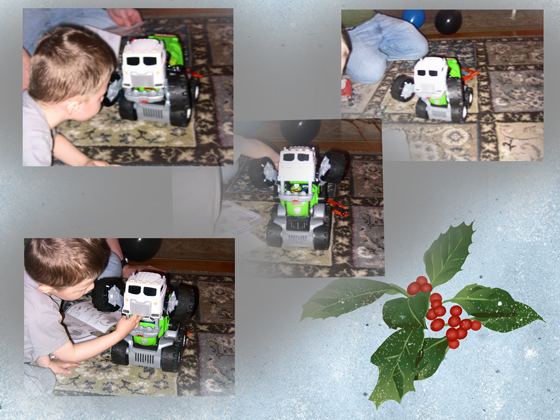 Matchbox Stinky The Garbage Truck also comes with a Matchbox Big Rig Buddies DVD.  The DVD includes two exciting episodes featuring Stinky, a young boy named Felix, and the rest of the Big Rig Crew.  It's fun to pop in the DVD and let kids play with Stinky as they watch the "Big Rig Crew" take on challenges and fun adventures that teach the lessons of teamwork, friendship, and heroism.
BUY IT
To avoid the sad eyes form your kiddo on Christmas day,  get Stinky now before he is sold out!  Stinky normally retails for $59.99, but can be purchased at Amazon.com for $49.00!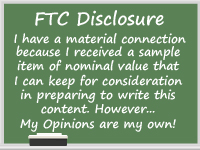 Check out my Holiday Gift Guide for more fabulous gift giving ideas!
[ad#Google Adsense]