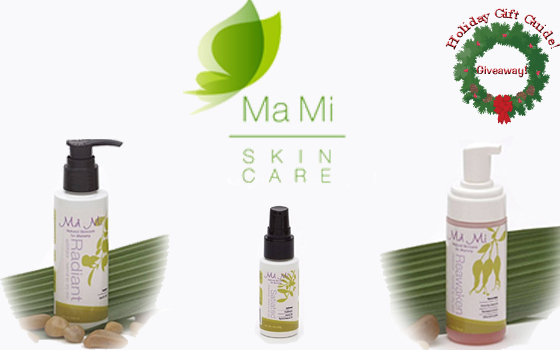 Ma Mi Natural Skin Care is a natural skin care line geared specifically towards moms to help them look and feel healthy, youthful, and vibrant. The company was founded in 2009 by a mother ( Lee Wright) of two young children who realized the important need for natural skin care solutions to be designed to address the specific unique needs and challenges of new moms. The products are derived from natural ingredients that are free of harmful additives such as parabens, toxins, petrolatums and sodium laureth sulfate. Additionally, Ma Mi products contain pure, highly concentrated active ingredients that produce  "quick, visible results"  without the expensive price tag.  The complete  line of natural skin care products include cleansers, exfoliators, moisturizers and specialty products including eye serum, antioxidant serum, c-section scar serum and stretch mark serum.
What makes Ma Mi different?
Designed by moms for moms
Clinically-formulated by doctors to address mother's skin care needs
Made of natural, highly active ingredients with no wasteful fillers
Anti-aging properties are higher than most competitors
Safe, toxin-free, and paraben-free
A complete skincare line including cleansers, exfoliators, moisturizers, & more
An environmentally-conscious company, packaging can be recycled
Ma Mi has generously offered to give one reader a prize pack containing…
Reawaken Cleanser ($14.00)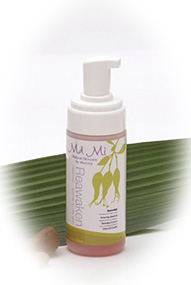 This completely natural, rose hip foamer will calm, clean, soothe and tone! It is enriched with a combination of rose hip seed, seaweed and essential oils to provide a complete spectrum of skin nourishment and protection every time you clean. Seaweed conditions and hydrates the skin with vital nutrients and vitamins while the Rose Hip treats overexposure to the sun and pigment spots. Lastly, the essential oils revitalize and renew Mom's skin back to its natural state and prepares it for exfoliation and moisturizing. Specially formulated for normal to dry skin.
Radiant Exfoliator ($19.00)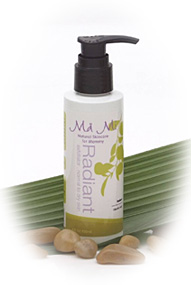 Mom could not ask for a more thorough, effective and gentle exfoliator. Our completely natural Glycolic Wash not only removes the outer layers of thickened and damaged skin, leaving a smoother and healthier appearance, but also penetrates the deep layers of the skin, increasing the rate of dead cell shedding, new cell production and collagen formation. Glycolic is a natural fruit acid so it exfoliates gently without any abrasion or skin damage.
Satiated Moisturizer ($19.00)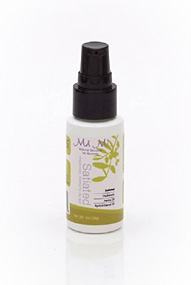 One could not find a more perfect blend of ingredients! Start with Hyaluronic acid, a naturally occurring element in our bodies, that provides maximum hydration by attracting 1,000 times its weight in moisture. This is blended with Jojoba Oil – which is a highly nourishing oil for all skin types. Apricot kernel oil, rich in polyunsaturated fatty acids and high in Vitamin A and E, slows the aging process and treats inflamed skin. Squalane, derived from olives, is easily absorbed into the deepest layers of the skin. This superb combination not only helps to improve tissue hydration, oxygenation, lubrication and cellular function, it also gives a more youthful, glowing appearance to the skin leaving it smooth and silky. Nourished skin is happy skin!
Win It! ($52 Value!)

To enter the giveaway for the chance to win the Ma Mi Reawaken Cleanser, Radiant Exfoliator and Satiated Moisturizer, browse Ma Mi's boutique and leave a comment letting me know which product you would like to try the most (other than the three listed here).
EXTRA ENTRIES
1.Mention the giveaway on your own blog linking back to this post and Ma Mi.  Leave an additional comment with a link to where you blogged about the giveaway. This is worth 10 extra entries.  Make sure you leave ten separate comments. (example blogged extra entry #1, blogged extra entry #2, blogged extra entry #3, ect…)
2.Place my button on your blog and then leave an additional comment with a link to the page where you put the button. If you already have my button leave a comment letting me know you already have it.
3. Follow my blog and leave me an additional comment. ( There is a little widget on my sidebar that shows my followers. Just click follow). If you already follow leave me a comment letting me know you already do.
4. Follow @ahappyhippymom and @gogreenmoms on Twitter and tweet about the giveaway. Please make sure you leave the link where you tweeted in your comment. YOU CAN TWEET ONCE PER DAY TO INCREASE YOUR CHANCES OF WINNING.  USE THE RETWEET BUTTON AT THE BOTTOM OF THIS POST FOR EASY ENTRY.
5. Subscribe to my feed and leave a comment. If you already subscribe leave a comment telling me you are already a subscriber.
6.  Like ahappyhippymom on Facebook. Worth 2 extra entries
7. Like Ma Mi Skin Care on Facebook. Worth 2 extra entries
8.  Enter any of my other giveaways.  Leave me a comment telling me which giveaway you entered.  The giveaway must be still active in order to gain an extra entry.
9. Comment on any of my NON giveaway posts to gain extra entries. Please leave me an extra comment here for every post you commented on.
A winner will be chosen at random via Random.org.   Info will be forwarded to sponsor.
Open To US Residents Only- age 18 +
The contest ends Nov. 30,  11:59 PM eastern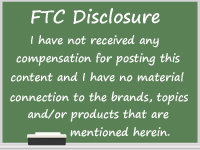 [ad#Google Adsense]