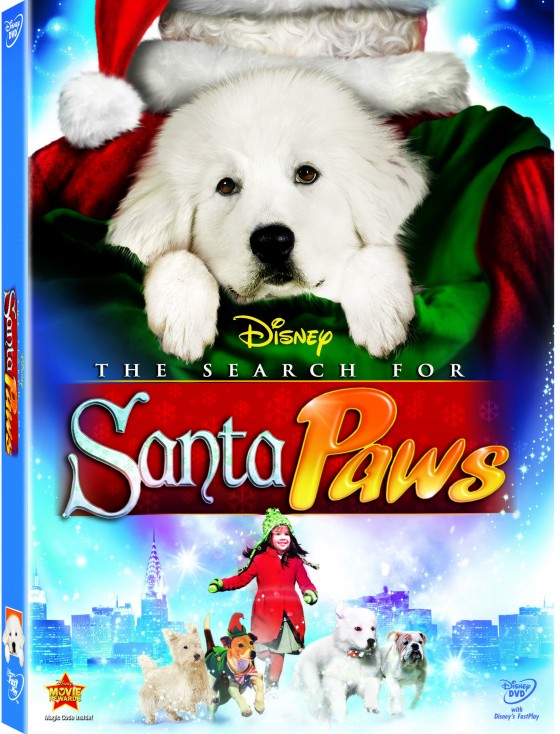 Heartwarming Dog-Filled Holiday Adventure
On Bluray Combo Pack, DVD and Download November 23, 2010

Prequel to The Overwhelmingly Popular 2009 Hit SANTA BUDDIES

Disney's unbeatable and irresistible talking dogs are back – in an all‐new holiday movie for the whole family, with THE SEARCH FOR SANTA PAWS. Debuting on Blu‐ray hi‐def and DVD on November 23, 2010 just in time for Thanksgiving (US 11/25) and kicking off the holiday season around the world, the heartwarming family adventure joins the legacy of great dog‐filled tales from the creators of the "Buddies" films, the most popular liveaction direct‐to‐DVD franchise ever.

DISNEY'S THE SEARCH FOR SANTA PAWS is an exciting and uplifting movie from director Robert Vince about the power of giving and the true meaning of Christmas in the tradition of Disney's classic holiday tales. This big city adventure for the whole family reveals the how the legendary friendship of Santa Claus and Santa Paws began.

DISNEY'S THE SEARCH FOR SANTA PAWS comes with a stocking full of fantastic bonus features, including:

• An interactive Animated Pop‐Up Book – 'Buddies' puppy star Rosebud reads a holiday story featuring new canine friends from The Search For Santa Paws

• Sing‐Along Mode ‐ colorful lyrics added to the film's song sequences, so audiences can sing along to the film's fantastic new songs.

• Music Video – tween favorite Debby Ryan (Disney Channel's Suite Life on Deck) performs a great new arrangement of 'Deck The Halls.'

• Deleted scenes

The film follows in the tradition of Disney's classic holiday tales with a heartwarming story about the power of giving and the true meaning of Christmas. An exciting prequel, the movie allows kids of all ages to discover how the legendary friendship of Santa Claus and Santa Paws began – as it is the inspiring original film (in a timeline it precedes 2009's Santa Buddies: The Legend of Santa Paws).

In the movie, when Santa and his new best friend, Paws, discover that the boys and girls of the world have lost the spirit of the season, they take a trip to New York City. But after Santa loses his memory, it's up to Paws, a faithful orphan named Quinn (America's Got Talent's Kaitlyn Maher), her new friend Will (The Game Plan's Madison Pettis) and a wonderful group of magical talking dogs to save St. Nick and show the world what Christmas is really all about. Do you believe in Santa Paws? Experiencing this sure‐to‐be holiday classic, full of fun, adventure and a carrying the timeless messages of the holidays, with surely delight the entire family!

*Information courtesy of Disney Home Entertainment
REVIEW
The Search For Santa Paws is a cute and heartwarming movie that will get kids even more hyped about the upcoming Christmas season!   This darling film comes complete with all the glitter, twinkles, and magic kids dream about during the holiday.  Pair all that up with beautiful talking animals and your kiddos will be in Christmas heaven!  Place another log on the fire, make a batch of hot cocoa, and curl up with your children to watch this adorable prequel to the popular 2009 hit Santa Buddies.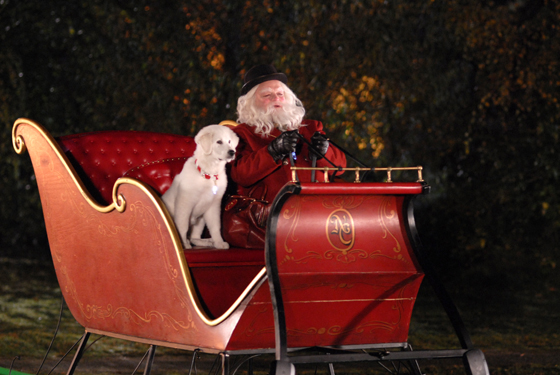 Santa (Richard Riehle) learns boys and girls of the world have lost the spirit of the season and Christmas has been out of whack in NY ever since his good friend Mr. Hucklebuckle's passing.  To get the Christmas spirit going again, Santa and Paws (voice of Mitchel Musso) head to NY, but soon after arriving Santa gets hit by a car. To make matters even worse, he  gets mugged losing his magic crystal and has Amnesia from the blow.  Not being able to remember anything, good old St. Nick winds up becoming a store Santa in a small toy shop.  Now it's up to Paws, an elf named Eli, a group of magical talking dogs, an orphan named Quinn (Kaitlyn Maher) and her new friend  Willamina (Madison Pettis) to save Santa and get him back to the North Pole before it's to late.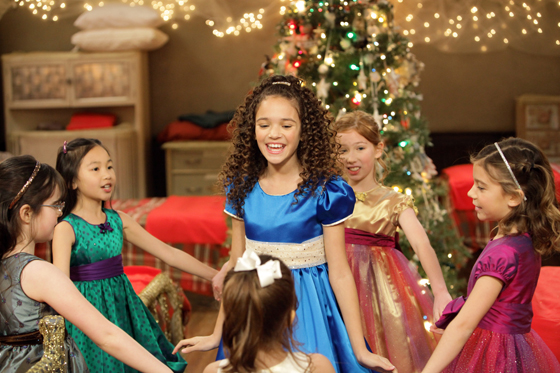 I liked this movie and my son enjoyed watching it over and over.  However, in my opinion, Richard Riehle did not make a very convincing Santa.  Maybe it was the exaggeration of the makeup and the lack of jolly goodness?  My son didn't notice St. Nick was lacking personality and was captivated by the tinsel, sparkles, and delightful music.  Kids will LOVE this Disney movie!
Help spread the Christmas spirit to your little ones at home and pick up Disney's The Search For Santa Paws debuting on on Blu‐ray hi‐def and DVD on November 23, 2010!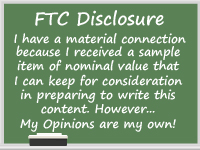 [ad#Google Adsense]
Check out my Holiday Gift Guide for more great gift giving ideas!