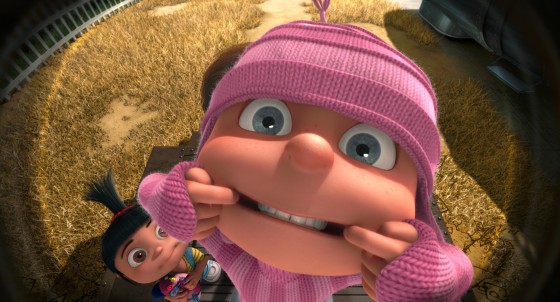 In celebration of the highly anticipated home entertainment release of Despicable Me 3D, Blu-ray and DVD release on December 14, 2010, Universal Studios Home Entertainment is launching Minion Madness!  What is Minion Madness?  Minion Madness is a points-based reward and social marketing program where you have the chance to earn points through a variety of fun online and offline activities,  enter weekly sweepstakes and possibly win some very  BIG prizes!
From gift cards to all-expense paid family vacations, Minion Madness will award more than 15,000 prizes. Each week, gift cards in $10, $20, $35 and $50 increments will be awarded to winning players. In addition, three  superb once-in-a-lifetime sweepstakes Grand Prizes will be awarded including a lifetime all-access passes to Universal Studios theme parks, family trip to New York City for the 2011 Macy's Thanksgiving Day Parade, and a luxurious family vacation to Los Angeles complete with hotel stays and spa visits.
Getting Started
To get on your way to building your very own personal army of online Minions and winning prizes, head to www.minionmadness.com and register to be a "Mastermind."  Then begin participating in challenging activities such as online games and videos to mobile activities to create, share and rate personalized Despicable Me content.  For each activity completed, you will be rewarded with your very own, expanding personal army of online Minions. As your army of Minions grows, the chances of winning weekly and monthly prizes do too! The prizes also increase in value with each new "Minion population benchmark level" reached.  There could be as many as a whopping 100 $50 gift cards given away every week.
iPhone-equipped Players
"In addition, iPhone-equipped players can participate in a special "Minion Photo Madness" event, a series of nationwide photographic missions, using a new Augmented Reality iPhone app available in mid-November. Players gain points and grow their Minion armies by photographing a series of designated landmarks around the country and personalizing their photos with characters and props inspired by Despicable Me using the iPhone app. The application also offers access to video clips, partners and pre-order links."
Minion Photo Opportunities
"Holiday shoppers and kids can submit photos taken at Minion photo displays located in the Santa Photo areas at over 170 Simon Shopping Malls nationwide starting in November thru December 24. Other Minion photo opportunities include the annual Macy's Thanksgiving Day Parade on NBC in which the Minions and teen sensation Miranda Cosgrove, star of Nickelodeon¹s hugely popular television series "iCarly" and the voice of Margo in Despicable Me, will be featured on a float in the parade. Thousands of colorful Minion beanie caps will be distributed in New York City the week of the parade to celebrate "Minion Madness" and provide additional photo opportunities."
Despicable Me Trailer
[ad#Google Adsense]