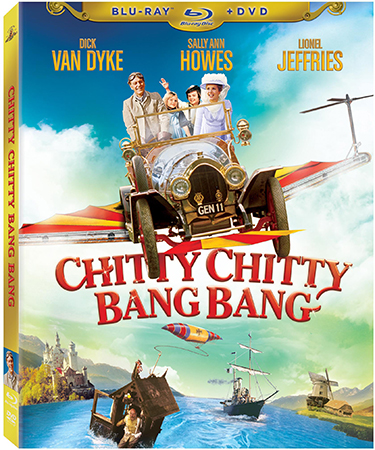 Audiences Everywhere Can Now Enjoy One of the Most Beloved Family Musicals of All Time as It's Never Been Seen Before

All-new Remastered Blu-ray Available November 2nd

On November 2nd families everywhere can experience "fantasmagorical" adventures, legendary sing-alongs and magical moments like never before as MGM Home Entertainment releases an all-new remastered version of Chitty Chitty Bang Bang on Blu-ray. Enjoy the fun of this family classic for the first time on Blu-ray disc with upgraded 7.1 DTS-HD master audio and new interactive games. An original version of the film on DVD will accompany the all-new remastered Blu-ray.

Based on the children's book Chitty Chitty Bang Bang: The Magical Car by Ian Fleming, the film tells the story of an eccentric professor (played by Dick Van Dyke) who invents wacky machinery, but can't seem to make ends meet. When he invents a revolutionary car, a foreign government becomes interested in it, and resorts to skullduggery to get their hands on it. The all-time family classic evolves from there and viewers are taken on a magical ride with the professor and loveable motorcar.

As part of "the most fantasmagorical musical entertainment in the history of everything!" the remastered version of Chitty Chitty Bang Bang on Blu-ray will feature special interactive features for families everywhere to enjoy from the comfort of their own homes, including an all-new "Toot Sweet Symphony" melody maker and "Chitty Chitty's Bang Bang Driving Game!" Other special features include "Remembering Chitty Chitty Bang Bang" with Dick Van Dyke, song demos from the Sherman Brothers and a featurette entitled "A Fantasmagorical Motorcar."

The Blu-ray/DVD and DVD/Blu-ray combo packs will be available for a suggested retail price of $34.99 U.S./$37.99 Canada. The Blu-ray/DVD combo pack will be available in a Blu-Ray case in the Blu-ray section of local retailers, and the DVD/Blu-ray combo pack will be in a standard amaray DVD case in the DVD section of local retailers. Prebook is October 20.

Chitty Chitty Bang Bang Blu-ray/DVD Combo Pack Special Features:

DISC ONE (Blu-ray):

· Chitty Chitty Bang Bang remastered feature film

· Newly upgraded 7.1 audio

· All-new "Toot Sweet Symphony" melody maker – the Toot Sweet Toots Musical Maestro

· All-new "Chitty's Bang Bang Driving Game"

· Remembering Chitty Chitty Bang Bang with Dick Van Dyke

· "A Fantasmagorical Motorcar" featurette

· Sherman Brothers' Rare Demos of the film's most popular songs

· Vintage Featurettes including, "The Ditchling Tinkerer," "Dick Van Dyke Press Interview," and "The Potts Children's Featurette"

· Photo Gallery

· Vintage Advertising Gallery including English and French versions of the theatrical trailer and several television spots

· Sing-a-long version of the film

· Music Machine

DISC TWO (DVD):

· Chitty Chitty Bang Bang

· Sing-a-long version of the film

Chitty Chitty Bang Bang DVD/Blu-ray Combo Pack Special Features:

DISC ONE (DVD):

· Chitty Chitty Bang Bang

· Sing-a-long version of the film

DISC TWO (Blu-ray):

· Chitty Chitty Bang Bang remastered feature film

· Newly upgraded 7.1 audio

· All-new "Toot Sweet Symphony" melody maker – the Toot Sweet Toots Musical Maestro

· All-new "Chitty Chitty's Bang Bang Driving Game"

· Remembering Chitty Chitty Bang Bang with Dick Van Dyke

· "A Fantasmagorical Motorcar" featurette

· Sherman Brothers' Rare Demos of the film's most popular songs

· Vintage Featurettes including, "The Ditchling Tinkerer," "Dick Van Dyke Press Interview," and "The Potts Children's Featurette"

· Photo Gallery

· Vintage Advertising Gallery including English and French versions of the theatrical trailer and several television spots

· Sing-a-long version of the film

· Music Machine

*Information courtesy of MGM HOME ENTERTAINMENT
[field name = iframe]
Remembering Chitty Chitty Bang Bang with Dick Van Dyke
[field name = iframe1]
REVIEW
When I heard Chitty Chitty Bang Bang was coming to Blu-ray I had to see it in all it's glory!  The movie was one of my favorite films as a youngster and I must have watched it HUNDREDS of times.  It reminds me of an era when things were simpler and more pleasurable.  Chitty Chitty Bang Bang was directed by Ken Hughes and produced by Albert R. Broccoli (co-producer of the James Bond series of films) back in 1968.  Being that the film is an older classic, I worried about the clarity of the conversion.  However, the  new remastered version with the 7.1 DTS HD Master Audio soundtrack brought the movie back to life in  superb detail. Every toot, tune,  dance number  and corny special effects that make the movie a timeless treasure transferred flawlessly!
Chitty Chitty Bang Bang on Blu-ray is a visually stunning and entertaining  film the whole family can enjoy!  Share a little fun nostalgia with your children and pick up a copy today!
Buy It
Chitty Chitty Bang Bang  Blu-ray DVD Combo Pack can be purchased at Amazon.con for only $19.49!  The film makes a perfect under $20 gift!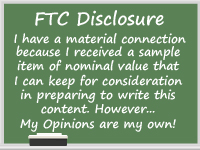 [ad#Google Adsense]