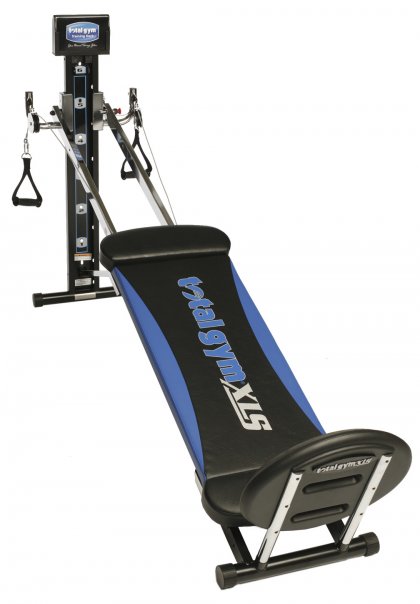 Another week gone and it's time for my Total Gym update.  My measurements this week are exactly the same as last week's and I actually gained two ounces. YAK!  I guess it's time to add some extra cardio workouts and change my routine.  I was hoping this would be the post I would be able to say I lost another five pounds, but unfortunately it didn't happen.
I do feel stronger even though my numbers did not improve and I can easily do 25 chin-ups without feeling like I'm straining myself.  I've been switching between level 3 and 4 on the Total Gym during my exercises and feel like I might be able to increase the reps on level 4 now.
One note I wanted to share is that good posture and thinking about the muscles I'm working seems to be the key in maximizing my workout results.  It might be my pure imagination, but when I concentrate on which muscle I'm using I can feel the burn more!
I'll be back again next week with my Total Gym Total Mom Challenge progress.
Checkout the 9  girls who are also taking the Total Gym Total Mom Challenge and see how they did this week!
– Shasta
www.faithfullyfrugal-and-free.com
– Trisha
www.momdot.com
– Cat
www.3kidsandus.com
– Kim
www.accidentalmommies.com
– Stacie
www.thedivinemissmommy.com
-Kate
www.theshoppingmama.com
-Jenna
www.loveofbabyonline.com
-Candace
www.dealectiblemommies.com
– Jennifer
www.jleighdesignz.com/
Save 15% Off the Total Gym
[ad#Google Adsense]