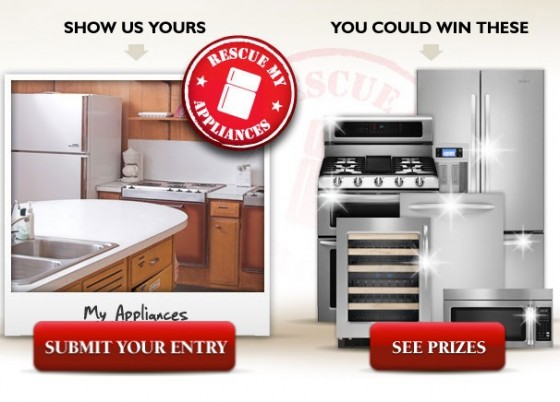 Do your appliances need rescuing?  Mine most certainly do!  I believe my dishwasher might be older than me!  I learned through Brandfluential about this amazing contest called "Rescue My Appliances" where you can enter for the opportunity to win a new suite of appliances from KitchenAid worth $7,000, Service Live Credits toward remodeling valued at $1,000, and a phone consultation with Susan Serra ( kitchen design expert)!
The appliances included in this sweet makeover are a  KitchenAid Stainless Steel 30" Double Oven Freestanding Dual Fuel Range, KitchenAid Stainless Steel 26.6 cu. ft. French Door Bottom Freezer Refrigerator w/ Dispenser, KitchenAid Stainless Steel Superba EQ Series 24" Built-In Dishwasher with Pro Scrub, KitchenAid Stainless Steel 30" 1.8 cu. ft. Microhood Combination Microwave Oven, and KitchenAid Monochromatic stainless steel 24 cu. in. Undercounter Beverage Center. WOW!
For the chance to win all you need to do is take a picture of your old kitchen appliances, go here and fill out the required information, and submit your photo prior to November 2, 2010.  Starting November 3rd to November 17th you can vote for your favorite qualifying submission, so make sure to get your friends and family to vote vote vote!  At the end of the "Public Voting Period,"  the top ten scoring photos with the most "Popular Vote's" will be deemed the Finalists.
Here is a picture of my old dishwasher that needs replacing.  The thing needs to be pulled out and put to rest in the appliance graveyard!  The dishwasher was unplugged after it leaked water all over my rug  which caused me to receive a huge jolt of electricity while plugging in my toaster, thus we no longer trust it or use it.  I hate begging for votes, but I could really use your support to win this much needed kitchen makeover.  PLUS, for each vote you cast, you will be entered into a drawing for a chance to win a new KitchenAid mixer!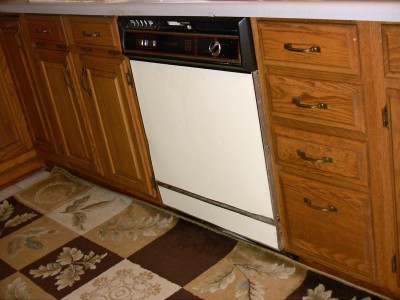 I will remind you when the time comes for voting and if I can repay the favor please just let me know!
[ad#Google Adsense]