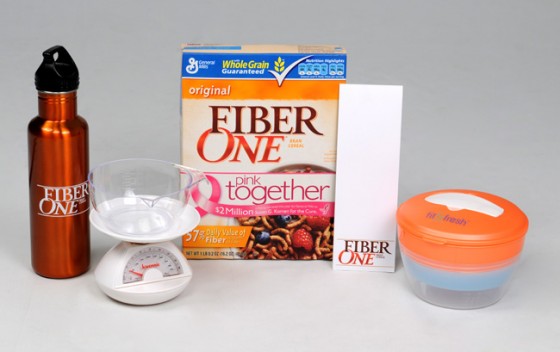 If you're dieting, chances are you're hungry! You know skipping breakfast or drinking that diet shake just isn't going to cut it. When diets leave you hungry, you can find yourself off-course and giving into dreaded and seemingly inevitable cravings.
Fiber One Original cereal can help stop hunger from taking diets off-course.
Fiber helps satisfy your hunger so it's easier to eat less and lose weight without feeling as hungry.
One serving of Fiber One Original cereal provides more than half (57%) of the Daily Value of fiber.
Fiber One Original cereal is a tasty way to start your morning on the right track with 0 grams of sugar, 14 grams of fiber, 60 calories and 1 gram of fat per serving.
For more information or additional tips, please visit http://www.fiberone.com/
*Info from MyBlogSpark.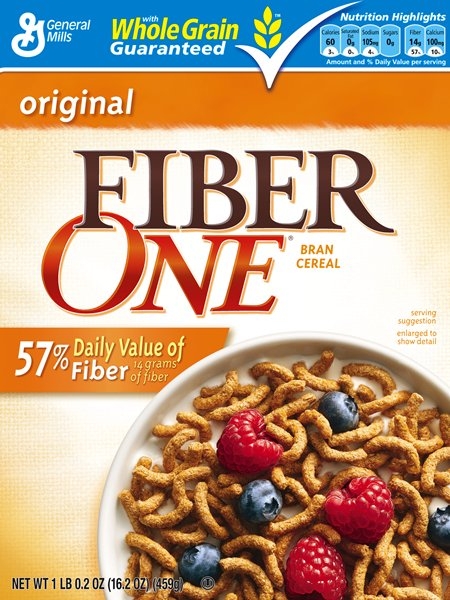 Get Hungry Girl Tips, Recipes, Savings, and check out the free Fiber One Fiber Counter to see how close you are to meeting your daily fiber goals! PLUS, the first 15 readers to click the Free Cereal link below will receive a free box of cereal!
I've been on BAD yo-yo diets before and deprived myself of eating normally.  You know the diets I'm talking about!  The diets which include skipping meals and consuming very few calories like the cabbage soup and grapefruit gimmicks.  I would lose a few pounds, but as soon as I went back to eating other foods I would gain the weight back and  then some!   The worst part about the fad diets are I would become so hungry I would eventually give into nasty high calorie cravings and  end up attacking my junk food cabinet.  Sadly, I would lie to myself and think the snack cakes wouldn't matter too much because I ate such few calories the days before  that I could get away with it and not gain a thing. WRONG!  The radical calorie reduction lead to a slower metabolism and I ended up in worse shape  than I started.
I should have just tried to lose weight by eating a balanced diet containing an adequate amount of fiber and exercising regularly.  Taking the quick and lazy way out never works!
What's  the worst over-indulgence moments or fad diet you have ever experienced?
Fiber One "Help Take the Hunger out of Dieting" Prize Pack Giveaway
Brought to you courtesy of MyBlogSpark, a lucky A Happy Hippy Mom reader will win a Fiber One "Help Take the Hunger out of Dieting" prize pack that includes Fiber One Original cereal, a cereal-on-the-go container, food scale, water bottle and notepad for tracking what you eat.  To enter the giveaway please leave me a comment sharing a past diet craze that left you hungry.
EXTRA ENTRIES
1. Mention the giveaway on your own blog linking back to this post and www.fiberone.com . Leave an additional comment with a link to where you blogged about the giveaway. This is worth 10 extra entries. Make sure you leave ten separate comments. (example blogged extra entry #1, blogged extra entry #2, blogged extra entry #3, ect…)
2.Place my button on your blog and then leave an additional comment with a link to the page where you put the button. If you already have my button leave a comment letting me know you already have it.
3. Follow my blog and leave me an additional comment. ( There is a little widget on my sidebar that shows my followers. Just click follow). If you already follow leave me a comment letting me know you already do.
4. Follow @ahappyhippymom and tweet about the giveaway including the hash tag #mbsspark. Please make sure you leave the link where you tweeted in your comment. TO INCREASE YOUR CHANCE OF WINNING I AM ALLOWING 1 TWEETS PER PERSON DAILY. USE THE RETWEET BUTTON AT THE BOTTOM OF THIS POST FOR EASY ENTRY.
5. Subscribe to my feed and leave a comment. If you already subscribe leave a comment telling me you are already a subscriber.
6. Like ahappyhippymom on Facebook. Worth 2 extra entries
A winner will be chosen at random via Random.org. Upon notification the winner has 72 hours to send me their contact information.
Open to US 18+
The contest ends November 6th ,  11:59 PM eastern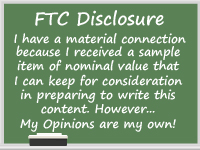 General Mills provided me with a  Help Take the Hunger out of Dieting prize pack, information, and an additional prize pack to give away through MyBlogSparkTM.
[ad#Google Adsense]