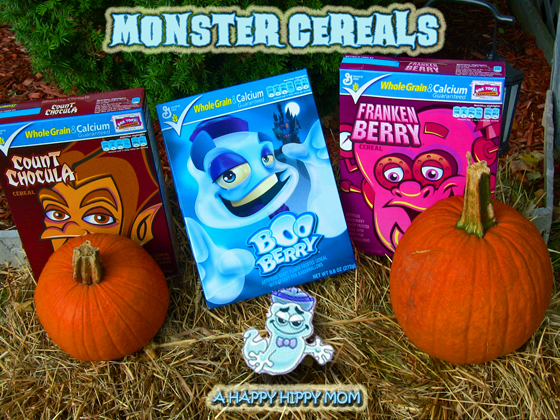 I'm a product of the 70's and that means one thing…I grew up on MONSTER CEREALS!  I loved them back then and I still think they are fun now.  My sister and I would walk down the cereal aisle and the first thing we would grab and BEG my mom to buy was Franken Berry.    My mom would dislike purchasing the Monster Cereals , because my sister and I would eat handfuls of the cereal right out of the box for a snack and devour the whole container within 24 hours.  We couldn't resist the yummy strawberry flavor cereal with the spooky marshmallow shapes!  PLUS, every Saturday morning while watching cartoons the Monster Cereal commercials would play and we'd get even more excited to get our hands on a box.  Check out this kid appealing Monster Cereal commercial from the 1970's!  It really brings back some fantastic memories!
Monster Cereals Back For Limited Time!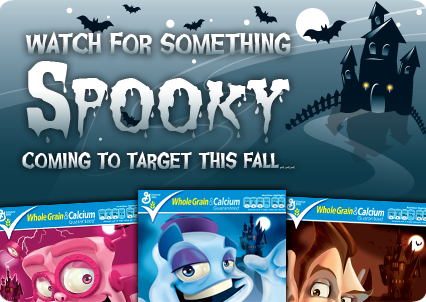 For a limited time the Monster Cereals are making a spook-tacular appearance on the shelves just in time for Halloween!  General Mills is bringing the deliciously fun cereal to your local Target aisle  starting now through October 31.  The Monster Cereals may have a new look, but don't be fooled they have the same great taste.  Stock up on the frighteningly delightful cereal and fill your  "favorite breakfast cauldron" now before the ghostly monsters disappear.
"Count Chocula, Boo Berry and Franken Berry cereal combine chocolate, blueberry and strawberry flavored cereal with colorful marshmallow shapes that kids and adults enjoy. Each serving of the playful, monster-themed cereal is low in fat with no cholesterol or saturated fat, providing a good source of calcium, whole grain and nine other essential vitamins and minerals."
"Let´s Go Disco" Video and Free Backgrounds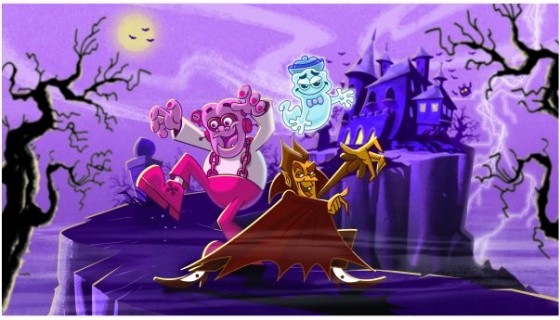 View the fun "Let´s Go Disco" video and download a desktop background of your favorite Monsters character at www.grocerysavvy.com!
Monster Cereals Prize Pack Giveaway!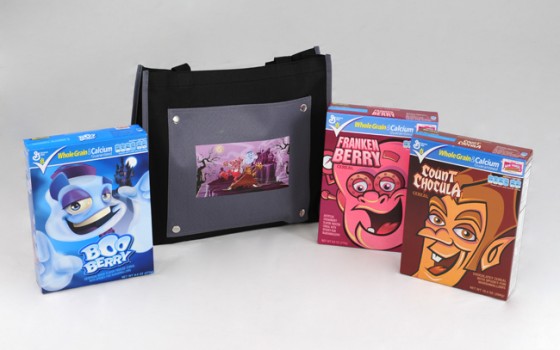 MyBlogSpark has generously offered to give one of my readers a Monster Cereals prize pack which includes one box each of Count Chocula, Boo Berry and Franken Berry cereal, a special trick-or-treat tote bag and a $10 Target gift card to purchase Halloween goodies or more cereal.  To enter for the chance to win,  please leave me a comment sharing your favorite Monster Cereals childhood memories or how the nostalgic cereal reminds you of simpler times.
EXTRA ENTRIES
1. Mention the giveaway on your own blog linking back to this post and www.grocerysavvy.com . Leave an additional comment with a link to where you blogged about the giveaway. This is worth 10 extra entries. Make sure you leave ten separate comments. (example blogged extra entry #1, blogged extra entry #2, blogged extra entry #3, ect…)
2.Place my button on your blog and then leave an additional comment with a link to the page where you put the button. If you already have my button leave a comment letting me know you already have it.
3. Follow my blog and leave me an additional comment. ( There is a little widget on my sidebar that shows my followers. Just click follow). If you already follow leave me a comment letting me know you already do.
4. Follow @ahappyhippymom and tweet about the giveaway including the hash tag #mbsspark. Please make sure you leave the link where you tweeted in your comment. TO INCREASE YOUR CHANCE OF WINNING I AM ALLOWING 1 TWEETS PER PERSON DAILY. USE THE RETWEET BUTTON AT THE BOTTOM OF THIS POST FOR EASY ENTRY.
5. Subscribe to my feed and leave a comment. If you already subscribe leave a comment telling me you are already a subscriber.
6. Like ahappyhippymom on Facebook. Worth 2 extra entries
7. Enter any of my other ACTIVE giveaways and leave me a comment for each one you did.
A winner will be chosen at random via Random.org. Upon notification the winner has 72 hours to send me their contact information.
Open to US 18+
The contest ends October 15th ,  11:59 PM eastern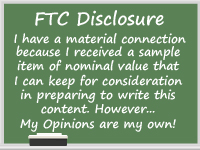 General Mills provided me with a Monster Cereal prize pack, information, and an additional prize pack to give away through MyBlogSparkTM.
[ad#Google Adsense]