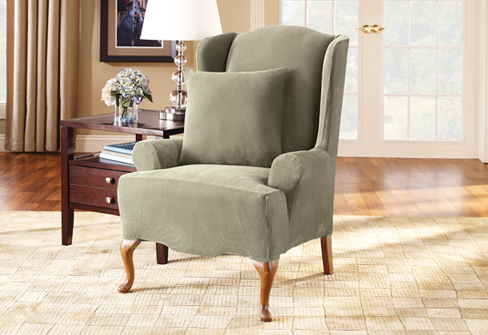 Wouldn't it be nice to be able to give your home a makeover without spending a lot of time and money to do it? Luckily, there are some easy and  inexpensive tips to provide that visual change that are also friendly for the environment.
*Recycle*
This can mean reusing any number of items around the house or thrift shop finds.
*Glass – Vintage bottles, vases and jars, especially those that use colored glass, can be used to create unique centerpieces by placing them on trays and filling with contrasting marbles, sand, leaves or flowers.
*Furniture – If a new look is desired but older pieces are still comfortable, purchasing fabric furniture covers to go over the couch and easy chairs is an ideal solution. It keeps the old furniture out of the trash heap and is much cheaper than buying a whole new set of furniture. If your current furniture is beyond repair, shop thrift stores to find new-to-you pieces which can also be transformed by a slipcover. They come in a variety of sizes to fit most types of seats, including wing chair slipcovers.
*Repainting – Dull wooden pieces of furniture can be enhanced by refinishing or repainting using environmentally-friendly paints. Adding some color can completely change the look of an entire room.
*Art*
Finding the right artwork to hang on the walls can be a costly and time-consuming process. Why not enlist the help of loved ones to make it easier and more cost-effective?
*Framed art – If there are small children in the house, have them create their own masterpieces using finger paint or a variety of child-friendly mediums. If you have an older student who has a flare, see if they would be willing to paint something that can be hung on the wall.
*Photos – Take those family photographs lying around, or waiting in the digital camera to be developed, and put them in a variety of frames to hang around the house or place on tables and shelves. For a more artsy look, most photo processing centers offer options to print pictures in black and white to add a touch of nostalgia or with a tint of magenta which gives the appearance of a drawing.
*The little things*
Not everything has to be a big change to make a noticeable difference. Subtle shifts around the room provide a different perspective and opens up space. Small changes include:
*Lighting – Use table lamps rather than overhead lighting for a softer glow. Lamps can be rearranged throughout the house to eliminate shadows and give the illusion of more room. Styles can be altered by simply swapping shades. For more energy savings, purchase CFL bulbs.
*Pillows – Just like old sofas or recliners, pillows can be changed through the use of new coverings that come in a variety of fabrics and colors.
Being eco-friendly and frugal doesn't have to mean skimping on a home makeover. A busy schedule doesn't have to get in the way either. With a few of these simple tips a makeover can be had that is inexpensive, easy and good for the planet.
*Guest article written by Caroline Smith
[ad#Google Adsense]