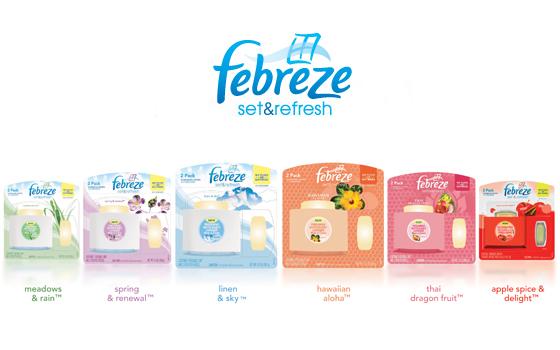 Are you still using cones?  Why not try the new Febreze Set & Refresh air freshener?  It's the latest air freshening revolutionary system that slowly releases scented oils to provide odor elimination and noticeably long-lasting freshness without the use of plugs or batteries.  Unlike cones which deteriorate into what looks like an apple core, your Febreze Set & Refresh will always look as attractive as the first day.
Febreze Set & Fresh is available in six new long-lasting pleasant scents including Meadows & Rain, Spring & Renewal, Linen & Sky, Hawaiian Aloha, Thai Dragon Fruit, and a limited edition Apple Spice & Delight.  The innovative air freshener is perfect for for small- to medium-sized rooms, such as laundry rooms, bathrooms, closets, and great for freshening your stinky teenagers' bedrooms.
Review
Febreze,  through MyBlogSpark,  sent me two complimentary Set & Refresh Starter Kits in the Thai Dragon Fruit and Linen & Sky fragrances.  I immediately noticed how the packaging displayed a scratch and sniff sticker to be able to smell the scent prior to using.  This is a BIG selling point for me, because there has been many times I have purchased air fresheners I thought would be pleasing only to be annoyed with the aroma after opening it.  The Linen & Sky fragrance was just a bit too overwhelming for me, but I LOVED the Thai Dragon Fruit.  It had a very subtle fresh smell.  The manufacturer says the scent was inspired by a combination of dragon fruits, mangoes, papayas, and the winding canals of Thailand.  The fragrance is WONDERFUL and not overpowering!
The Febreze Set & Refresh uses oil cartridges that will activate upon insertion and you can easily control the amount of fragrance by opening the device for larger rooms or closing it for use in smaller spaces.  Additionally, the air freshener doesn't need an outlet to work and can be placed on a shelf, in a closet, car or any where  to eliminate odors.  VERY nice feature!
I used to be a cone user until my son began noticing them and wanting to poke the solid gel center.  Those things would attract him like a beacon!  PLUS, the plastic container could only be used until the gel had shrunk down to an unappealing core.  The packaging was very wasteful!  At least the Febreze Set & Refresh device can be reused and you just need to replace the scent oil cartridge.  LESS waste and definitely more attractive!  If you're living with cones, its time to throw those things away!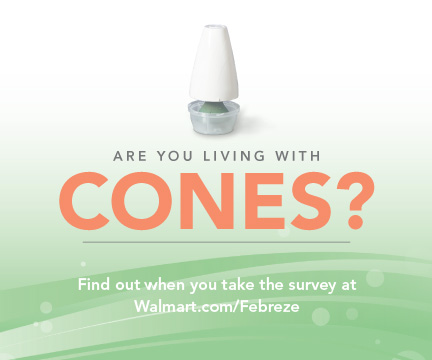 Living with Cones?
Find out if you're living with cones at Walmart.com/Febreze. Three lucky participants who share their results on Facebook will receive a $5 gift card for Febreze Set & Refresh.
Get The Latest News!
Check out Febreze on Facebook and Twitter today! Visit Febreze on Facebook or Febreze on Twitter and "Like" or "Follow" the brand to keep up with the latest news from Febreze.
Buy It
Febreze Set & Refresh can be found in Walmart´s new Air Care aisle.
Save $1
Save $1 on your next Febreze Set & Refresh purchase!
$15 WALMART GC GIVEAWAY!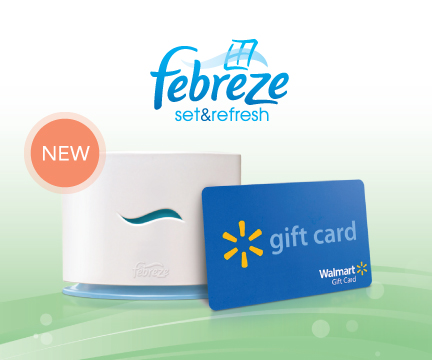 I have three $5 Walmart gift cards ($15) to give away to one reader so that you can purchase and experience the fresh scent of the new Febreze Set & Refresh for yourself. For the chance to win please leave me a comment sharing which fragrance from the Febreze Set & Refresh you would most like to try.
EXTRA ENTRIES
1. Mention the giveaway on your own blog linking back to this post and Febreze. Leave an additional comment with a link to where you blogged about the giveaway. This is worth 10 extra entries. Make sure you leave ten separate comments. (example blogged extra entry #1, blogged extra entry #2, blogged extra entry #3, ect…)
2.Place my button on your blog and then leave an additional comment with a link to the page where you put the button. If you already have my button leave a comment letting me know you already have it.
3. Follow my blog and leave me an additional comment. ( There is a little widget on my sidebar that shows my followers. Just click follow). If you already follow leave me a comment letting me know you already do.
4. Follow @ahappyhippymom and Febreze on Twitter and tweet about the giveaway including the hash tag #mbsspark. Please make sure you leave the link where you tweeted in your comment. TO INCREASE YOUR CHANCE OF WINNING I AM ALLOWING 1 TWEETS PER PERSON DAILY. USE THE RETWEET BUTTON AT THE BOTTOM OF THIS POST FOR EASY ENTRY.
5. Subscribe to my feed and leave a comment. If you already subscribe leave a comment telling me you are already a subscriber.
6. Like Febreze on Facebook . This is worth 2 extra entries.
7. Like ahappyhippymom on Facebook. Worth 2 extra entries
8. Enter any of my other ACTIVE giveaways and leave me a comment for each one you did.
A winner will be chosen at random via Random.org. Upon notification the winner has 72 hours to send me their contact information.
Open to US 18+
The contest ends September 27th ,  11:59 PM eastern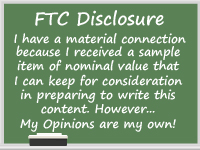 Febreze asked me to participate in this program, but the opinions I shared about my experience are my own: "This product review was based on using complimentary Febreze product provided by P&G. Bloggers also received a Walmart gift card to share with their readers. P&G does not represent or warrant the accuracy of any statements or product claims made here, nor does it endorse any opinions expressed within this blogsite."
[ad#Google Adsense]