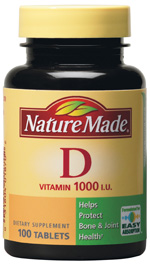 Did you know 70% or more of Americans are vitamin D deficient?  Vitamin D, known as the sunshine vitamin, is essential for promoting calcium absorption  to keep teeth and bones strong.  It also helps support the immune system,  may prevent children from getting rickets,  and protect adults against osteoporosis.
Vitamin D is a fat-soluble vitamin and can be found in very few foods. The best source comes from the flesh of oily or fatty fish such as tuna, salmon, and mackerel.   Other foods that contain the important vitamin include  fortified milk, certain brands of yogurt and juice, and some ready-to-eat breakfast cereals.  Small amounts can be found in egg yolks, beef liver, and cheese.  Vitamin D is also made by the body when the skin is exposed to ultraviolet rays from sunlight.
If you suspect your Vitamin D deficient have your doctor test your levels!  My doctor tested mine and I was so low he placed me on 50000 mg for 3 weeks. YIKES!  That seemed like a HUGE amount to take, but he said I needed to build up my reserve quickly.
Get A Free Trail Size Of Vitamin D and a chance to win prizes!
Play the Nature Made Casino D Instant Win Game for the chance to win a Nature Made lunch cooler, a Denise Austin exercise video, or $2500!  Plus, everyone who plays automatically wins a free trail size bottle of chewable vitamin D!
Giveaway ends September 22, 2010.
[ad#Google Adsense]