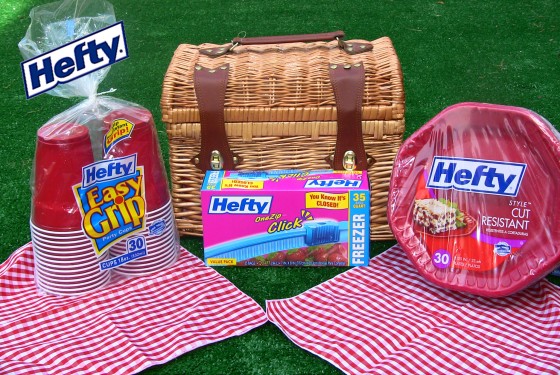 Picnics, BBQs, birthday parties,  holiday gatherings, and other occasions wouldn't be the same without Hefty.  Hefty  has a wide variety of disposable durable plates, cups, cutlery,  and bags to help make your special event more  fun, easy to clean up, and manageable.
I  couldn't  imagine holding a large party or family get-together without Hefty!  Unlike common paper plates,  Hefty's disposable foam plates are strong and I don't have to worry about my guests wearing their meal in their laps.  PLUS, foam plates can be rinsed and  guests can go back for more goodies without having to get a new plate. You can't do that with paper!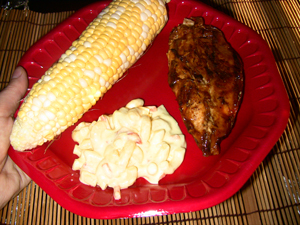 Last month I posted about Hefty's money saving tips video and their "strong advice"  on how to make picnics more enjoyable.  The video suggested a good way to hold a gathering and be able to offer your guests an exciting cookout menu without breaking the budget.  The key is to buy your meats in bulk.  Pick up large packages of chicken, ground beef, steak or what ever is on sale that week.  Then divide your meats into food bags,  put them in your cooler,  and place the extras in your freezer at home.  I do this every time we have a large BBQ and it saves me money.  The guests have a large variety to choose from and I can use the extra meat for dinner during the week.  Try it out and see if it works for you!
Just in case you missed Hefty's video the first time,  here it is again.  At the end of the video there is a link to receive a $1.00 off  coupon for Hefty waste bags!
Foam vs Paper
You might be curious as to how Hefty's foam plates have an impact on the environment compared to paper plates?  I was curious too!  I always believed the myth paper plates were better on the environment and took less energy than foam,  but  I was not looking at the whole picture.  This is what I learned.  When trying to figure out  a product's environmental footprint, you must calculate and think about it's entire lifecycle.   A product should be measured from the moment of acquiring the materials, the production process, and all the way through the product's disposal.
Here are the facts on foam " based on 2009 Life Cycle Inventory done by Franklin Associates comparing 9″ disposable plates having comparable functionality, with the foam plate weighing 4.7 grams and the polymer-coated paper plate weighing 12.1 grams."
"It takes 60% less material by weight to make a foam plate that it does to make a comparable paper plate."
"Making, using, and disposing of foam plates, as opposed to comparable paper plates, generates 50% less greenhouse gas emissions."
"Making, using, and disposing of foam plates, as opposed to comparable paper plates, requires 50% less energy."
The skinny is, foam plates actually carry a smaller environmental footprint than paper plates!
Giveaway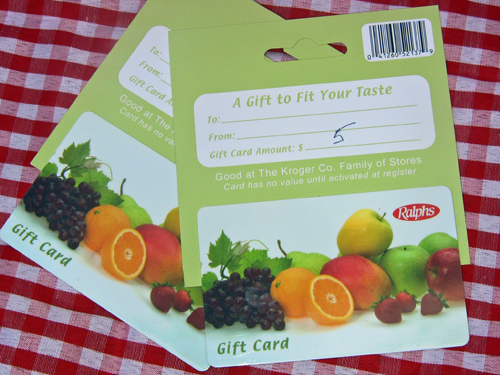 Hefty would like to give a reader two Kroger $5 gift cards ($10 total)!  You can use the gift cards to help fund your picnic with some Hefty products.  To enter the giveaway leave me a comment sharing your money saving picnic tip.  You can enter as often as you wish, BUT each tip must be different than your previous.
EXTRA ENTRIES
1. Mention the giveaway on your own blog linking back to this post  and  Hefty.  Leave an additional comment with a link to where you blogged about the giveaway. This is worth 10 extra entries.  Make sure you leave ten separate comments. (example blogged extra entry #1, blogged extra entry #2, blogged extra entry #3, ect…)
2.Place my button on your blog and then leave an additional comment with a link to the page where you put the button. If you already have my button leave a comment letting me know you already have it.
3. Follow my blog and leave me an additional comment. ( There is a little widget on my sidebar that shows my followers. Just click follow). If you already follow leave me a comment letting me know you already do.
4. Follow ahappyhippymom Twitter and tweet about the giveaway. Please make sure you leave the link where you tweeted in your comment. TO INCREASE YOUR CHANCE OF WINNING I AM ALLOWING 1 TWEETS PER PERSON DAILY.  USE THE RETWEET BUTTON AT THE BOTTOM OF THIS POST FOR EASY ENTRY.
5. Subscribe to my feed and leave a comment. If you already subscribe leave a comment telling me you are already a subscriber.
6. Like Hefty on Facebook.  This is worth 2 extra entries.
7. Like ahappyhippymom on Facebook. Worth 2 extra entries
8. Enter any of my other ACTIVE giveaways.  Leave a separate comment for each one entered.
A winner will be chosen at random via Random.org. Upon notification the winner has 72 hours to send me their contact information.
Open to US 18+
The contest ends August 18th ,  11:59 PM eastern