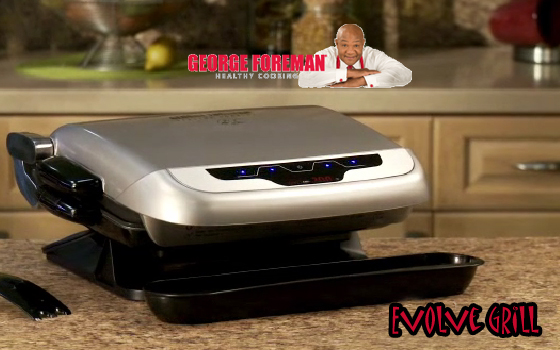 When I hear the name George Foreman I don't immediately think about boxing and how he is an American two-time former World Heavyweight Boxing Champion.  Or that he won the title of heavyweight boxing champion of the world at age 45, when he punched out the young 26 year old Michael Moorer.  Even though George has had a very successful boxing career, what comes to mind for me when I hear his name is indoor grilling!   This might be because he  revolutionized the indoor grilling market with his innovative grills and  found an easy way to  knockout the fat in food for healthier meals.

Until the George Foreman Grill was invented, people had to use the standard electric grill if they wanted to grill inside.  The problem with these type of grills is no matter who manufactured them they were always the same—FLAT.   The grills would cook food on a level surface within its own fat which made the food extremely greasy and unhealthy.  However, George Foreman changed all that when he developed an indoor grill that drained the fat away from the food as it cooked which created more healthier, low-calorie meals.  Additionally, the grills two-sided non stick coating surface allows for  food to be evenly cooked on both sides, without the use of fattening butter or oils,  in just minutes!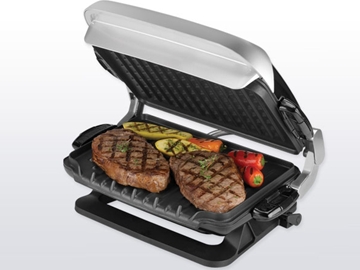 When my hubby found out Family Review Network was sending me a George Foreman Evolve Grill for review,  he became ECSTATIC!  My darling meat loving husband is the type of guy who will stand outside in his pajamas during a blizzard and in the coldest of NY's temperatures to grill himself a steak or burger.   He is a GRILL-AHOLIC and will freeze his derriere off to satisfy his grill meat craving.  NO JOKING!  Now he will be able to grill inside all year long where its warm and without the neighbors gazing at him from their windows thinking he is crazy and needs psychological help .
The George Foreman Evolve Grill is absolutely wonderful!  Many years ago I owned a small George Foreman Grill and I liked it,  but it wasn't very versatile.  It was small and you could only grill  a couple pieces of meat on it.  Cleaning was not exactly to much fun neither.  The Evolve Grill is COMPLETELY different!  It has a whopping 84 square-inch cooking surface, contains a patented slope design with a quick flip of a switch to drain the fat better, and can be customized with 11 easy detachable plates.  It's an indoor grilling powerhouse and may be used for breakfast, lunch, dinner, and snacks!

* cross-hatch grill plates (2) – Perfect for grilling chicken breasts, fresh fish and more.

* Mini-Burger plate – Serve up low-fat turkey sliders in minutes.

* Griddle plate – Cook up breakfast, lunch or dinner without adding extra oil or butter for healthier meals.

* Cupcake/muffin plate – Whipping up six muffins or cupcakes is a snap with this easy-to-use plate.

* Panini plates (2) – No need to butter bread when making panini in the George Foreman Evolve™ Grill.

* Deep-dish baking plate – From lasagna to veggie-packed casseroles, the deep-dish bake pan provides another versatile usage for the George Foreman Evolve™ Grill.

* Omelet plates (2) – Flipping omelets used to require lots of butter or oil to prevent sticking, however, with the George Tough™ nonstick coating, making omelets is simpler and healthier than ever.

* Waffle plate –The waffle plates makes preparing golden, delicious waffles on the grill easy and convenient.

Product Features:

* George Tough™ nonstick coating for oil-free cooking

* Patented slope for fat to drip away

* Drip tray that is dishwasher safe for collecting grease drippings

* 84 square-inch cooking surface

* Precise Digital Time and Temperature Control

* Removable dishwasher-safe plates



My George Foreman Evolve Grill came complete with a cross-hatch grill top plate, traditional grill bottom plate, deep dish bake plate, the slider plate insert, spatula and drip tray.    I went on a cooking MANIA over the weekend and tried out the different plates making grilled salmon burgers, pork sliders for hubby, grilled vegetable sandwiches,  and more!  I even used the deep dish bake plate  for  baking brownies!  The plates are extremely simple to attach and change.  All you have to do is use the release handles located by the sides of the plates and pop them on and off.    The grill was amazing and the food came out evenly cooked and delicious.  PLUS, cleaning the plates was a breeze too.  I also appreciated that it didn't heat my house up while using it like my conventional oven  does and  how it sits conveniently on my countertop.  Healthy meals never tasted so good!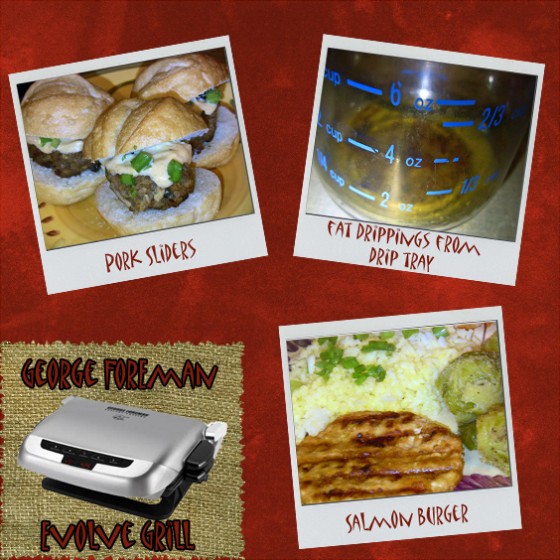 Buy it!
If you would like to purchase and  learn more about the Evolve Grill ($129.99) ,  plus other George Forman products,  check out George Foreman Healthy Cooking!
Follow George Foreman Cooking on Facebook for recipes, product updates, videos, and more!
Ginger Teriyaki Sliders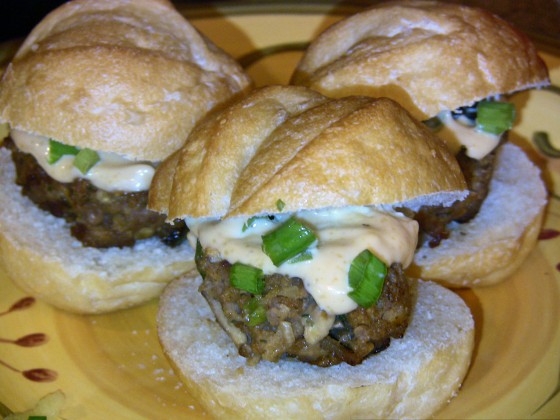 I found this recipe located in FamilyCircle's Hometown Favorites Cookbook.  I changed it up a little and used the slider insert plate to cook the mini pork burgers.  Next time I plan on using ground turkey to make the burgers even more low cal!  Give the recipe a try and let me know what you think!
Ingredients
* 1 package (12 per package) mini soft dinner rolls (I used artisan crusty rolls)
* 4 ounces (1-1/2 cups) sliced mushrooms
* 2 scallions, trimmed and cut up, plus more chopped scallions, for garnish
* 2 teaspoons peeled and coarsely chopped fresh ginger (1-inch piece)
* 1 pound ground pork
* 1/4 cup plus 1 teaspoon teriyaki stir-fry sauce (such as Kikkoman preservative free Teriyaki sauce)
* 1/4 cup panko bread crumbs
* 1/4 cup light mayonnaise
* 1/4 teaspoon sugar
Directions
1. Place the grill plates on the grill; place slider plate on bottom grill plate.  Use the switch located at the bottom right rear of the grill to lift the back, so fat drippings run off into the drip tray.  Make sure the drip tray is placed in front of the grill. Close lid and set cooking temperature at 425 F and cooking time for 5 minutes.  Allow the grill to preheat.
2. In a mini chopper, combine mushrooms, 2 of the scallions and the ginger. Pulse until finely chopped. Transfer to a medium-size bowl and add pork, 1/4 cup of the stir-fry sauce and the bread crumbs. Stir to blend.
3. Shape mixture into 1/2 inch thick patties that are small enough to fit in each of the slider cut-outs.  Close lid and cook for  5 minutes or until fully done.  Pork should be cooked until it has an internal temperature of 160F.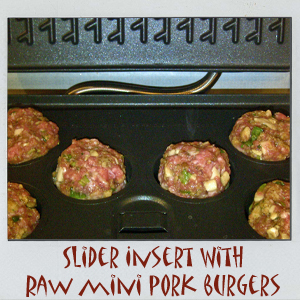 4. Meanwhile, stir together mayonnaise, remaining 1 teaspoon teriyaki stir-fry sauce and the sugar in a small bowl. Split rolls and top each with a burger. Spread 1 teaspoon teriyaki mayonnaise on each roll; sprinkle with scallion.
Enjoy!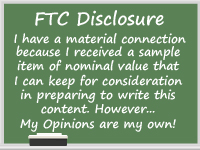 "This post was written for Family Review Network & George Foreman Healthy Cooking who provided the complimentary product in exchange for my honest review"