e.l.f. is offering 10 FREE Mineral Eyeshadows of your choice with any $20 purchase.  That is a $30 value! I took advantage of this deal last month and LOVE the way the Mineral Eyeshadows go on and LAST that I am going back for more!  The shadows contain key vitamins A, B, C & E and hydrate plus "minimize the appearance of fine lines."  The all natural consistency makes them incredibly EASY to apply and are 100% mineral based with no parabens, no preservatives and no chemical dyes.  Don't miss out on this amazing makeup deal!
Check this out!  Here is my June order and what I purchased.  I received all this makeup for just $24.00!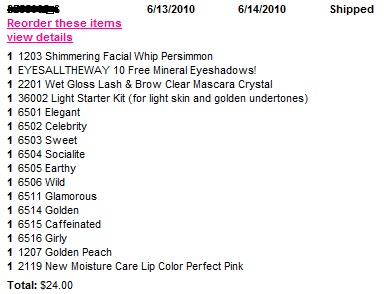 Use coupon code EGMES at checkout.  Expires 7/26.  Can not be combined with any other offer.