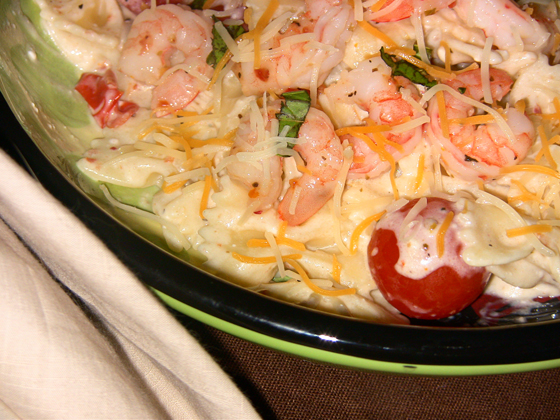 Summer is the time to incorporate those fresh vegetables and herbs into sizzling delicious dishes.  Try this quick and mouth-watering recipe for creamy tomato basil pasta with shrimp.  The combination of the fresh grape tomatoes, basil, and Philadelphia Neufchatel Cheese makes an incredible rich tasting meal.   You won't be sorry when you taste this restaurant quality delight!  The recipe was found in Kraft Foods food & family magazine's Summer 10 issue (page 20) and tried and tested by my family.  We loved it!
Creamy Tomato-Basil Pasta with Shrimp

Ingredients:

3 cups Farfalle (bow-tie pasta), uncooked

1/4 cup KRAFT Sun-Dried Tomato Dressing, divided

1 lb. uncooked peeled deveined medium shrimp

1 cup Fat-free reduced-sodium chicken broth

1/2 tsp. each garlic powder and black pepper

4 oz. (1/2 of 8-oz. pkg.) PHILADELPHIA Neufchatel Cheese, cubed

2 cups Grape tomatoes

1/2 cup KRAFT Shredded Parmesan Cheese

8 Fresh basil leaves, cut into strips

Directions:

COOK pasta as directed on package. Meanwhile, heat 2 Tbsp. dressing in large skillet on medium heat. Add shrimp; cook and stir 2 to 3 min. or until shrimp turn pink. Use slotted spoon to remove shrimp from skillet; cover to keep warm. Discard any drippings in skillet.

ADD remaining dressing, broth and seasonings to skillet; cook 2 min. or until heated through. Add Neufchatel; cook and stir 2 to 3 min. or until melted. Stir in tomatoes; cook 1 min.

DRAIN pasta. Add to ingredients in skillet. Stir in Parmesan and half the basil; top with shrimp and remaining basil.

prep time: 15 min

total time: 25 min

makes: 4 servings, 2 cups each
To make the recipe easier and more time efficient, I used precooked fresh frozen shrimp.  The recipe calls for fresh uncooked shrimp, but depending upon your time restraints and preferences the precooked shrimp you find in your market's frozen food isle will do the trick.  I also topped the dish with a sprinkle of shredded Monterey Jack and Cheddar cheese for extra flavor.
[ad#Google Adsense-1]