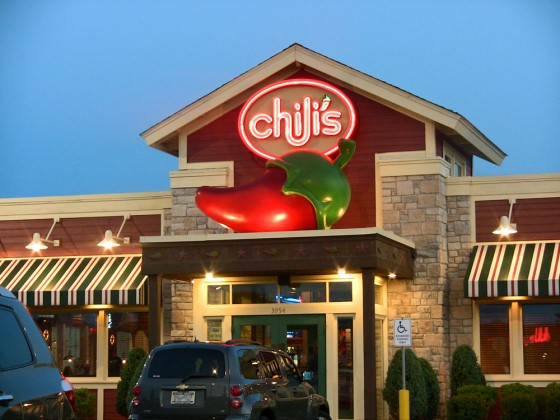 Some nights I  don't want to cook,  and if I'm forced to—it usually winds up to be a disaster!  The funny thing is I forget all the bad meals I have made in the past, but if you ask my husband he can remember EVERY ONE of them.  I made him cinnamon carrots (17 years ago) and he reminds me to this day to never do it again. The truth is,  I need a break once and a while from the kitchen and if I don't get it—strange things might end up on his plate.
Hubby was just as happy as I was when he found out Chili's Grill & Bar wanted me to review their new menu.  We both needed a break from my cooking and their freshly prepared menu looked great.  Chili's even brought back some old favorites such as the "Rojo Burger" that has been missing from the menu for almost 10 years.  The  Rojo is topped with cheddar cheese and a rich smoky hickory sauce.  Yummy!  All their  "Big Mouth Burgers" are made with 100 percent USDA Choice beef and grilled to perfection.  Your never going to get a frozen processed  meat patty at Chili's!
We packed up the kiddos and headed off to Chili's for a family night out.  I couldn't wait to get there, since I have eaten at the restaurant several times before and enjoyed the relaxed atmosphere plus delicious food.  All of us were hungry bears and just wanted to sink our teeth into something tasty.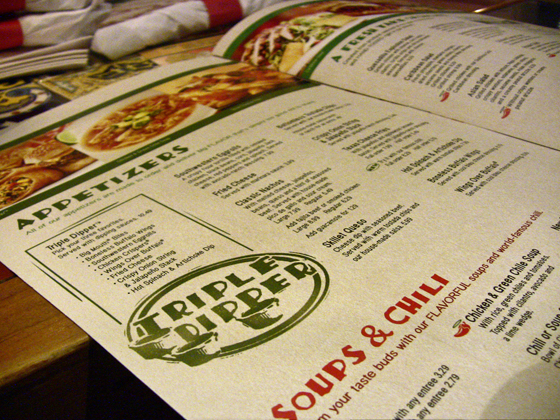 The new menu looked awesome and it was hard to choose from all the mouthwatering  entrees.    First thing we ordered was the  "Bottomless Tostada Chips" served with their house made salsa.  This kept us busy and satisfied while we waited for our meals to arrive.  The chips were crisp and perfect for dipping.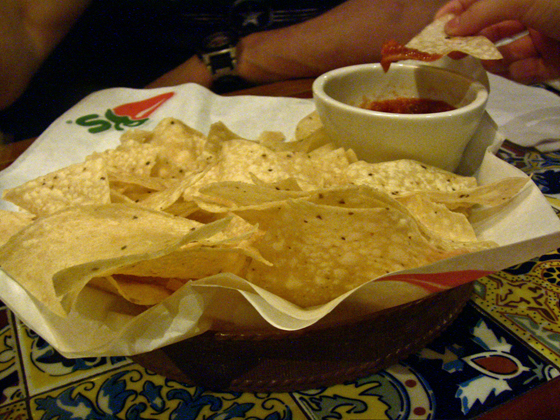 As we ate our appetizer,  Hubby decided to steal little man's crayons and do a bit of coloring .  As you can see my son was not amused and wanted his crayons back.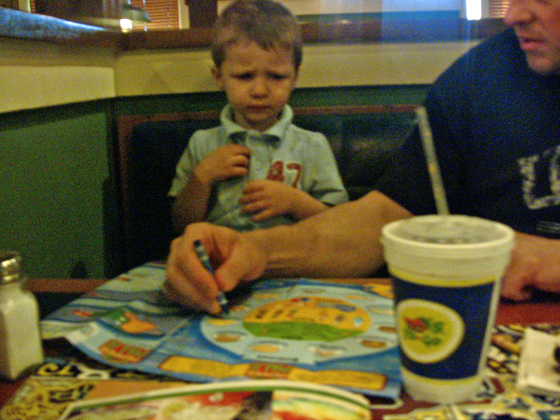 After a few sips of ice cold Coke—all was forgiven and he was happy again.  He  rarely ever gets soda at home,  so this was an extra special treat for him.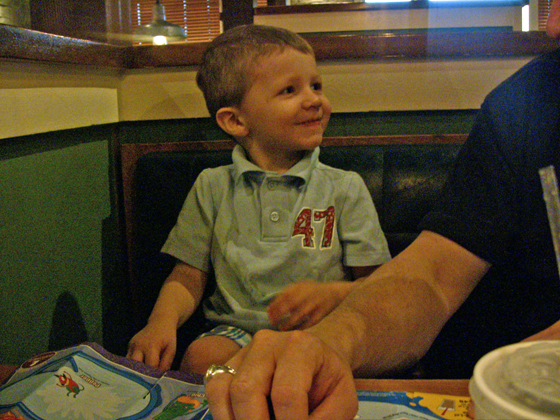 Here comes the delectable meals!
No huge surprise,  my husband decided to order the "Ultimate Stacked Burger."   WOW was this thing ever HUGE!  It consisted of two Big Mouth Burger patties stacked high and covered with melted American cheese, mayo, applewood smoked bacon, pickles, lettuce, tomato and crispy onion strings. Plus,  it was served with a generous size side of french fries. I honestly did not think he was going to be able to finish all of it, but he proved me wrong and demolished the monstrous creation!  He said it was just to good to stop. This burger meal is every meat and potato loving man's dream!  He couldn't move much after eating it and I thought I was going to have to carry him to the car.  Check it out!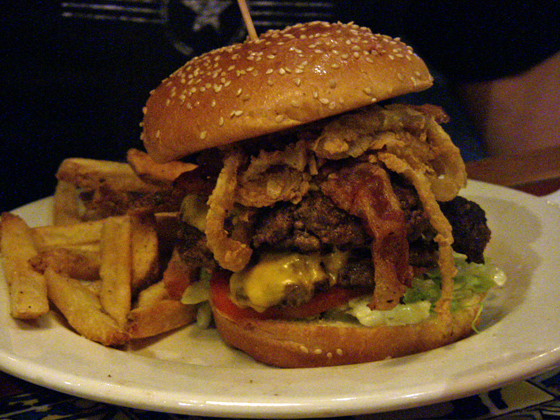 I decided to try one of their fresh and hand tossed salads.  The "Quesadilla Explosion Salad" was a combination of grilled chicken, cheese, corn relish, cilantro, tortillas strips and citrus-balsamic dressing served over a bed of lettuce with cheese quesadillas on the side.  The flavor mix was incredible and I will definitely be ordering it again on my next visit.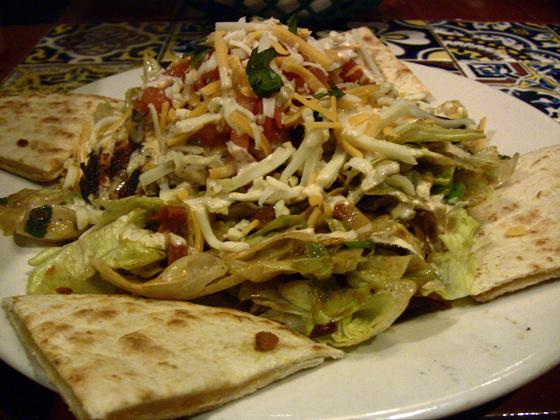 My daughter also ordered a freshly prepared salad and decided on the "Caribbean Salad" with grilled shrimp.  Chili's went all out when they created this spectacular entree.  The salad was made with crisp lettuce, fresh pineapple, mandarin oranges, dried cherries, green onions, cilantro, sesame seeds and honey-lime dressing and topped with scrumptious grilled shrimp.  I took a small bite to see what it tasted like and it was FANTASTIC.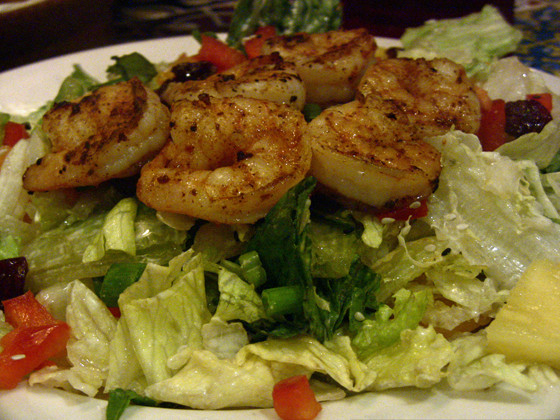 My son had the "Pepper Pal's Crispy Chicken Crispers." He attacked the basket before I could even snap a picture!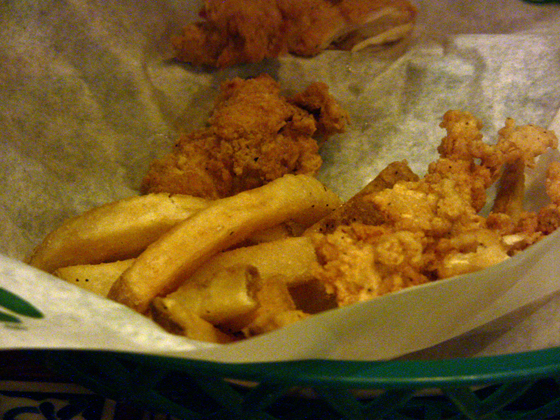 I give Chili's Bar & Grill 5 stars (out of 5)  for excellent service, atmosphere, the new freshly prepared menu, portion sizes, kid friendly, and delicious food.  The whole experience was superb!
If your a man reading this review—do yourself plus wife/girlfriend/significant other a favor, and give her a much needed night off in the kitchen and take her to Chili's!  She will thank you and you will be sure to get something tasty on your plate!
Chili's "Shout Out to Eat Out" Sweepstakes
Like I said, there are nights you just don't feel like cooking and need to "Shout Out to Eat Out."  Maybe you had a bad day at work, the car exploded, the kids are driving you bonkers, your in-laws are staying in the next room, or its just plain too darn hot to cook.  What ever the reason may be, Chili's wants you to upload a short movie of yourself (:15 to :30 in length), explaining why you do not want to cook dinner tonight and would rather have dinner at Chili's.  One winner each day until August 30th, 2010 will be selected at random to win a $50 gift card to Chili's!  Go here to enter and shout out!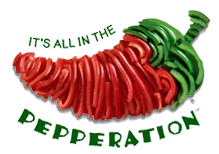 $50 Gift Card Giveaway!
I'm having my own "Shout Out To Eat Out" giveaway right here!  To enter for the chance to win a $50 Chili's Gift Card leave me a comment explaining why you don't want to cook dinner and need a night out at Chili's.  Make sure its creative!
Extra Entries
1. Mention the giveaway on your own blog linking back to this post and Chili's.  Leave an additional comment with a link to where you blogged about the giveaway. This is worth 5 extra entries.  Make sure you leave 5 separate comments. (example blogged extra entry #1, blogged extra entry #2, blogged extra entry #3, ect…)
2.Place my button on your blog and then leave an additional comment with a link to the page where you put the button. If you already have my button leave a comment letting me know you already have it.
3. Follow my blog and leave me an additional comment. ( There is a little widget on my sidebar that shows my followers. Just click follow). If you already follow leave me a comment letting me know you already do.
4. Follow @ahappihippymom, and Chili's on Twitter. Plus tweet about the giveaway.  3 Extra Entries
5. Subscribe to my feed and leave a comment. If you already subscribe leave a comment telling me you are already a subscriber.
6. Like Chili's on Facebook.  This is worth 2 extra entries.
7. Like ahappyhippymom on Facebook. Worth 2 extra entries
8. Enter any of my other ACTIVE giveaways.  Leave a separate comment for each one entered.
Open to US
The contest ends August 7th,  11:59 PM eastern
FTC disclosure : I was given a Chili's  gift card for review purposes. Even though I received this card ,  the opinion I am sharing is honest and remains my own.  No further compensation was received.

[ad#Google Adsense]