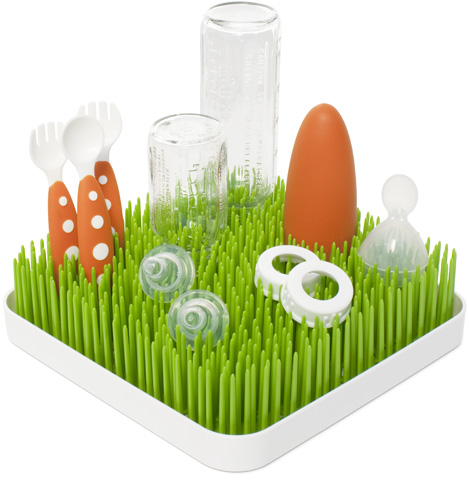 Product Description
* Low-profile drying rack looks great in a modern kitchen
* Perfect for drying items of all shapes and sizes
* Easily holds items upright for drying while excess water collects in bottom tray
* Two-piece, easy-to-clean design is dishwasher-safe
Dimensions: Tray measures 9.5″ x 9.5″ Overall height 2.5″
Retail Price $19.99
Don't you love how Boon can take an ordinary baby product and turn it into something modern, stylish, and fun?  The Grass Countertop Drying Rack is a two-piece drying that not only looks awesome sitting out on your kitchen counter, but is extremely functional too.   Bottles, plates, sippy cups, baby bottle nipples, utensils, and all of your other baby accessories air dry on flexible blades of grass.  The whimsical grass plot holds your baby items firmly in place while the water drains down into the bottom dish.  Unlike other bulky drying racks, the two-piece design allows for easy sanitizing and can be placed in the dishwasher.
Just like all of Boon's products, the Grass Drying Rack  is BPA-free, Phthalate-free and PVC-free!  This is so important since the items you will be drying on the rack are more than likely going to be used for feedings and go directly into your baby's mouth.  Bisphenol-A,  phthalates, and PVC have been linked to developmental disorders, suppressed immune function, hyperactivity, diabetes, and even cancer.   Boon offers a whole line of eco-friendly, and safe products which provide environmental plus health conscious parents a worry free solution for their babies.
When I first received the Grass Drying Rack for review, I had to ensure my son it wasn't a toy!   He thought it was his and wanted to play with it so badly.  Its definitely a fun product and very eye catching.  I like how it looks on my counter and keeps all the washed items organized.  Another great feature is how the water collection tray keeps my counter dry (unlike my usual cheap plastic drying rack) and is a cinch to clean.  Plus,  if I decide to put it away,  the little piece of lawn  and collection tray fits  flat in my cupboard without taking up too much space.  I LOVE it!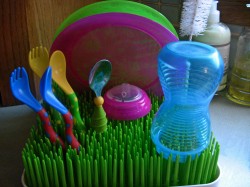 What I Would Change
Its rather small and I would like to see a bigger design offered in the future.  If you have two children or more with several baby accessories,  you might want to  consider purchasing two racks instead of one.
Buy It
The Boon Grass Countertop Drying Rack suggested retail price is $19.99 and can be found online at Boon, Target, Amazon.com, and various other retailers.
Follow Boon on Facebook and Twitter for product updates, contests, and special offers!
Boon Giving Back
Boon is a very generous company and believes in giving back.  From the very beginning,  Boon has donated 10% of profits to charities specifically benefiting children in need.  Read more about how Boon supports Helping Orphans Worldwide (HOW) here.
The Newest Product Added To The Boon Line!
Have you seen the newest product added to the Boon line?  Check out the Plum Dispensing Spoon!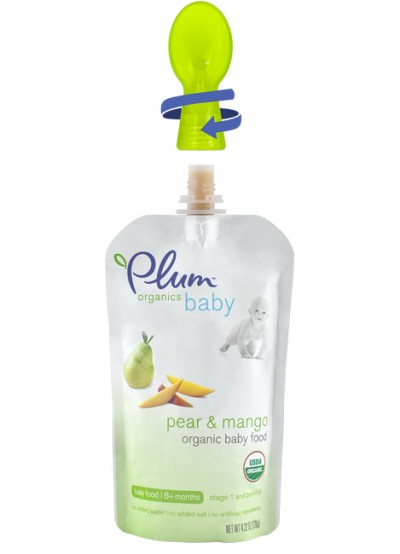 "Leveraging innovation from the award-winning Squirt Baby Food Dispensing Spoon, the Plum Dispensing Spoon by Boon is the exclusive spoon for Plum Organics pouches. Each case contains two spoons which easily attach to Plum Organics JUST fruit and Second Blends baby food pouches for healthy, convenient feeding especially when on-the-go."
GIVEAWAY!
Boon would like to give one of my readers a Grass Countertop Drying Rack.  To enter the giveaway please check out the Boon product line and leave a comment letting me know which is your favorite product.
Extra Entries
1. "Like"  Boon on Facebook .  Make sure you leave THREE separate comments. (example fan of Boon extra entry #1,  fan of Boon extra entry #2, fan of Boon extra entry #3, ect…)
2.Place my button on your blog and then leave an additional comment with a link to the page where you put the button. If you already have my button leave a comment letting me know you already have it.
3. Follow my blog and leave me an additional comment. ( There is a little widget on my sidebar that shows my followers. Just click follow). If you already follow leave me a comment letting me know you already do.
4. Follow @ahappyhippymom and @Boon on Twitter plus tweet about the giveaway.  Please make sure you leave the link where you tweeted in your comment. YOU CAN TWEET ONCE PER DAY TO INCREASE YOUR CHANCES OF WINNING.  USE THE RETWEET BUTTON AT THE BOTTOM OF THIS POST FOR EASY ENTRY.
5. Subscribe to my feed and leave a comment. If you already subscribe leave a comment telling me you are already a subscriber.
6. Fan me on  Facebook and leave  TWO extra comments.
7.  Enter any of my other giveaways.  Leave me a comment telling me which giveaway you entered.  The giveaway must be still active in order to gain an extra entry.
8. Comment on any of my NON giveaway posts to gain extra entries. Please leave me an extra comment here for every post you commented on.
A winner will be chosen at random via Random.org.
Open to US
The contest ends July 28th,  11:59 PM eastern
FTC disclosure : I was given a  Grass Countertop Drying Rack by Boon for my review.  I was allowed to keep the product, but the opinion I am sharing remains my own.
[ad#Google Adsense-1]