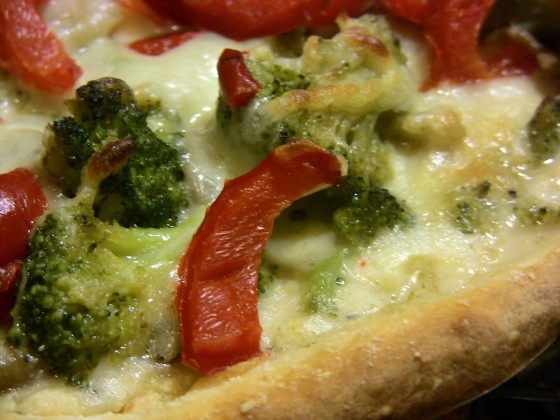 Serve up a delicious two-cheese white sauce pizza loaded with broccoli and mushrooms for dinner tonight!  This pizza recipe came from the April, 2010 issue of Vegetarian Times and was tested and tried by my family.  The kiddos love anything that resembles a pizza which makes this easy recipe a sneaky way of getting them to munch some veggies.
The trick to a crisp crust is preheating the baking stone or sheet.  If you enjoy extra crispy pizza, prebake the dough 3 to 4 minutes before adding the toppings.
White Pizza with Broccoli and Mushrooms
2 Tbsp. nonhydrogenated margarine or butter, divided
6 ounces mushrooms, sliced (2 cups)
8 ounces broccoli florets (3 cups)
1 Tbsp. all-purpose flour
1 cup low fat milk 2 cloves garlic, minced (2 tsp.)
1/4 tsp. salt
1/2 cup shredded mozzarella, divided
1/4 cup grated Parmesan, divided
1 (13.8 ounce) package refrigerated pizza dough
Place pizza stone or baking sheet in center of oven, and heat to 425 degrees F.
Melt 1 1/2 tsp. margarine in skillet over medium-high heat. Add mushrooms and cook 4 to 7 minutes, or until beginning to brown, stirring frequently. Add broccoli and 1/3 cup water. Cover tightly, and steam broccoli in skillet 3 to 4 minutes, or until tender.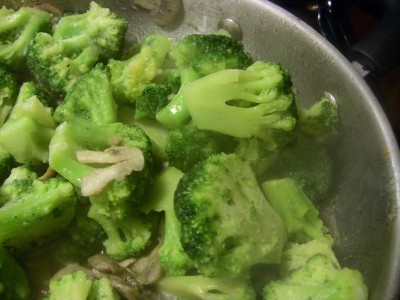 Meanwhile, heat remaining 1 1/2 Tbsp. margarine in saucepan over medium-high heat. Add flour, and cook 2 minutes, or until pale golden, stirring constantly. Stir in milk, garlic and salt. Cook 3 to 4 minutes, or until mixture thickens and begins to boil, stirring constantly. Remove from heat. Stir in 1/4 cup mozzarella and 2 Tbsp. Parmesan until sauce is smooth and cheese is melted.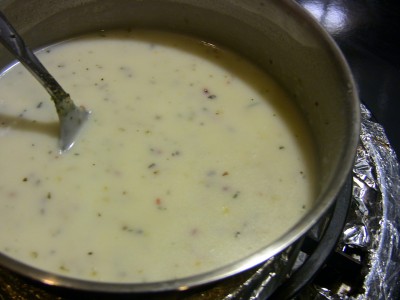 Shape pizza dough according to package directions. Remove pizza stone from oven, and place dough on hot stone.
Spread white sauce over dough to within 1/2-inch of edge, and top with broccoli mixture. Sprinkle remaining mozzarella and Parmesan over top. Return to oven, and bake 18 to 20 minutes, or until edges of pizza are golden and center is hot and bubbly. Cool slightly before slicing and serving.
The only variation I did to the recipe was to add some roasted red peppers to give the pizza some extra color plus zing,   and I dropped in a few spices in the white sauce!  This pizza recipe is so versatile and you could even change it up a bit by including some caramelized onions  too.