[ad#Google Adsense-1]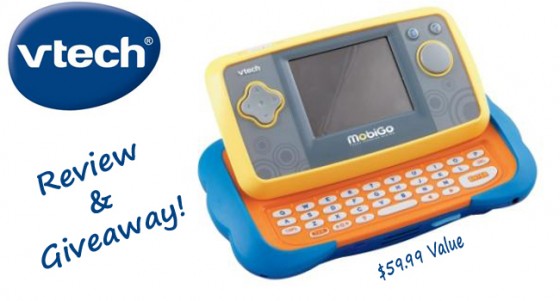 My son,  who is only 2 1/2 years old,  sees me daily on my laptop  and thinks he needs to be plinking away at my keyboard too.  This has its upsides and downsides!  I'm very ecstatic he is interested in learning and likes to mimic me, BUT I'm frightened at the idea he is going to break my laptop.  Not to mention, I walked away from my PC for 5 seconds to grab some coffee and he managed to delete a review that took three hours to write…AWWW!  He is FULL of energy, enthusiasm, and wants to explore everything he can get his little fingers on.  I want to encourage his positive behavior to learn, but want to keep my Gateway intact too!
My husband and daughter have their own worries with him grabbing their  PSP and Nintendo DS.  I can understand both their concerns, since the potable gaming systems are fragile and can be easily cracked or broken.  My daughter takes her Nintendo DS in the car and it ends up becoming a screaming battle in the back seat with him pulling at her and trying to reach for it.  I've tried purchasing some of the pretend gaming toys with sounds and lights geared towards his age to keep him satisfied, but he loses interest quickly.   The toys repeat the same actions over and over and the excitement of playing with them is soon lost.
Vtech reached out to me last week and asked if I would be interested in trying the new MobiGo Touch Learning System.  The MobiGo is designed for youngsters 3-8 and gives kids the ability to mimic Mom and Dad with their very own touch-screen learning system.
MobiGo features:
Touch Screen
Kids can enjoy their very own touch screen play on a 3″ crystal-clear color display.  The very cool touch screen technology allows your child to tap, flick, rub, spin and drag their finger to play games.
QWERTY Keyboard
The slide-out QWERTY keyboard gets older children familiar with text typing skills.
Learning Games
From coloring book pages, drawing, playing instruments, and fishing, children can discover a wide variety of entertaining and educational games.
Teaches Basic Learning Skills
Teaches a wide range of skills including vocabulary, spelling, math, logic, and categorization.
Connect Online
Kids can connect their MobiGo  to the Vtech Kids website with the USB cable provided and upload their scores to receive awards, check out how they compare to other players,  and download extras.
Portable Playtime
The handheld design makes learning fun on the go for little hands.  MobiGo comes with a headphone jack and an AC adaptor port (adaptor not included).
Sturdy Design
Portable and durable with rubberized grips.  MobiGo is perfect for kid-sized hands.
11 interactive games,  featuring your child's favorite characters (more will be added in the near future) $19.99:
Ben 10
Disney Fairies
Dora the Explorer
Mr. Men & Little Miss
Shrek
Disney/Pixar's Toy Story 3
Disney/Pixar's Cars
Disney Princesses
Mickey Mouse Clubhouse
NASCAR
Super Hero Squad
Watch the demo to see Vtech MobiGo in action!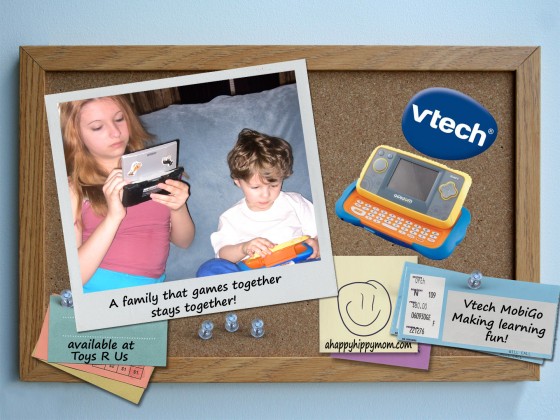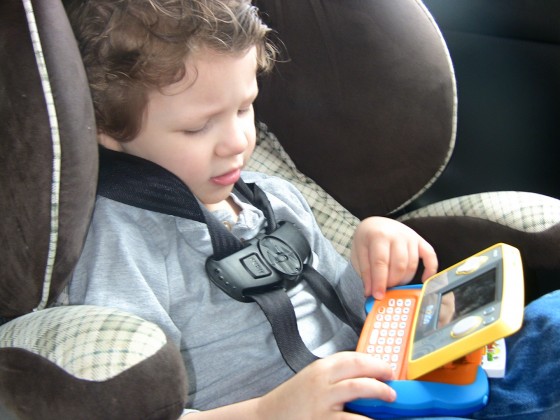 As you can see from the video above, the MobiGo can be a very positive learning tool with several developmental benefits.  With any learning system the main object is keeping children engaged long enough to actually be able to absorb information.   I believe Vtech has accomplished this with the MobiGo.   Its a modern twist on education and the  MobiGo brings it to life in a fun high tech way.  Young minds can get their brain cells pumping with exciting familiar characters and sharpen their cognitive development, science concepts, letter names, visualization, memory, motor skills, and more.
The Vtech MobiGo Touch Learning System comes with a Touch And Learn game pack. I really like this, because it saves me from having to buy a game right from the beginning and lets kids get use to the controls.  Each game has an option of choosing Easy or Difficult level before playing.  Additionally,  there is a narrator to help kids throughout and guide them if they get stuck.   The cartridge includes the following fun games:
Space Challenge (Curriculum: Number Sequence & Addition)

Find the number that comes next or solve the math problem to figure out which spaceship to target.  Then, tap the spaceship with the correct number.
Fantastic Forest (Curriculum: Lines & Shapes)

Sam the Squirrel needs your help getting home.  Help him cross the woods by drawing the correct lines and shapes.
Shooting Gallery (Curriculum: Letters & Vocabulary)

Use the keyboard to play this game. Knock down the targets by typing in the letters on Easy level.  Type the letters in the correct order to spell the word on difficult level. Ready, Aim, Fire!
Wild Fun (Curriculum: Observation)

Tap the animal that's different from the others! Let's see how many differences you can spot before time runs out. Ready? Go!
Ice Escape (Curriculum: Problem Solving)
Help the penguin find some fish to feed his hungry tummy! Flick the ice cubes to move them and make a path so that the penguin can get to the fish.  If you get stuck and can't figure out how to get to the fish, press the Enter button to start over again on the current screen.
-Snowball: Tap it to make it melt.
– Stone: Stones can't be moves so you'll have to maneuver around them.
– Ice crack: The penguin can't move over the ice cracks, but the ice blocks can.
– Hole: push the small square  ice blocks into the holes to fill them up.
Music Maestro (Curriculum: Music & Rhythm
Let's jam to the music! Tap the button in the bottom right corner to choose Game Mode or Free Play Mode. Then tap the song you want to play. In Game Mode, follow the music notes to play the song.  Watch the music notes fall from the top of the screen and wait for the piano keys, drums, or guitar strings to change colors.  Then, tap the piano keys, pat the drums, or flick the guitar strings to play the instruments at the correct time.
In Free Play Mode, just play along with the music.

My son is still a wee bit to young to comprehend all of the features that MobiGo has to offer, BUT he loves to touch the screen, play with the keyboard, and mimic his sister playing her Nintendo DS.  In time with some  practice,  he will be a pro and on his way to increasing his comprehension skills.  Of coarse I also  like the MobiGo for my own selfish reasons.  Besides the obvious educational factor, the MobiGo lets my son feel like he is a big boy with his own gaming system,  and ends the screaming plus temper tantrums of him wanting to play with the other more delicate gadgets.  Its ideal for taming and satisfying the boredom fits on car trips too!
If you plan on purchasing Vtech MobiGo Touch Learning System I highly recommend you get some sort of screen protector to keep it looking new.  There is a lot of touching from little hands that could scratch the screen. To clean the screen use the soft cloth included in the package or wipe it with a slightly damp cloth.  Never use solvents or abrasives.
Buy It
MobiGo will be available exclusively at Toys R Us stores and online beginning June 7th.  The system comes in blue or pink and retails for $59.99.
Additional information and customer feedback will be available on VTechKids.com starting June 5th.  Visit  www.vtechkids.com/mobigo for more information.
About Vtech
Vtech, the creator of the Electronic Learning Products (ELP) category and the award-winning V.Smile TV Learning System, is a world leader of age-appropriate learning toys. Since 1980, VTech has been developing high-quality, innovative educational products that enrich children's development, from birth to preteen, through fun and smart play.
VTech Electronics North America, LLC is based in Arlington Heights, Ill. VTech Electronics Ltd. is headquartered in Hong Kong with distribution throughout North America, Europe and Asia.
For more information on VTech's additional product lines, visit www.vtechkids.com, www.facebook.com/VTechToys on Facebook or follow @VTechToys on Twitter.
WIN IT!
Vtech has generously offered to give one of my readers an awesome MobiGo!  To enter the giveaway, FIRST head on over to VtechKids and take a look at the products.  Then come back here and leave me a comment sharing which item (besides the MobiGo) you would like to have the most.
Extra Entries
EXTRA ENTRIES ARE OPTIONAL AND NOT REQUIRED TO BE ELIGIBLE FOR THE PRIZE.  DO NONE, ONE, OR IMPROVE YOUR CHANCES BY DOING THEM ALL!  YOUR CHOICE!
1.  Become a fan of VtechToys on Facebook.  Make sure you leave THREE separate comments. (example fan of VtechToys extra entry #1,  fan of VtechToys extra entry #2, fan of VtechToys extra entry #3, ect…)
2.Place my button on your blog and then leave an additional comment with a link to the page where you put the button. If you already have my button leave a comment letting me know you already have it.
3. Follow my blog and leave me an additional comment. ( There is a little widget on my sidebar that shows my followers. Just click follow). If you already follow leave me a comment letting me know you already do.
4. Follow @ahappyhippymom and @VTechToys on Twitter plus tweet about the giveaway.  Please make sure you leave the link where you tweeted in your comment. YOU CAN TWEET ONCE PER DAY TO INCREASE YOUR CHANCES OF WINNING.  USE THE RETWEET BUTTON AT THE BOTTOM OF THIS POST FOR EASY ENTRY.
5. Subscribe to my feed and leave a comment. If you already subscribe leave a comment telling me you are already a subscriber.
6. Fan me on  Facebook and leave  TWO extra comments.
7.  Enter any of my other giveaways.  Leave me a comment telling me which giveaway you entered.  The giveaway must be still active in order to gain an extra entry.
8. Comment on any of my NON giveaway posts to gain extra entries. Please leave me an extra comment here for every post you commented on.
A winner will be chosen at random via Random.org.
Open to US
The contest ends June 23,  11:59 PM eastern
FTC disclosure : "I was given a MobiGo by VTech for my review. I was allowed to keep the product, but the opinion I am sharing remains my own."
UPDATE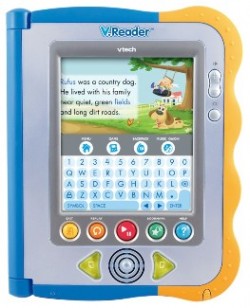 I just added a giveaway for a VTech V.reader!  It's like a Kindle for kids!  Please come enter for the chance to win this amazing educational toy at the following link!
https://www.ahappyhippymom.com/2010/06/reading-comes-to-life-with-vtech-v-reader-review-and-giveaway.html