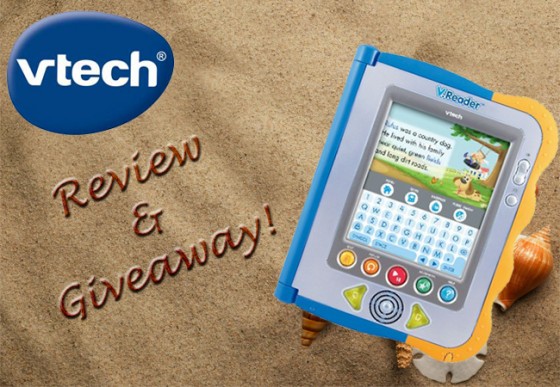 Meet the NEW VTech V.Reader!  The V.Reader is  the world's first animated e-reader system designed specifically for kids aged 3 – 7 years old.  The cutting-edge product features:
Animated Storyteller

Stories come to life through animated books on a 4.3″ color touch screen.    Children will enjoy narration, character voices, vivid graphics, sounds and music.

Touch and Read System

Two options of play:  Kids can follow along with the story or touch the screen to hear words and play interactive reading games.

Teaches Core Reading Skills

V.Reader helps teach reading comprehension, vocabulary, phonics, word building and more!

Story Dictionary

Enhance vocabulary skills with kid-friendly word definitions.

Downloadable Content

V.reader features a USB port and is expandable with SD memory cards (not included).  Download themes, avatars, as well as enjoy additional stories.

Track Your Child's Progress

Connect V.Reader to your computer to monitor your child's learning, and receive certificates of achievement for each story completed.

Sturdy Design

Kid-tough and perfect for kid-sized hands; cover protects the touch screen.

What's Included




V.reader Animated E-Book System (including V.Reader Pen)

What's That Noise? storybook cartridge

One Soft Cloth

User manual

USB cable

*Description quoted from product packaging.
Watch The VTech V.Reader Demo
My First Experience With V.Reader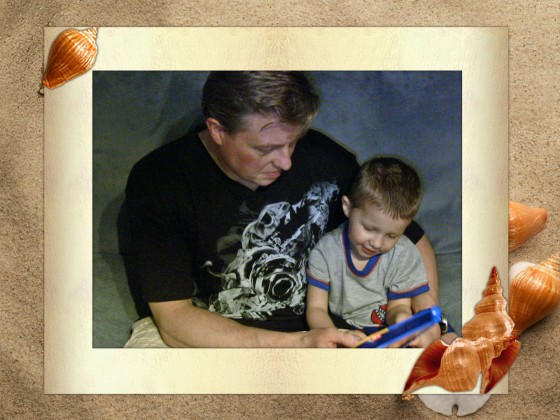 I'm a HUGE  fan of VTech educational gadgets and the V.Reader just made me love VTech even more!   Think of this electronic learning toy as being a durable interactive Kindle for young kids.  My first reaction to the V.reader was WOW!    Then when I started introducing the V.Reader to my son,  I became even more impressed.  His eyes stayed glued to the screen as Rufus ( cute dog in What's That Noise?) pranced across the screen and the words lit up as they were being read by the narrator.  He got a kick out of touching the arrow to turn the virtual page.  The  What's That Noise? reading game curriculum consists of  What Happened (comprehension game is included in every book cartridge), Same Sounds, In the Beginning, Silly Syllables, Capital Idea, Hello! Hola! Bonjour!, Opposites Attract, and Rhyme Time.  There is so much to learn and explore just on one cartridge!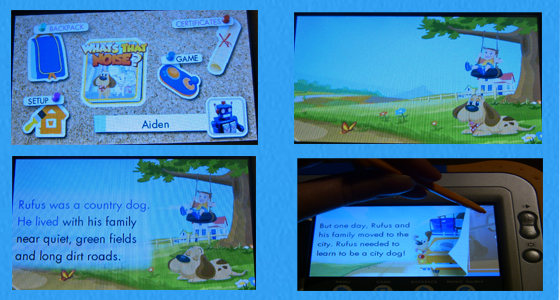 Next we played the Word Whacker game (on the easy level)that is preloaded on the system.   We tapped the moles to collect the missing letters needed to complete the words.  His attention was still held!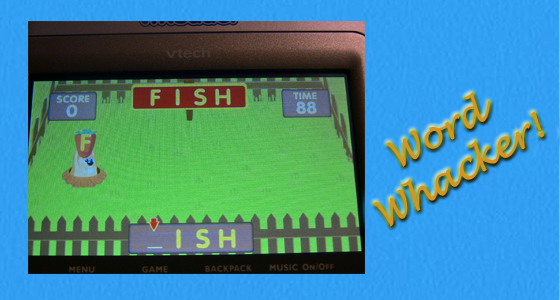 The Little Engine That Could
I was also sent the famous story title The Little Engine That Could cartridge.  I always liked that story and enjoyed having it read to me when I was a youngster , but it was never as cool and memorable as this!  The graphics were very colorful and you can touch the characters to see fun animations.  The sounds of the  little train puffing down the track and watching the Little Blue Engine chugging up the mountain was so neat.  The story teaches important lessons about bravery, courage, and self confidence.  The cartridge additionally features 8 fun games to strengthen reading skills including What Happened, Beginning Sounds, Food Color, What's The Word, Where Are They, How Many, Opposites, and Upper and Lower case.  Children are taught reading comprehension, colors, classifying words, beginning sounds,  antonyms, object identification, and more!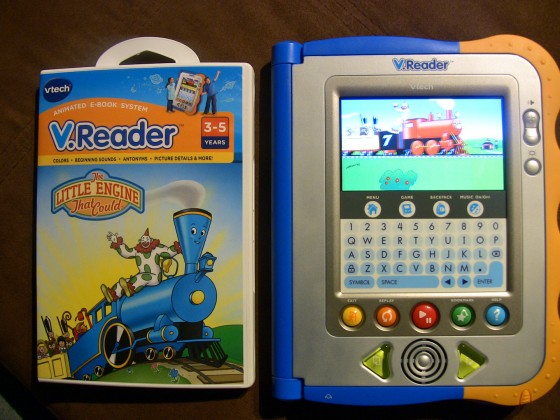 More Lovable Characters (SRP $19.99)

Your child can have their favorite lovable characters come to life and help them learn with 11 software options that include:
The Little Engine that Could (shown above)
Disney/Pixar's Cars
Shrek
Dora the Explorer
Disney/Pixar's Toy Story 3
Disney Princesses
Olivia
Disney Fairies
Mr. Men and Little Miss
Scooby-Doo
Mickey Mouse Clubhouse
*Cartridges are age graded for 3 to 5 year-olds and 5 to 7 year-olds. Each story cartridge includes a fully narrated and animated story, 8 reading-skill games and a Story Dictionary.
Download 100 Additional Stories
VTech plans on launching a library with more than 100 additional stories located on the VTech Web site (www.vtechkids.com) available for immediate download!   There will even be some free titles, more themes and avatars to customize your e-readers.  I tried connecting to the site with my V.Reader, but its not up and running yet.  Apparently, there will be a simple application needed to be downloaded to manage it all.  I can't wait to check it out!
Parent Friendly
The V.Reader is parent  friendly too!  There are controls to turn the music off/on,  a volume control button, brightness button, and a replay plus bookmark option!  I admit,  being able to turn the music down or off is superb!
Summer Reading Fun!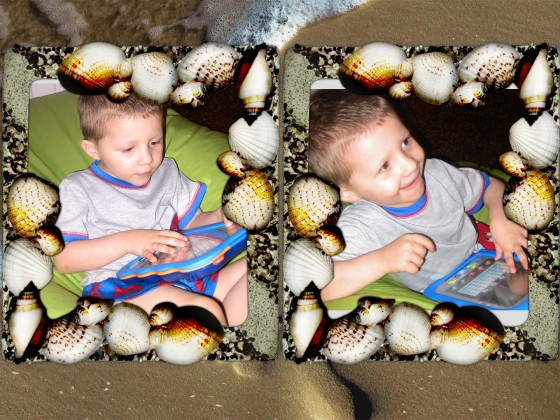 The V.Reader would be perfect to keep your child's reading skills fresh during the summer school break .  They can practice their newly acquired abilities to help them grow into a fluent reader.
Wish I Had It Years Ago!
10 years ago I taught me daughter how to read from curriculum  obtained from an educational home school provider.  Keeping her attention was  hardly possible.  She kept getting distracted by the little things around her and quickly lost interest.  The curriculum was stale and boring.  There was nothing to excite or make reading fun.   I  was eventually able to teach her how to read and went on to homeschool her for the first 4 years of her academic life.  Having a device like the V.Reader back then would have more than likely helped her grasp phonics easier and develop core reading skills in less time.  With the V.Reader, reading comes to life with fun animated characters, games, sounds, music, and the touch screen.  Hey,  I'm almost 40 and still get excited over the touch screen technology!   To a 3 year old being able to touch something and get a reaction is a major BIG deal!
Buy It
V.Reader (choice of pink or blue) will be available exclusively at Target June 20 and nationwide in August at all key retailers and online at www.vtechkids.com. (SRP $59.99)
VTech V.Reader Giveaway
VTech would like to give one of you a FREE V.Reader!  For the chance to win, please leave me a comment sharing what story title you would like to see VTech make available for the V.Reader OR which cartridge you are most interested in having.
EXTRA ENTRIES
1.  Become a fan of VtechToys on Facebook and leave a comment on their wall letting them know your entering my giveaway.  Make sure you leave THREE separate comments. (example fan of VtechToys extra entry #1,  fan of VtechToys extra entry #2, fan of VtechToys extra entry #3, ect…)
2.Place my button on your blog and then leave an additional comment with a link to the page where you put the button. If you already have my button leave a comment letting me know you already have it.
3. Follow my blog and leave me an additional comment. ( There is a little widget on my sidebar that shows my followers. Just click follow). If you already follow leave me a comment letting me know you already do.
4. Follow @ahappyhippymom and @VTechToys on Twitter plus tweet about the giveaway.  Please make sure you leave the link where you tweeted in your comment. YOU CAN TWEET ONCE PER DAY TO INCREASE YOUR CHANCES OF WINNING.  USE THE RETWEET BUTTON AT THE BOTTOM OF THIS POST FOR EASY ENTRY.
5. Subscribe to my feed and leave a comment. If you already subscribe leave a comment telling me you are already a subscriber.
6. Fan me on  Facebook and leave  TWO extra comments.
7.  Enter any of my other giveaways.  Leave me a comment telling me which giveaway you entered.  The giveaway must be still active in order to gain an extra entry.
8. Comment on any of my NON giveaway posts to gain extra entries. Please leave me an extra comment here for every post you commented on.
A winner will be chosen at random via Random.org.
Open to US
The contest ends July 10th,  11:59 PM eastern
FTC disclosure : "I was given a V.Reader by VTech for my review. I was allowed to keep the product, but the opinion I am sharing remains my own."
[ad#Google Adsense-1]
CLOSED! Watch for winner announcement.