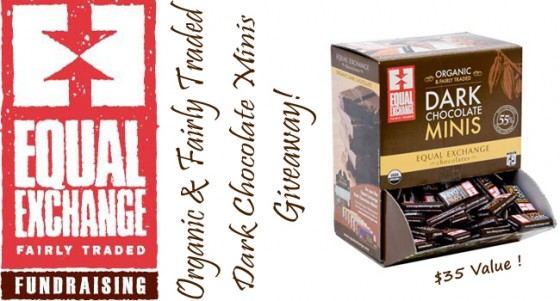 The Equal Exchange Organic & Fair Trade Fundraiser
Perfect for the green family: Now a way to support your school AND your values!
The Equal Exchange Fundraiser allows schools and community groups to make money (40% profit), while benefiting small organic farmers and artisans around the globe. The fundraiser features organic and fairly traded coffees, teas, cocoas, nuts & berries, and handmade gift wrap (tree-free!) from Equal Exchange, and beautiful gifts for the home from Ten Thousand Villages (www.tenthousandvillages.com). The Equal Exchange Fundraiser works both as an event and/or catalog sale and is an easy way to both make money for the school, while reinforcing classroom values of social and environmental responsibility and global citizenship. www.equalexchange.coop/fundraiser
Equal Exchange's unique fundraising program also includes FREE educational materials to empower teachers to delve deeper into the issues surrounding Fair Trade and cooperative economics: www.equalexchange.coop/educationaltools.
"I love how the Equal Exchange Fundraiser introduces children to the values of equity and sustainability while allowing parents and teachers to purchase everyday products that we all love. I hope to continue this fundraiser for many years to come!" -Jackie DeLisi, Parent, The Brimmer and May School, MA
As an exciting incentive for your readers, Equal Exchange will support your blog with a FREE giveaway of a case of Equal Exchange organic & fairly traded dark chocolate minis ($35 value)!
*Guest post by Ruthie Oland
GIVEAWAY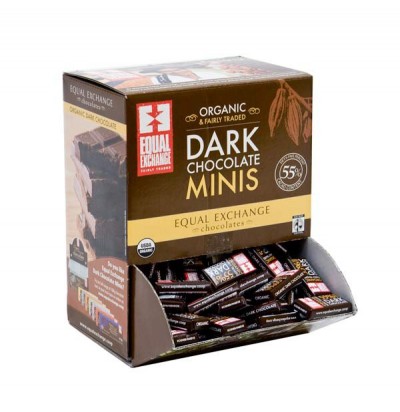 A big  thanks to Ruthie for donating a case of delicious organic chocolate to one of my readers!  To enter the giveaway,  check out the Equal Exchange products and leave me a comment sharing one item you would like to have.
EXTRA ENTRIES ARE OPTIONAL AND NOT REQUIRED TO BE ELIGIBLE FOR THE PRIZE.  DO NONE, ONE, OR IMPROVE YOUR CHANCES BY DOING THEM ALL!  YOUR CHOICE!
1.  Become a fan of Equal Exchange on Facebook.  Make sure you leave THREE separate comments. (example fan of Equal Exchange extra entry #1,  fan of Equal Exchange extra entry #2, fan of Equal Exchange extra entry #3, ect…)
2.Place my button on your blog and then leave an additional comment with a link to the page where you put the button. If you already have my button leave a comment letting me know you already have it.
3. Follow my blog and leave me an additional comment. ( There is a little widget on my sidebar that shows my followers. Just click follow). If you already follow leave me a comment letting me know you already do.
4. Follow me on Twitter and tweet about the giveaway. Please make sure you leave the link where you tweeted in your comment. YOU CAN TWEET ONCE PER DAY TO INCREASE YOUR CHANCES OF WINNING.  USE THE RETWEET BUTTON AT THE BOTTOM OF THIS POST FOR EASY ENTRY.
5. Subscribe to my feed and leave a comment. If you already subscribe leave a comment telling me you are already a subscriber.
6. Fan me on  Facebook and leave  TWO extra comments.
7.  Enter any of my other giveaways.  Leave me a comment telling me which giveaway you entered.  The giveaway must be still active in order to gain an extra entry.
8. Comment on any of my NON giveaway posts to gain extra entries. Please leave me an extra comment here for every post you commented on.
A winner will be chosen at random via Random.org.
Open to US
The contest ends June 13,  11:59 PM eastern
FTC disclosure : This is not a compensated post.