[ad#Google Adsense]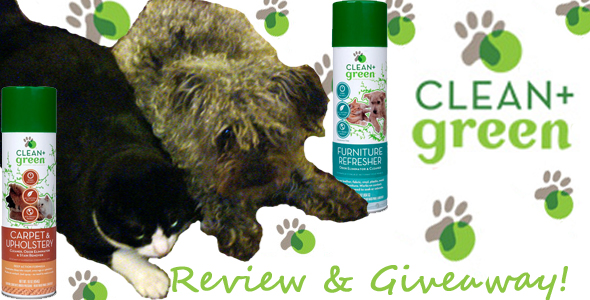 Is your stinky pet odor getting you down?  Are you worried your average stain and odor remover might be toxic and harm your precious pets, family and the environment?  Why not try  Clean + Green?  Clean + Green, the only eco-friendly aerosol pet cleaning products on the planet,  removes odors plus stains effectively and more importantly–safely!
How does it work?
Clean+Green's powerful Advanced Eliminator3 Formula encapsulates and eliminates stains and odors on contact.  It works by naturally biodegrading the stain and odor source instead of using masking agents which just cover up the smell.  The environmentally friendly aerosol applicator makes cleaning easy and quickly applies the desired amount of solution for maximum performance without depleting the ozone  layer.
What are the ingredients and is it safe?
The Clean+Green  products are non-toxic, non-carcinogenic, non-flammable, and are free from harsh chemicals, perfumes, CFCs and VOCs.  The all natural ingredients include Cane sugar derivatives, proprietary blend of botanical extracts, hydrated cellulose (cleaning agents) purified water and nitrogen.  The solution is gentle enough to be used around people and animals, but packs a powerful punch to even eliminate stinky skunk odor.
Where can Clean+Green be used?
The question is where can't it be used!  Clean+Green products can be used on  wood, carpet, concrete, tile, fabric, diaper pails, diaper bags, leather, litter boxes, cages, pet beds, in bathrooms, cars, ect…  Its effective on eliminating common household odors such as  urine,  feces, hairballs, vomit, skunk spray, smoke, and lingering food odors too.
I tried it!
If you have been hanging around my site long enough you probably have read a few rants about my stinky  dogs and  messy cats.  I have a male Morkie and female Cairnpoo who smell like stale Doritos and foul feet.  I can't explain the pungent odor, but all I know is its very repulsive. I bath them and a few hours later they stink again. It's a constant battle to try and keep things smelling fresh, because the two fur balls smell so bad.  I believe it has to do with their breeds.
However, my cats are another story.  They are continuously hacking up hairballs and making yak messes on my carpets that resemble small snakes. Disgusting!
I was sent a sample of the Clean+Green Carpet & Upholstery For Dogs & Cats,  plus the Dog & Cat Furniture Refresher.  I used both products and was rather impressed with the results. The Carpet & Upholstery cleaner worked great on removing the stains on my rugs from the hairball and cat vomit messes.  I did have to reapply a few times to remove the stain, but it was able to be dissolved.  I used the Furniture Refresher on my dog's bedding and on my chair where the cats lounge to freshen them up.  I liked the products and would feel good recommending them to  friends or family members who have pets!
Buy It
Clean+Green products are available at PETCO, PetSmart, Pet Supplies Plus, Petland Discounts and other retailers that sell pet specialty products in the US and Canada, as well as through the Clean+Green site – www.sea-yu.com.
About SeaYu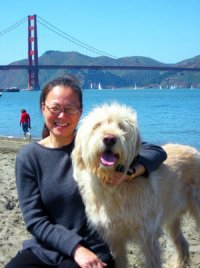 At SeaYu, we love animals — and we care about the world we live in. But we know firsthand that every pet lover needs a quick, powerful and convenient solution to pet cleaning problems. That's why we've carefully developed the safest, most effecitve, pet cleanup system you'll find anywhere. Completely free of harsh chemicals — and personally tested in our own home. All natural. Fur friendly. Kid safe. And able to stand up to any pet cleanup challenge — even skunk.

We're committed to making sure all of our products are non-toxic, non-carcinogenic and eco-friendly. Easy on the environment and easy to use. Our unique, patented Advanced Eliminator Formula doesn't just cover up the smell. It permanently eliminates odors, deep cleans and removes stains — everything you'd expect from the only eco-friendly aerosol pet cleaning products on the planet.

So, breathe again. The world is a safer place.  And life just got easier!
GIVEAWAY!
The very nice people at SeaYu would like to give one lucky reader their choice of any SIX Clean+Green products!  Please visit www.sea-yu.com and come back here to leave me a comment letting me know which six products you would like for your prize if your chosen as the winner.
EXTRA ENTRIES ARE OPTIONAL AND NOT REQUIRED TO BE ELIGIBLE FOR THE PRIZE.  DO NONE, ONE, OR IMPROVE YOUR CHANCES BY DOING THEM ALL!  YOUR CHOICE!

1. Mention the giveaway on your own blog linking back to this post and SeaYu.  Leave an additional comment with a link to where you blogged about the giveaway. This is worth 5 extra entries.  Make sure you leave ten separate comments. (example blogged extra entry #1, blogged extra entry #2, blogged extra entry #3, ect…)
2.Place my button on your blog and then leave an additional comment with a link to the page where you put the button. If you already have my button leave a comment letting me know you already have it.
3. Follow my blog and leave me an additional comment. ( There is a little widget on my sidebar that shows my followers. Just click follow). If you already follow leave me a comment letting me know you already do.
4. Follow @ahappihippymom and @SeaYu on Twitter, plus tweet about the giveaway. Please make sure you leave the link where you tweeted in your comment. TO INCREASE YOUR CHANCE OF WINNING I AM ALLOWING 1 TWEETS PER PERSON DAILY.  USE THE RETWEET BUTTON AT THE BOTTOM OF THIS POST FOR EASY ENTRY.
5. Subscribe to my feed and leave a comment. If you already subscribe leave a comment telling me you are already a subscriber.
6. Become a fan of Clean+Green on Facebook.  This is worth 2 extra entries.
A winner will be chosen at random via Random.org. Upon notification the winner has 72 hours to send me their contact information.  Information will be forwarded to sponsor for prize fulfillment.
Open to US residents only 18+
The contest ends May 24th,  11:59 PM eastern
FTC  disclosure :  In adherence to the  FTC   it  is necessary  to add when ever I receive any compensation in return for posting about a company or product.  I received sample Clean+Greeen products for review purposes. No further compensation was received.    Even though a free product was received,  the opinions were of my own.