[ad#Google Adsense]
Getting enough water in your diet can be difficult, especially for individuals (like myself)  who don't like the taste of boring water.  In general, doctors recommend consuming 8 or 9 cups of water per day, but amounts can vary depending upon climate and activity levels.  Water is essential for maintaining good health and helps the body flush toxins out of vital organs plus carries required nutrients to your cells.  The lack of water can lead to dehydration and prevent your body from carrying out normal functions.  Even mild dehydration can drain your energy levels and make you feel tired,  so it's important to get enough fluids daily.
With the summer months coming up and the hot weather approaching,  it's a good idea to have beverages closely on hand that will appeal to your kiddos, hubby, and you too.  In stead of stocking your pantry with high calorie sodas or other beverages filled with sugar and caffeine,  a good idea would to be to have some zero calorie Aquafina FlavorSplash available for consumption.   Aquafina's naturally fruit flavored FlavorSplash water beverages provide a sweet and refreshing  alternative to regular tasteless water.  It comes in a variety of six delicious flavors including peach mango, raspberry, strawberry kiwi, lemon, wild berry, and grape.  FlavorSplash is  sweetened with Splenda to enhance flavor and add just the right amount of sweetness to give it a great taste.
For the eco-friendly plastic worried friends out there, Aquafina FlavorSplash is now available in  new 16.9 oz bottles that use 20% less plastic for less environmental impact!
COUPON SAVINGS!
Download a coupon good toward $1 off a 6-Pack of FlavorSplash!

I've been selected as an Aquafina FlavorSplash Mom Ambassador!  Over the next six weeks I will be receiving  a weekly 'flavor of the week' sample and in return I will be sharing with you my thoughts about the FlavorSplash products.  This weekly flavor is Wild Berry and  I thought it was  delicious poured over a tall glass of ice.   I also made a yummy Wild Berry Smoothie using FlavorSplash!  My daughter LOVED it!
FlavorSplash Wild Berry Smoothie Recipe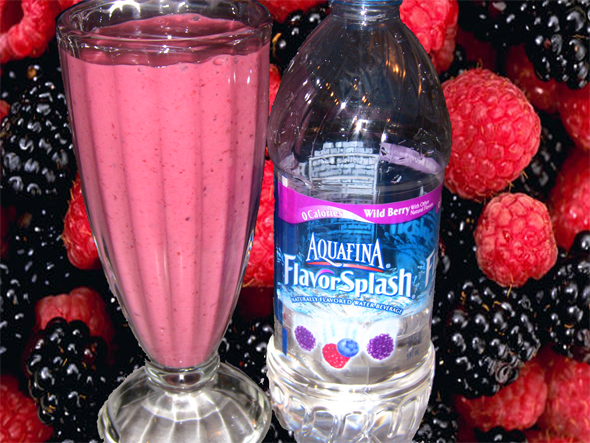 1 1/2 cup frozen mixed berries
6oz Blueberry Non-Fat Yogurt
4 0z Aquafina FlavorSplash Wild Berry
Toss all ingredients in blender and mix on high for 1 to 2 minutes.
"Flavor Your Day" GIVEAWAY
To help introduce Aquafina FlavorSplash and get the campaign started I want to "Flavor Your Day" by giving away two coupons for free FlavorSplash six-packs and two Aquafina FlavorSplash lip balms! You can keep all the goodies for yourself or share them with a friend.  For the chance to win, leave me a comment sharing what healthy things you do to keep yourself going.
EXTRA ENTRIES ARE OPTIONAL AND NOT REQUIRED TO BE ELIGIBLE FOR THE PRIZE.  DO NONE, ONE, OR IMPROVE YOUR CHANCES BY DOING THEM ALL!  YOUR CHOICE!
1.Mention the giveaway on your own blog linking back to this post and Aquafina.  Leave an additional comment with a link to where you blogged about the giveaway. This is worth 10 extra entries.  Make sure you leave ten separate comments. (example blogged extra entry #1, blogged extra entry #2, blogged extra entry #3, ect…)
2.Place my button on your blog and then leave an additional comment with a link to the page where you put the button. If you already have my button leave a comment letting me know you already have it.
3. Follow my blog and leave me an additional comment. ( There is a little widget on my sidebar that shows my followers. Just click follow). If you already follow leave me a comment letting me know you already do.
4. Follow me on Twitter and tweet about the giveaway. Please make sure you leave the link where you tweeted in your comment. YOU CAN TWEET ONCE PER DAY TO INCREASE YOUR CHANCES OF WINNING.  USE THE RETWEET BUTTON AT THE BOTTOM OF THIS POST FOR EASY ENTRY.
5. Subscribe to my feed and leave a comment. If you already subscribe leave a comment telling me you are already a subscriber.
6. Facebook  this post and leave me TWO extra comments.
7.  Enter any of my other giveaways.  Leave me a comment telling me which giveaway you entered.  The giveaway must be still active in order to gain an extra entry.
8. Comment on any of my NON giveaway posts to gain extra entries. Please leave me an extra comment here for every post you commented on.
A winner will be chosen at random via Random.org.
Open to US
The contest ends May 31st,  11:59 PM eastern
"I am a participant in a
Mom Central
campaign for Aquafina FlavorSplash and have received various FlavorSplash samples to facilitate my participation. Mom Central will send me a gift card at the end of the program."