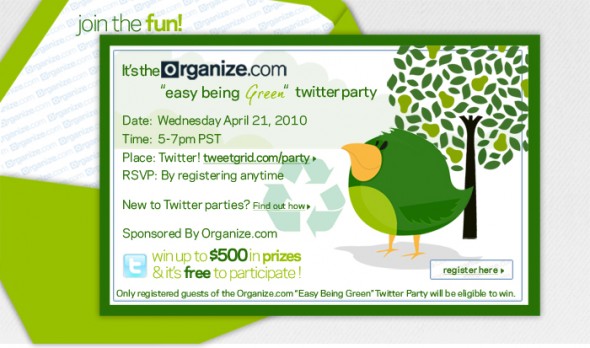 Organize.com is having an Easy Being Green Twitter party tonight ( starts 5 pm PST) where you can win some great eco-friendly prizes including a Bamboo Charging Station, gorgeous Bamboo Salad Bowl, Bamboo Tool Set, Bamboo Organizer, I ♥ Organize.com t-shirts, Market Tote in Dot No.7, On the Go Filtered Water Bottle by Fit & Fresh, Natural Canvas Grocery Tote, and a Reisenthel reusable bag!  PLUS, the grand prize winner will receive a Easy Being Green prize pack worth $150 which includes a $50 Organize.com e-gift card.  All you need to do to be eligible to win the prizes is to register here and tweet with the hashtag #green40.
Here is more on how to party (info quoted from Organize.com.)
1. You need a twitter account. (click here to set up a new twitter account)
2. Click here to register for the party; registration is free and only takes a couple minutes.
3. Participate! No one expects you or your tweets to be perfect; we're just happy you made it to the party!
Once you have created your Twitter account and registered for the party, follow these instructions to attend the party:
1. Go to http://tweetgrid.com/party
2. Type in the Party Hashtag: #green40
(a hashtag is this symbol # but it's followed by a word… this way whoever is using #green40 in their tweet will be on the same page-aka the same party)
3. Type in the Twitter Profile of the Party Hosts: @ORGANIZEdotcom, @MrsOrganized, @organizesteve0
4. Add your Username information: @yourtwitternamehere
5. Click on Join Party.
6. Type in your username and Twitter Account Password to get started.
7. Type your Tweets into the Tweet box and the party hashtag should be automatically added to your tweets.
It's so Easy Being Green! Have fun!