[ad#Google Adsense]
Organizations Join Together to Help Communities Prepare to "Weather" the Weather

The International Association of Fire Chiefs, Energizer and the
American Meteorological Society Team Up for National Public Education Weather Preparedness Program

Spring showers may bring beautiful flowers, but often times, severe weather situations can bring more than we are prepared for.  As the first day of spring approaches on March 20, the International Association of Fire Chiefs (IAFC), Energizer and the American Meteorological Society (AMS) are working together to help families prepare for whatever weather situations spring, summer and hurricane seasons might bring their way.  Storms can lead to power outages and can put families at risk for potentially harmful and serious outcomes.  A simple way to prepare for inconvenient and unavoidable power outages is to have an emergency power kit ready before the blackout occurs.

Recognizing a need for citizens across the nation to be prepared with back-up power supplies other than candles, as well as other necessities for use during power outages caused by severe weather, the Energizer Keep Safe. Keep Going® public safety campaign was developed.  Through this preparedness initiative, Energizer, the IAFC, the AMS and more than 6,200 fire departments nationwide work together to provide tips for building a complete emergency power kit and ways for families to stay powered and connected.  In addition, the organizations work to provide reminders about the importance of resisting the urge to use candles as light sources during power outages.

"We cannot stress enough the importance of using flashlights and lanterns instead of candles during power outages," said Chief Jeffrey Johnson, EFO, CFO, MIFireE and president of the International Association of Fire Chiefs.  "Candles cause an average of nearly 15,000 home fires each year, resulting in significant numbers of preventable injuries and deaths.  An emergency power kit can literally be a beacon of light in a storm and can help prevent needless home fires caused by candles."

In an effort to reach even more communities with tips and tools to help them stay safe during varying weather situations, the AMS has joined this year's effort.

"It is our goal at the AMS to educate and help spread important messages on weather preparedness," said Keith Seitter, CCM and Executive Director of the American Meteorological Society.  "Education is key in helping families be prepared for potential hazardous weather situations and programs like this public education weather safety campaign are easy reminders."

What to Include in Your Emergency Power Kit

Battery-powered radio or crank radio, to keep your family apprised of current weather-related news.
Plenty of extra batteries. Energizer® Ultimate Lithium and Energizer® MAX® batteries (AA, AAA, C, D and 9-volt) provide long-lasting power before, during and after the storm. Lithium batteries have a long storage life, perform well in extreme temperatures and are perfect for use in LED flashlights and other high-tech devices, while Energizer® MAX® batteries are an ideal power source for standard flashlights and lanterns.
Flashlight for every member of the family. Use flashlights instead of candles when the power goes out. Energizer® Weatheready™ lights feature long-lasting LED technology. With versatile flashlights and area lights, the Weatheready™line is designed to keep your family out of the dark.
Battery-powered cell phone charger, to help keep the lines of communication open. Energizer Energi To Go® power packs help keep cell phones charged.
Extra specialty batteries. Your health is your most important asset.  Specialty batteries power critical health devices like hearing aids and blood glucose and blood pressure monitors.

"An emergency power kit can offer peace of mind to families caught in spring storms," said Jim Olsen, Vice President of Marketing for Energizer North America.  "Through the Energizer Keep Safe. Keep Going® program, we are reminding families to stay prepared for blackouts by preparing their own back-up power kits so they are ready for power outages during whatever type of severe weather situations that may head their way."

In addition to back-up power, it is important to gather additional emergency supplies such as water and nonperishable food and to be sure to have copies of important documents such as medical records and insurance papers.  For a complete list of tips for preparing for storms and important home fire safety tips, visit www.energizer.com/preparedness.

Review Of Emergency Power Kit
When I lose power in my home due to the weather, I'm the type of person who lights candles in every room in the house.  I have actually had a neighbor look in my windows before and wonder how I still had power without the use of a generator when everyone else on the street was sitting in darkness.  That is how bright my house is from the use of candles.  I never put to much thought in the danger of the possibility of burning down my house from a candle.   I make sure to place them in secure areas, BUT all it would take is for me to fall asleep and forget to blow one out or have my cat upset it and we could have a serious fire.  It's not smart or safe to use so many candles during an outage.
I'm thankful for the generosity of the Energizer team who sent me a sample Energizer Weather Preparedness Tool Kit.  The kit came in a nice bright red bag and included the type of items  to think about having ready in case there is severe weather and a power outage.
Battery-operated Radio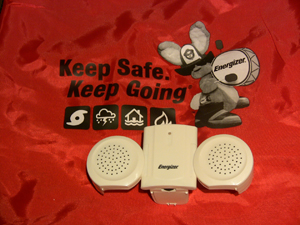 Flashlight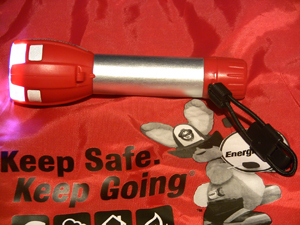 Cell Charger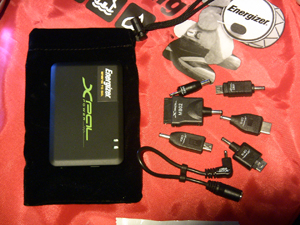 Variety Of Batteries

Wet Wipes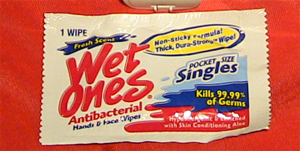 The Pros
Even though all the items are beneficial during an outage,  the Energizer Weather Ready Flashlight has to be my favorite out of the kit.  It runs on either 2 AAA or 2 AA batteries and also has an integrated alert whistle.  The 2 LED lights make the flashlight extremely bright and use less energy, so the batteries last longer.  Additionally, there is no filament, no glass, is virtually unbreakable, and very lightweight.  The BIG bonus is the Premium Nichia lifetime LED bulb never needs replacing!
It would be good to have enough Energizer Weather Ready Flashlights available in the kit for each family member.  My son is only 29 months and can operate this flashlight without a problem.
The Wet Ones and extra variety of batteries are always  good items to have on hand.
The Cons
The battery powered radio is a great idea and worked, but I do wonder how it would perform in an actual emergency.  I could only get the FM auto-scan receiver to tune into a single station after several attempts.  During severe weather I would want to be able to listen to NOAA weather radio broadcasts which provide continuous news of the latest weather information directly from the National Weather Service offices across the country.  This is crucial in case the severe weather is wide spread and would help me plan better for how long the outage might be.  Unfortunately, NOAA broadcasts are made on one of seven high-band FM frequencies ranging from 162.40 to 162.55 MHz and require a special receiver to pick up.  The frequency scope of the battery-operated radio I received in the kit is 87-108 MHZ and would need to be more powerful to give adequate information during a large storm.
Excellent But Not For Me
A  disappointment for me was the cell phone charger.  The reason being is there was no adapter included to work with my Samsung Smartphone.  Other than that it would be an excellent item to have ready to be used during a power outage.  It comes already pre-charged, ready to go, and looks easy to use. It can be rechargeable up to 500 times and contains a smart battery life indicator.  It works to give your cell phone up to 3 hours of xtra talk, 18 hours xtra music on your MP3 player, and 20 hours xtra talk for a Bluetooth.  FANTASTIC  product to have packed in your kit!  However,  just make sure your cell phone is compatible.
GIVEAWAY!
For a chance to win an Energizer Weather Preparedness Tool Kit ($70value),  please leave me a comment sharing how you prepare for severe weather OR one item you always have ready to go in case there is a power outage.
EXTRA ENTRIES
1. Mention the giveaway on your own blog linking back to this post and Energizer.  Leave an additional comment with a link to where you blogged about the giveaway. This is worth 5 extra entries.  Make sure you leave ten separate comments. (example blogged extra entry #1, blogged extra entry #2, blogged extra entry #3, ect…)
2.Place my button on your blog and then leave an additional comment with a link to the page where you put the button. If you already have my button leave a comment letting me know you already have it.
3. Follow my blog and leave me an additional comment. ( There is a little widget on my sidebar that shows my followers. Just click follow). If you already follow leave me a comment letting me know you already do.
4. Follow @ahappihippymom on Twitter, plus tweet about the giveaway. Please make sure you leave the link where you tweeted in your comment. TO INCREASE YOUR CHANCE OF WINNING I AM ALLOWING 1 TWEETS PER PERSON DAILY.  USE THE RETWEET BUTTON AT THE BOTTOM OF THIS POST FOR EASY ENTRY.
5. Subscribe to my feed and leave a comment. If you already subscribe leave a comment telling me you are already a subscriber.
6. Become a fan of Energizer on Facebook.  This is worth 2 extra entries.
7. Enter any of my other ACTIVE giveaways and leave me a comment for each one you entered.
A winner will be chosen at random via Random.org. Upon notification the winner has 72 hours to send me their contact information.  Information will be forwarded to sponsor for prize fulfillment.
Open to US residents only 18+
The contest ends May 16th,  11:59 PM eastern
FTC  disclosure :  In adherence to the  FTC   it  is necessary  to add when ever I receive any compensation in return for posting about a company or product.  I received a Energizer Weather Preparedness Tool Kit for review purposes. No further compensation was received.    Even though a free product was received,  the opinions were of my own.