[ad#Google Adsense]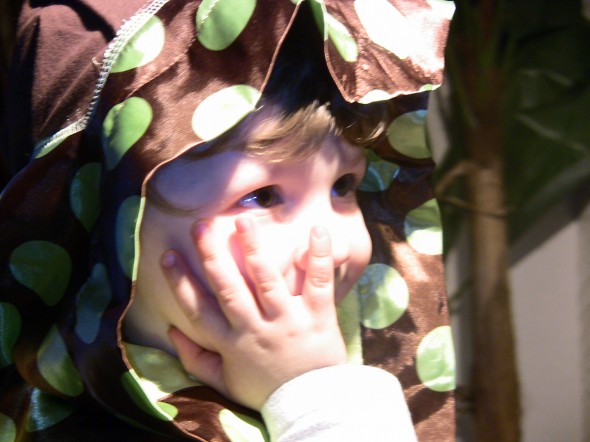 Last week I received an email from Mandy Hull, the president and chief ideator of Bonnet Blankies, asking me if I would be interested in reviewing a blankie.  The email was so touching I wanted to share it with you in its entirety. Here is the email I received…
Dear Michelle,
I am a busy stay-at-home mother of three young girls; Marissa, who is 5 years old, and Emma and Ainsley, 3 year old twins. I want to tell you about a tragedy that recently happened to our family and how I turned that tragedy into something wonderful; the invention of Bonnet Blankies!
On January 22, 2008, outside of Cincinnati, the home of my oldest brother, Mike Martinelli, caught on fire. He tried to get out of the house but collapsed at the back door. By the time rescue workers could get to him, he sustained third degree burn injuries to 35% of his body and severe inhalation damage to his lungs. After nearly 4 weeks of care at University of Cincinnati Hospital, he went into cardiac arrest and passed away on February 15, 2008. He was only 30 years old.
After his death, my husband John and I cut out a portion of Uncle Mike's nieces' (my three daughters) baby blankets, sewed them together and placed them in his hands so that he could lay to rest forever attached to his nieces. The empty space in their blankets was replaced with fabric from one of Uncle Mike's favorite T-shirts that we were able to recover from the washer in his house; the only portion that was not fire- or smoke-damaged. Our three little girls spontaneously began wearing the blankets as hats because it freed their hands to play while keeping their blankets in tow.
Our children not only grew attached to these blankies, but they were able to forever carry a piece of their uncle with them. We began receiving so many compliments that we decided to manufacture this one-of-a-kind baby product in the hope that other children would find the same comfort that our little girls have found.  It is a high quality, trendy and functional baby blankie.
In honor and remembrance of Mike Martinelli, a portion of proceeds from the sale of Bonnet Blankies will be donated to the Cincinnati Shriners Hospital for Children™. Mike was a special person who gave everything and never expected anything in return; he would have wanted children with burn injuries to have an opportunity to enjoy a better quality of life. His love for his three nieces was indescribable. They were his pride and joy.
I have enclosed a photo of the blankies and a photo of my little girls delivering Bonnet Blankies to the hematology and oncology unit of Cincinnati Children's Hospital and the Cincinnati Shriners Hospital for Children. We hope to give a little slice of comfort and security to children suffering from challenges that are above and beyond normal life.
We would love to let my brother's legacy live on so please consider sharing our story and our product with your bloggers.  It only takes one person to make a world of difference.  We can also provide a Bonnet Blankie for your review, if you choose to do so.  Please visit www.bonnetblankies.com to see more detailed information.
Thank you for your time
After reading that email there was no way I could refuse to review such a heartfelt product and agreed to receive a green (Mint Chocolate Chip) blankie.  I'm glad I did!  The blanket is beautiful and my son is loving it!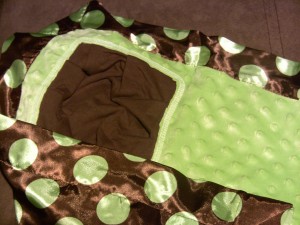 The one-of-a-kind luxurious blankie is made from charmeuse satin and bubbly-soft velour with a cotton spandex blend built-in hat.  The sewn in hat is designed to start fitting a child around age 1 and due to the stretchiness of the spandex material,  it will stretch as your kiddo grows and can be worn until age 4.  This is a great feature,  because it gives a child plenty of time to become attached to the blanket and provides several years of enjoyment.   The Bonnet Blankies is super cuddly,  perfect to bring along on stroller and car rides, plus helps protect your child's head in windy, sunny, or chilly weather.   Additionally, the blanket is reversible,  machine washable, and measure approximately 17″W x 22″L.  The blankie makes a wonderful unique baby shower gift idea too!
If you are also a camera snapping photo-aholic mom like me, you will love the way the Bonnet Blankie  adds that special touch to your child's photo shoot.  My son looks so adorable wearing the blankie on his little bean that I plan on blowing up the picture above and framing it.
Buy It
The Bonnet Blankies can be purchased online for just $34.99 at www.bonnetblankies.com.
SAVE SAVE SAVE SAVE
Bonnet Blankies is making room for more colors and patterns.  BUY NOW for only $11.99!  HURRY WHILE SUPPLIES LAST!
(this is an update posted 5/11)
GIVEAWAY!
Mandy has generously offered to give one lucky reader a Bonnet Blankie!  To enter the giveaway, please visit www.bonnetblankies.com and leave me a comment telling me which color is your favorite.
EXTRA ENTRIES
1. Mention the giveaway on your own blog linking back to this post and Bonnet Blankies.  Leave an additional comment with a link to where you blogged about the giveaway. This is worth 5 extra entries.  Make sure you leave ten separate comments. (example blogged extra entry #1, blogged extra entry #2, blogged extra entry #3, ect…)
2.Place my button on your blog and then leave an additional comment with a link to the page where you put the button. If you already have my button leave a comment letting me know you already have it.
3. Follow my blog and leave me an additional comment. ( There is a little widget on my sidebar that shows my followers. Just click follow). If you already follow leave me a comment letting me know you already do.
4. Follow @ahappihippymom and @bonnetblankies on Twitter, plus tweet about the giveaway. Please make sure you leave the link where you tweeted in your comment. TO INCREASE YOUR CHANCE OF WINNING I AM ALLOWING 1 TWEETS PER PERSON DAILY.  USE THE RETWEET BUTTON AT THE BOTTOM OF THIS POST FOR EASY ENTRY.
5. Subscribe to my feed and leave a comment. If you already subscribe leave a comment telling me you are already a subscriber.
6. Become a fan of Bonnet Blankies on Facebook.  This is worth 2 extra entries.
A winner will be chosen at random via Random.org. Upon notification the winner has 72 hours to send me their contact information.  Information will be forwarded to sponsor for prize fulfillment.
Open to US residents only 18+
The contest ends May 14th,  11:59 PM eastern
FTC  disclosure :  In adherence to the  FTC   it  is necessary  to add when ever I receive any compensation in return for posting about a company or product.  I received a Bonnet Blankie for review purposes. No further compensation was received.    Even though a free product was received,  the opinions were of my own.