[ad#Google Adsense]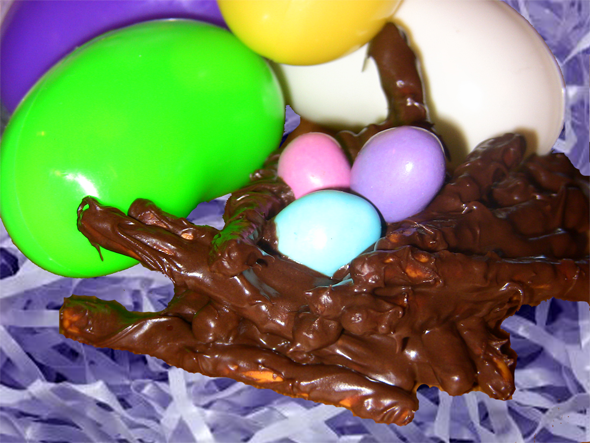 Don't you just love Easter? Its a time for renewal, Spring dreaming, and tasty treats.  This recipe was borrowed from Bright Ideas and was so easy to make.   The saltiness from the pretzels and the sweetness of the chocolate make the perfect flavor combination.  The kiddos enjoyed helping create the little nests and adding the peanut M&Ms. I'm planning on taking some more time out this holiday away from all the hustle to appreciate Spring,  the beauty of nature, and building memories.   I hope you do too.
Speckled Egg Pretzel Nest
Prep Time: 30 min.
Decoration Time: 5 min.
Difficulty: Easy
Yield: Makes 4 nests.
ingredients
40 pieces DOVE® Brand Milk Chocolate Eggs
4 cups pretzel sticks
24 pieces Starburst Jelly Beans or M&M'S  Brand Peanut Butter Eggs
directions
1. Place about 10-12 DOVE  Brand Milk Chocolate Eggs in a metal bowl.
2. Place the bowl over simmering water and stir until the chocolate is melted. Remove the bowl from the saucepan and slightly cool the chocolate by adding 2-3 more DOVE Brand Milk Chocolate Eggs and stirring until smooth.
3. Add 1 cup of pretzel sticks to the melted chocolate and stir carefully until the pretzel sticks are completely covered with melted chocolate.
4. Form small nests and use extra chocolate to drizzle over the top of the nest.
5. Repeat process above to make remaining 3 nests.
6. Place in the refrigerator for approximately one hour, then fill with M&M'S  Brand Peanut Butter Eggs.