[ad#Google Adsense-1]
I'm wondering how many of you have made the switch to all natural cleaning products?  With so many non-toxic cleaning supplies being available in the marketplace  it isn't really necessary to still be using harmful substances to  thoroughly clean your home.  According to the Consumer Product Safety Commission, the average American home is found to have 63 hazardous chemical products.  Scary!  It's time to toss these nasty products!
I think the reason some individuals are still using  harmful cleaning substances is because they have the misconception that natural products don't effectively kill the germs,  which is a complete farce.   The Seventh Generation's disinfectants kill over 99.99 percent of germs,  leave your home smelling fresh and clean, and do it with safe ingredients.
Here is what Seventh Generation and MyBlogSpark have to say about making the change to more environmentally friendly products.
Replacing what's currently under your sink with products that are non-toxic and safe for the environment is easier than ever with Seventh Generation's environmentally friendly cleaning products.

Leading the "responsible cleaning" charge for the past twenty years, Seventh Generation has tapped into the disinfecting power of the herb thyme, to introduce an EPA registered line of disinfecting sprays and wipes that kill germs* naturally! The new line of botanical disinfectant cleaners includes a multi-surface cleaning spray, bathroom cleaning spray and wipes.

The disinfectants contain thymol, a component of the herb thyme, and can be used on hard surfaces including counter tops, plastic cutting boards, highchair trays as well as children's toys. Best of all, they kill over 99.99 percent of germs* naturally and are effective against the Influenza A Virus, including H1N1.

Seventh Generation has partnered with eco-lifestyle consultant and author, Alexandra Zissu, whose new book, The Conscious Kitchen, discusses what's good for your health, what's good for the planet and what tastes great. Her book also includes great tips on maintaining a green and healthy kitchen, including:

* Change is Good

Choosing cleaning products without indoor air pollutants like volatile organic compounds, or VOCs, is a simple and effective way to reduce your indoor air pollution. If you're not prepared to switch everything overnight, start by swapping out the one product you use the most, and moving forward from there.

* Think before you spray

Residues from cleaning products can last on a surface for longer than we we'd like to know and travel to areas that we sometimes don't intend them to. Don't contaminate your food by prepping it on a surface that may contain harsh chemical residues – rinse cleaning products from food preparation surfaces carefully or use botanical disinfecting cleaners that do not require a rinse step.

* Home is Where the Clean Is

Your standard cleaners are good for removing soils and dirt from kitchen surfaces, but to tackle germs you need a cleaner that is effective against microbes like bacteria and viruses. Many cleaners contain ingredients that have antimicrobial properties such as vinegar or hydrogen peroxide, but the germ killing power of these is not necessarily guaranteed. To be sure you are killing germs, use an EPA registered disinfectant. Seventh Generation tapped into the disinfecting power of the common garden herb thyme, to provide a disinfecting cleaner that kills germs* naturally.

* Make the Old New Again

Think twice about the items that you're using to clean and dry your kitchen equipment and dishes. Use rags (like old t-shirts and washcloths) instead of paper towels. If you aren't prepared to kick your paper towel addiction just yet, use only recycled versions that are unbleached or haven't been whitened with chemicals containing chlorine and see how long you can make a roll last.

* The Writing is on the … Sponge

Be sure to read the fine print on sponges and only purchase those that do not contain antimicrobial pesticides. Remember to store sponges in a dry place and frequently clean them by popping plastic sponges wet in a microwave for two minutes or boiling sponges for three minutes in water.

* Mom Was Right, Wash Your Hands

Wash your hands with soap and water before and after prepping food, and always before eating. So much of what can be potentially harmful in a kitchen can be reduced by this simple act that doesn't require any harsh chemicals whatsoever.
Seventh Generation through MyBlogSpark sent me a great disinfecting cleaning kit to get me started on my Spring cleaning.  The kit included a disinfecting multi-surface cleaner, bathroom cleaner, wipes , a copy of The Conscious Kitchen, a cleaning caddy made from recycled plastic, and two rolls of 100% recycled, unbleached paper towels.
The first thing I noticed when I began using the disinfecting cleaning products was the nice fresh scent of Thyme!  I liked all the products they sent me, but my favorite was the disinfecting wipes.  The wipes are so convenient and great to grab for quick and easy cleaning.  I used them for wiping down my sinks, counter-tops, appliances,  door knobs, and more.  The wonderful thing was all the products actually worked plus cut through the dirt and grime.  VERY GOOD.
I just started to read The Conscious Kitchen so I can't go into to much detail, but I am thumbing through all the terrific tips and learning a lot!  One tip that stood out was on how to choose safe fish.  I don't have a vast knowledge on the different types of fish or a safe seafood card  so standing at the fish counter can be confusing.  The tip was to text the Blue Ocean Institute's handy Fish Phone – 30644 -with the word fish and the name of the species your looking to get information on.  Apparently, they text you right back with environmental and health information, giving you a red, yellow, or green light.  This could come in handy while ordering at restaurants too!  The book is loaded with useful tips like this and it would be great to keep a copy in your kitchen as a reference.
If you hurry, Seventh Generation has a coupon for a $1 savings on any Disinfecting Multi-Purpose Cleaner, Disinfecting Bathroom Cleaner, or Disinfecting Wipes.  It looks the coupon is good only until 3/31 so act fast!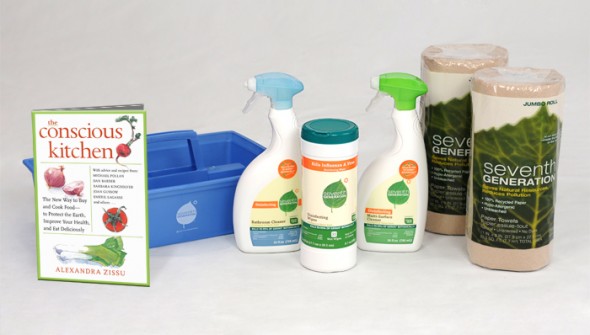 GIVEAWAY!
MyBlogSpark would like to give one of my readers a Seventh Generation "Disinfecting Cleaning Kit" that includes a disinfecting multi-surface cleaner, bathroom cleaner, wipes , a copy of The Conscious Kitchen, a cleaning caddy made from recycled plastic, and two rolls of 100% recycled, unbleached paper towels.  I wish I could give every one of you this kit!  I really think it is an awesome beginning on introducing safe cleaning products,  but I'm only allowed to choose one winner so please read carefully on how to enter.  To enter the giveaway, please leave me a comment sharing how you keep your family safe from chemicals or what is the best thing you've done for the environment this year.
EXTRA ENTRIES
1. Mention the giveaway on your own blog linking back to this post, MyBlogSpark and Seventh Generation.  Leave an additional comment with a link to where you blogged about the giveaway. This is worth 10 extra entries.  Make sure you leave ten separate comments. (example blogged extra entry #1, blogged extra entry #2, blogged extra entry #3, ect…)
2.Place my button on your blog and then leave an additional comment with a link to the page where you put the button. If you already have my button leave a comment letting me know you already have it.
3. Follow my blog and leave me an additional comment. ( There is a little widget on my sidebar that shows my followers. Just click follow). If you already follow leave me a comment letting me know you already do.
4. Follow me on Twitter and tweet about the giveaway. Please make sure you leave the link where you tweeted in your comment. TO INCREASE YOUR CHANCE OF WINNING I AM ALLOWING 1 TWEETS PER PERSON DAILY.  USE THE RETWEET BUTTON AT THE BOTTOM OF THIS POST FOR EASY ENTRY.
5. Subscribe to my feed and leave a comment. If you already subscribe leave a comment telling me you are already a subscriber.
A winner will be chosen at random via Random.org. Upon notification the winner has 72 hours to send me their contact information.  Information will be forwarded to sponsor for prize fulfillment.
Open to US residents only 18+
The contest ends April 19th,  11:59 PM eastern
FTC  disclosure :  In adherence to the  FTC   it  is necessary  to add when ever I receive any compensation in return for posting about a company or product. Seventh Generation provided me with  free product, information, and gift pack through MyBlogSparkTM.. . No further compensation was received.    Even though a free product was received,  the opinions were of my own.