[ad#Google Adsense-1]
I don't know about you,  but I LOVE chocolate.  I like to indulge by having a small piece of it with my cup of coffee first thing in the morning to give me an extra pick me up.  Believe me when I say  I need the extra boost to help me keep up with my toddler at 8 AM.  The coffee and the chocolate seem to make a great match.  What I love even more is the perfect blend of chocolate and peanut butter together.  Its a savory flavor combination unlike any other -SWEET HEAVEN!
Mom Central sent me a gift bag containing samples of the new DOVE Milk Chocolate with Peanut Butter Promises and Singles.  Now I have tried DOVE before and liked the creamy milk chocolate , but I found  the DOVE Milk Chocolate with Peanut Butter to be OUT of this world!  The silky smooth milk chocolate surrounds just the right amount of rich delicious peanut butter and melts in your mouth.  The peanut butter paste doesn't over power the chocolate and gives the candy a nice sweet and salty flavor.
Each of the DOVE Milk Chocolate with Peanut Butter Promises is individual wrapped with foil and inside displays an inspirational message.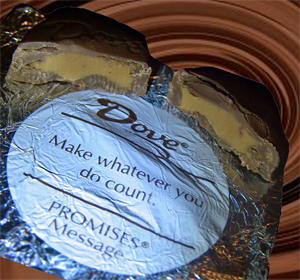 The DOVE Milk Chocolate with Peanut Butter Singles Bar is comprised of 5 DOVE Promises joined together to make a 180 calorie candy bar.
DOVE has taken the chocolate and peanut butter flavor combination to a new level and slapped it with a bit of elegance.  My kiddos didn't seem to care about that though and just appreciated the creamy goodness.
If you would like to learn more about DOVE Chocolate products check out the Dove Chocolate Facebook fan page and Twitter account.
* DOVE Chocolate Fan Page on Facebook: http://www.facebook.com/dovechocolate
* DOVE Chocolate Twitter: http://twitter.com/dove_chocolate
"I wrote this review while participating in a blog tour campaign by Mom Central on behalf of DOVE and received samples DOVE Milk Chocolate with Peanut Butter products and a gift certificate to facilitate my review." Even though a free product was received, my opinions were of my own.