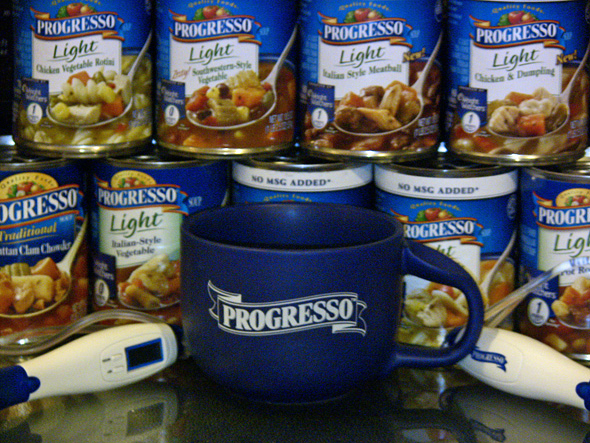 Over the holidays I lost all restraint.  It was sinful, BUT fun!  Cream cheese cookies, peanut butter fudge, chocolate bark, turkey smothered in gravy, and other fattening goodies passed my lips without hesitation.  Well all that unhealthy  overindulgence  did not come without a price.  The realization of what I did was a BIG eye opener once I stepped on the scale and it revealed I gained almost ten pounds.  Gag!  I don't like the way the extra weight makes me feel and look so its time to pay the piper and start watching what I eat along with incorporating a good exercise routine into my daily schedule.
MyBlogSpark recently sent me a Progresso "Souper You Debut" gift pack that included 15 cans of several different varieties of the Progresso Light and 100 Calorie Soups,  a Progresso digital jump rope that keeps track of jumps and calories burned,  and a nice blue Progresso soup mug.  The gift pack is perfect for getting me started on managing my weight and getting my butt back in shape.
The Progresso soups taste so delicious and hit the spot especially during the chilly winter days.  Loaded with hearty ingredients like pasta, beans, corn, rice, tomatoes, carrots, peppers, it's hard to believe the soups are only 100 calories or less per cup!  The Progresso Light soups offer  full  flavor and JUST 80 calories or less per serving!  PLUS, the "Light" soups happen to be   endorsed by Weight Watchers and consist of 0 or 1 "Points"  value for each serving. The can clearly displays the "Points" value on the label making it easy for you to keep track of your calories, fat, and fiber.
Take a look at the Progresso Light Italian Style Meatball soup I heated up for dinner!  It was so yummy!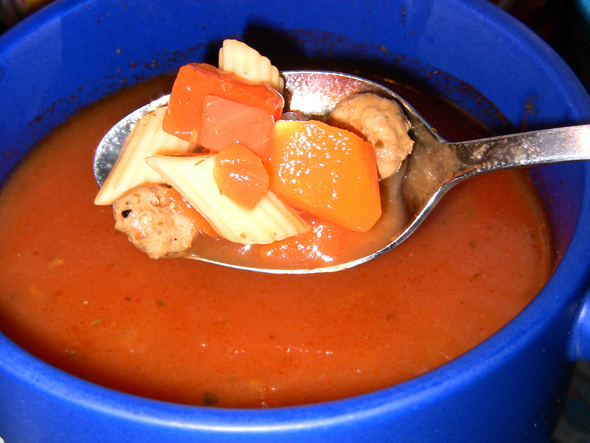 "Souper You" Contest!
To celebrate the great taste of the new  Progresso Light and 100 Calorie Soups, the New Year, and a new you,  from now through March 15th, you can visit www.Progresso.com/SouperYou to enter the Progresso "Souper You Debut" contest for the chance to win a full makeover in New York City!
Three grand prize winners will be awarded a trip for two to New York City from May 21st-23rd. The prize includes roundtrip airfare, a two-night stay in a NYC hotel, a full makeover, a $1,000 wardrobe shopping spree and personal consultation at a New York department store.
"To enter, you´ll need to do the following:
Go to www.Progresso.com/SouperYou to learn more and enter the contest
Submit your essay (200 characters or less) telling Progresso why you love Progresso Light or 100 Calorie Soups and why you would like a makeover
In addition, please submit a photo of yourself that visually reinforces the theme of your essay
Once you enter, you´ll have the chance for your photo and/or an excerpt from your essay to appear on www.Progresso.com/SouperYou, so be sure to check back frequently! Once the 10 finalists are announced, you can visit www.Progresso.com/SouperYou from March 29 through April 12 to vote for your favorite.
In addition, throughout the duration of the contest you can visit www.Progresso.com/SouperYou to download a coupon for $1 off any three varieties of Progresso Soup!"
GIVEAWAY!
One of my lucky readers will win a Progresso "Souper You Debut" gift pack that contains the mug, jump rope and two cans of Progresso Soup!  To enter the giveaway leave me a comment sharing your favorite variety of Progresso Soups or why you should win the Progresso "Souper You Debut" Contest.
EXTRA ENTRIES
1. Mention the giveaway on your own blog linking back to this post, Progresso, and  MyBlogSpark.  Leave an additional comment with a link to where you blogged about the giveaway. This is worth 10 extra entries.  Make sure you leave ten separate comments. (example blogged extra entry #1, blogged extra entry #2, blogged extra entry #3, ect…)
2.Place my button on your blog and then leave an additional comment with a link to the page where you put the button. If you already have my button leave a comment letting me know you already have it.
3. Follow my blog and leave me an additional comment. ( There is a little widget on my sidebar that shows my followers. Just click follow). If you already follow leave me a comment letting me know you already do.
4. Follow me on Twitter and tweet about the giveaway. Please make sure you leave the link where you tweeted in your comment. TO INCREASE YOUR CHANCE OF WINNING I AM ALLOWING 1 TWEETS PER PERSON DAILY.  USE THE RETWEET BUTTON AT THE BOTTOM OF THIS POST FOR EASY ENTRY.
5. Subscribe to my feed and leave a comment. If you already subscribe leave a comment telling me you are already a subscriber.
A winner will be chosen at random via Random.org. Upon notification the winner has 72 hours to send me their contact information.  Information will be forwarded to sponsor for prize fulfillment.
Open to US residents only 18+
The contest ends February 25th,  11:59 PM eastern
FTC  disclosure :  In adherence to the  FTC   it  is necessary  to add when ever I receive any compensation in return for posting about a company or product.  Progresso provided me with free product, information, and gift pack through the MyBlogSpark Team . No further compensation was received.    Even though a free product was received,  the opinions were of my own. * All product claims were directly taken from the Progresso Soup packaging.)
GIVEAWAY IS CLOSED!  Watch for winner announcement!