If you've ever had a bug problem, you're probably familiar with the other problem that arises: safety. As much as you want to get rid of bugs in your home, you certainly don't want to put your family in danger.
Think all pesticides are toxic, though? Think again.
EcoSMART has developed all natural insect repellent that is safe for children, pets and the environment. And guess what? Its safe ingredients are commonly found in your spice rack.
The safety lies in the ingredients, which are natural plant oils that target insects only. The active ingredients are harmless to mammals, birds and fish, because the plant oils have a similar makeup to octopamine. Octopamine is the insect's version of adrenaline, and regulates their behavior, metabolism and movement. Since people and other animals do not have receptors for octopamine, EcoSMART has no effect on them.
But EcoSMART is certainly effective on bugs. University research and field studies have proven EcoSMART is just as effective as conventional pesticides in their ability to kill insects fast while providing effective control.
You can rest easy because the sprays leave no toxic residue, unlike traditional home pest control sprays. This means they won't pollute ground water sources.
As spring approaches, look to EcoSMART and its natural bug spray to keep your home pest free.
*Guest article by EcoSmart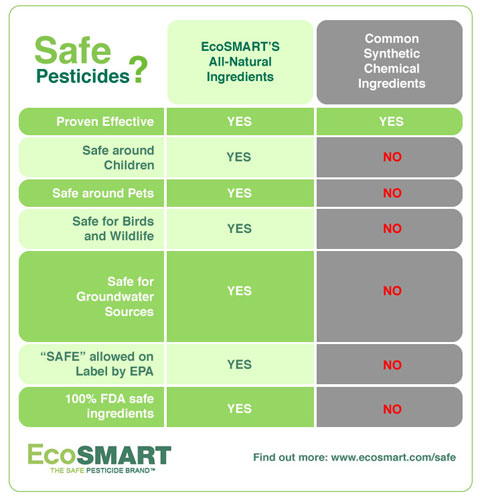 BUY IT!
EcoSMART products can be purchased online at www.ecosmart.com/shop and found at many major retailers around the country such as Walmart, The Home Depot, Bed Bath and Beyond and more!  You can find a store near you by accessing the EcoSMART retailer locator.
GIVEAWAY!
EcoSMART would like to give one lucky reader a Safe Home Value Bundle!  The value bundle includes
Ant and Roach Killer
Home Pest Control
Flying Insect Killer
Insect Repellent
WOW, the prize is a $31 value!  To enter the giveaway check out the EcoSMART products and leave me a comment sharing which organic pesticide you would like to try the most.   I'm  interested in trying the Home Pest Control which kills  and repels over 100 insects!  To me it  is exciting to be able to get rid of pests like spiders without using toxic chemicals and know my family plus  pets (my extended fur family) are not going to be harmed in the bug busting process.   I may love nature, but the creepy crawlies belong outside and not in my home!
EXTRA ENTRIES
1. Mention the giveaway on your own blog linking back to this post and EcoSMART.  Leave an additional comment with a link to where you blogged about the giveaway. This is worth 10 extra entries.  Make sure you leave ten separate comments. (example blogged extra entry #1, blogged extra entry #2, blogged extra entry #3, ect…)
2.Place my button on your blog and then leave an additional comment with a link to the page where you put the button. If you already have my button leave a comment letting me know you already have it.
3. Follow my blog and leave me an additional comment. ( There is a little widget on my sidebar that shows my followers. Just click follow). If you already follow leave me a comment letting me know you already do.
4. Follow me on Twitter and tweet about the giveaway. Please make sure you leave the link where you tweeted in your comment. TO INCREASE YOUR CHANCE OF WINNING I AM ALLOWING 1 TWEETS PER PERSON DAILY.  USE THE RETWEET BUTTON AT THE BOTTOM OF THIS POST FOR EASY ENTRY.
5. Subscribe to my feed and leave a comment. If you already subscribe leave a comment telling me you are already a subscriber.
A winner will be chosen at random via Random.org. Upon notification the winner has 72 hours to send me their contact information.  Information will be forwarded to sponsor for prize fulfillment.
Open to US residents only 18+
The contest ends March 13,  11:59 PM eastern
CLOSED