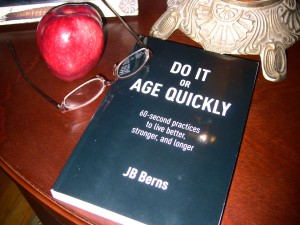 DO IT OR AGE QUICKLY: 60-Second Practices to Live Better, Stronger, and Longer is fitness guru JB Berns new book.  The author created a program comprised of 21 simple techniques to keep you looking and feeling younger. Each easy anti-aging recommendation only takes 60 seconds which means the whole system only takes 21 minutes to complete a day! None of the practices require exhausting physical exertion to reap the benefits of slowing down the aging process.  Most of the techniques you probably never heard of before (I know I never have) and can be done by almost anyone.
Some of the authors secrets and methods you will learn in the book include:
a hair preservation routine for men
natural tooth paste that whitens teeth and does not strip away your enamel
herbal tea that energizes and bolsters the immune system
the best facial creams that heal and preserve your skin
stress and fear reducing methods
a consumption routine that streamlines digestion and brings about effortless weight-loss
stretches and exercises that take only 60 seconds
The book is filled with tons of useful information!  My favorite chapter was 18 "Correcting Your Diet."  JB discusses the importance of consuming a proper diet and the practice of trophology.  Trophology is a system of correctly combining foods or eating them separately to maximize digestion and lessen the bacteria growth in the digestive track.  Additionally, eating the proper food combinations leads to improved digestion, weight loss, better nutrient absorption, and increased energy levels.  He explains in detail which foods to avoid eating together and also  gives diet advice such as…
When you wake up, have a glass of warm water with half of a lemon.  Lemons are great detoxifiers, rich in vitamin C (so they boost your immune system), aid in digestion, and benefit the gastrointestinal tract. It's a great way to start the day!

No white flour or foods from sealed cans. Fresh foods are much healthier for you and will give you more energy. Stay away from white flour foods such as donuts and other sweets. Eat natural unprocessed foods like fruit, vegetables, and unsalted nuts.

Before swallowing, chew your solids until they become liquid. Digestion begins in the mouth. By chewing foods well your digestion and assimilation of nutrients should improve. As Ghandi said, "Drink your food and chew your beverages." In other words, chew until your food is liquefied and drink liquids as slowly as solid food. This applies especially to carbohydrates, which require contact with the alkaline ptyalin enzyme in saliva to begin proper digestion. This also allows the sensation of fullness to develop so you won't overeat.

Try not to drink liquids during meals. Drinking liquids during your meals does not allow you to chew your food thoroughly and may wash down nutrients prematurely. When you eat a starchy food, for example, if you don't allow the enzyme ptyalin in your saliva to do its work, digestion will not begin properly.

Eat sparingly to live a long, healthy life. Taoist principles teach that you should only eat until you are 70 to 80% full. The human body is not designed to handle large quantities and the complex combinations of the modern diet. Numerous studies have suggested that calorie restriction (without restricting nutrition) may elongate one's lifespan.

Eat like a king for breakfast, a queen for lunch, and a prince for dinner. Minimize your intake at meals as the day proceeds. A classic pattern of the overweight is to do the opposite: to eat very little during the day and then binge in the evening (because they're so ravenously hungry!) Having a large dinner before bed will not allow for good rest and enough time for proper digestion.

Avoid extreme hot and cold temperatures in food and beverages. This can irritate the lining of your tender digestive tract and disrupt efficient digestion.

Try not to consume food three hours before bed. You'll get a better night's rest on an empty stomach rather than a full belly.
Great Book!
I found " Do It Or Age Quickly"  to be an excellent read, easy to follow, and  a great guide for improving the body and mind.
About The Author
JB Berns has a long background in the martial arts, yoga, personal and wellness training and developing exercise systems. He was named by Fitness Magazine as one of the top 10 personal trainers in the nation. While recovering from a knee injury, he used his 20-plus years of martial arts experience to develop the low-impact Urban Rebounder exerciser system, which sold millions and was named one of the top 100 products of 2008 by Consumer Reports. The Urban Rebounder is now in over 5,000 gyms worldwide and 18 different countries. Berns has also created many DVDs for exercise and wellness, which are available worldwide in nine different languages, including The Perfect Martial Arts Workout, Rehab Your Body at Home, The Isometric Total Body Workout, Deante Modern Dance Workouts, and Kids Bound. In addition, he designed the Jackie Chan CableFlex System for resistance and aerobic exercise at home. Berns has appeared on many television programs such as The Today Show, CNN, CBS, NBC, The View, and The Doctors
Buy It.
If you would like to learn JB Berns secret methods,  Do It Or Age Quickly (Hard Cover Version) can be purchased for $24.95 (plus shipping and Handling) at
www.doitoragequickly.com.
GIVEAWAY!
I have been given the opportunity to be able to give one of my readers a copy of  DO IT OR AGE QUICKLY:  60-Second Practices to Live Better, Stronger, and Longer by JB Berns!  To enter the giveaway please leave me a comment sharing one of your anti-aging secrets or why you would like to win the book.
EXTRA ENTRIES
1. Mention the giveaway on your own blog linking back to this post  and Do It Or Age Quickly. Leave an additional comment with a link to where you blogged about the giveaway. This is worth 10 extra entries.  Make sure you leave ten separate comments. (example blogged extra entry #1, blogged extra entry #2, blogged extra entry #3, ect…)
2.Place my button on your blog and then leave an additional comment with a link to the page where you put the button. If you already have my button leave a comment letting me know you already have it.
3. Follow my blog and leave me an additional comment. ( There is a little widget on my sidebar that shows my followers. Just click follow). If you already follow leave me a comment letting me know you already do.
4. Follow me  on Twitter and tweet about the giveaway. Please make sure you leave the link where you tweeted in your comment. TO INCREASE YOUR CHANCE OF WINNING I AM ALLOWING 1 TWEETS PER PERSON DAILY.  USE THE RETWEET BUTTON AT THE BOTTOM OF THIS POST FOR EASY ENTRY.
5. Subscribe to my feed and leave a comment. If you already subscribe leave a comment telling me you are already a subscriber.
A winner will be chosen at random via Random.org. Upon notification the winner has 72 hours to send me their contact information.  Information will be forwarded to sponsor for prize fulfillment.
Open to US residents only 18+
The contest ends March 3rd,  11:59 PM eastern
FTC  disclosure :  In adherence to the  FTC   it  is necessary  to add when ever I receive any compensation in return for posting about a company or product.  I received a copy of  "Do It Or Age Quickly" for review purposes. No further compensation was received.    Even though a free product was received,  the opinions were of my own.