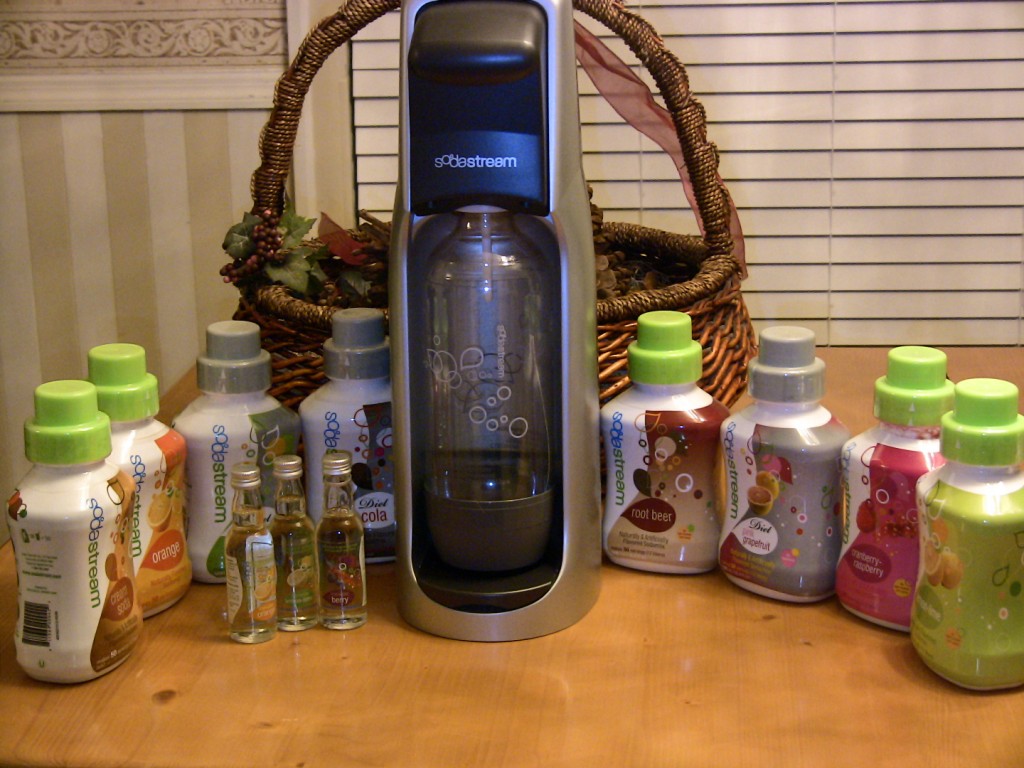 The SodaStream team recently sent me a Fountain Jet Starter Kit to review and my whole family has been enjoying it!  The machine is a definite unique eco-friendly product that is a no-brainer for anyone who wants to cut down on wasteful packaging from buying soda.  If you drink soda,  fresh sparkling water , or entertain guests for the holidays you should add a SodaStream soda maker to your appliance arsenal.
Reducing Environmental Impact
Did you know Americans drink more than 55 billion liters of soda and seltzer each year?  That is a lot of soda and equals out to almost 200 liters (600 cans) for every person in the United States.  According to the Environmental Protection Agency,  all the consumption adds 10 1/2 cubic feet of packaging per American which results to over 3 billion cubic feet  in our recycling and landfills yearly.
Using a SodaStream machine to turn your tap  water into soda or sparkling fresh water will help  reduce your environmental impact by drastically decreasing  the waste accumulated from buying store bought cans and bottles.  Plus, the soda makers don't use any batteries or electricity so your also cutting down on energy usage and you can utilize your machine virtually any where you desire.
When you use  SodaStream's  highly concentrated soda mix syrups you also greatly reduce packaging waste because just one bottle of soda mix will make 12 liters of soda!  There is no need to sort out and recycle messy sticky bottles so you  save time and gas by not having to go to smelly recycling centers as often. Not to mention all the space you free up from only having one small bottle  in your pantry instead of 34 cans or several bulky soda bottles.
Read more about SodaStream and how it benefits the environment here.
"SodaStream Environmental Partners:"
www.kidsforsavingearth.org
www.jnf.org
www.carbonrally.com
"For more information on the environment:"
www.gorgeouslygreen.com
www.epa.gov
www.energy.gov
Soda Makers
Currently there is 4 SodaStream soda maker models and starter  kits to choose from.
Fountain Jet Starter Kit

"(Includes Soda Maker, 110-Liter Licensed Carbonator & Two Carbonating Bottles)
Description:
The Fountain Jet Soda Maker can make up to 110 liters of carbonated water offering you great savings compared to pre-packed carbonated water and beverages.
Turn tap water into sparkling water in 30 seconds with the Fountain Jet Soda Maker. The Fountain Jet fits the extra large 110-liter carbonator and includes an easy to clean drip tray and customizable carbonation levels."
Buy it – $99.95,  the value pack – $129.95, or the value pack + 8 Sodamix flavors – $169.95
[amazon_link id="B002TYZHDK" target="_blank" ]Genesis Starter Kit[/amazon_link]
"(Includes Soda Maker, 60-Liter Licensed Carbonator & Two Carbonating Bottles)
Plus:
1 x 60-Liter Carbonators (Licensed)
Description:
The Genesis Soda Maker is based on a modern slim-line design and looks great in any kitchen and is offered in an attractive and unique color variety. Make your own carbonated drinks, just the way you like them with the Genesis Soda Maker."
Buy it – $119.95, the value pack – $159.95, or the value pack + 8 Sodamix flavors – $199.95
Pure Starter Kit
"(Includes Soda Maker, 60-Liter Licensed Carbonator & Two Carbonating Bottles)
Plus:
1 x 60-Liter Carbonators (Licensed)
Description:
The Pure Soda Maker received an honorable mention at the Red Dot Design Award (2008). Its design compliments elegance and practicality and is offered in a unique color variety. Each Pure Soda Maker is made with attention to detail and utilizes high quality plastics finished with a brushed stainless steel exterior."
Buy it – $149.95, the value pack – $189.95, or the value pack + 8 Sodamix flavors – $229.95
Penguin Starter Kit
"(Includes Soda Maker, Two 60-Liter Licensed Carbonators & Two Glass Carafes)
Description:
The Penguin is the first and only soda maker with a glass carafe. Its design is a certain eye catcher in any kitchen, dining room or bar. The stylish Penguin combines form and functionality to prepare and serve your sparkling beverages in elegant, dishwasher-safe glass carafes. Turn water into sparkling water in seconds."
Buy it – $199.95, the plus pack – $249.95
To help you decide which soda maker would best suit your needs go here.
Sodamix Flavors
SodaStream offers over 25 delicious  regular, diet, energy, and caffeine-free flavors. The  regular mixes don't contain any high fructose corn syrup and  are sweetened with a combination of sugar and Splenda.
The diet is completely aspartame free which to me is a BIG plus!  Aspartame is usually found in diet beverages (diet foods) and has been linked to several dangerous health issues.
All the natural MyWater flavor essences are unsweetened and calorie free.  One 40ml (1.35 fl oz) bottle makes about 20 liters of flavored sparkling water.  Add a drop to give your water a nice fruity flavor!  Flavors include orange,  berry, and  lemon-lime.
I also like the fact you can control how much syrup is being added.  This is especially useful for making soda for children who don't need the full concentrate.  You can add a tiny amount to give some sweet flavoring , but not enough to have your kiddo bouncing off the walls from having to much sugar.
I was sent a combination package of  flavors to try including Diet Cola, Orange, Energy, Cream Soda, Diet Pink Grapefruit, Lemon Lime, Root Beer, Diet Ginger Ale, Cranberry Raspberry, and the three fruity water flavor essence.  We had fun mixing and combining a few of the flavors to see if we could come up with our own concoction and some of them were actually really good.  My favorite of all the flavors was the Cranberry Raspberry, because it was so refreshing.
The Company Stands Behind Their Product
When I first received the SodaStream Fountain Jet Soda Maker I had some technical difficulties getting the Carbonator to engage.  The pin was faulty and would not dispense the CO2.  I called the company around 2 am ( I keep odd hours) and the friendly customer service rep was READY to assist me with trying to solve the problem.  I told her the situation and she immediately said she was sending out a replacement.  I was impressed!  It was an easy hassle free process getting the matter resolved, even at the wee hours of the morning.
The replacement came shortly afterward,  but apparently the Carbonater was the culprit as to why I could not get the machine to work.  I called back the company and they sent me a new tank.   The full exchange took place within a few days and everything was up and running.
I'm actually glad I had this incident occur since it gave me the opportunity to test the customer service.  I was fully pleased on how fast they reacted without making me jump through hoops to get a new Fountain Jet and Carbonater.  Its important for a company to stand behind their product and SodaStream exceeded my expectations and passed with flying colors.
Great Gift For The DIY
The SodaStream Soda Makers would make a perfect gift for the green do-it -yourselfer and great for using at gatherings.  It allows your guests to have some fun creating their own drink and can be used as an ice breaker during parties!
Watch My SodaStream Fountain Jet Slide Show Demonstration
GIVEAWAY
SodaStream would like to give one of my readers a Fountain Jet starter kit!  To enter the giveaway please check out SodaStream's soda flavors and leave me a comment on which one your most interested in trying.
Extra Entries
1.Mention the giveaway on your own blog linking back to this post and SodaStream.  Leave an additional comment with a link to where you blogged about the giveaway. This is worth 10 extra entries.  Make sure you leave ten separate comments. (example blogged extra entry #1, blogged extra entry #2, blogged extra entry #3, ect…)
2.Place my button on your blog and then leave an additional comment with a link to the page where you put the button. If you already have my button leave a comment letting me know you already have it.
3. Follow my blog and leave me an additional comment. ( There is a little widget on my sidebar that shows my followers. Just click follow). If you already follow leave me a comment letting me know you already do.
4. Follow SodaStream on Twitter and tweet about the giveaway. Please make sure you leave the link where you tweeted in your comment. YOU CAN TWEET ONCE PER DAY TO INCREASE YOUR CHANCES OF WINNING.  USE THE RETWEET BUTTON AT THE BOTTOM OF THIS POST FOR EASY ENTRY.

5. Subscribe to my feed and leave a comment. If you already subscribe leave a comment telling me you are already a subscriber.
6. Facebook, Digg, or Technorati this post and leave me TWO extra comments. ( At the bottom of this post you should see a bookmark button to make this an easy option.)
7.  Enter any of my other giveaways.  Leave me a comment telling me which giveaway you entered.  The giveaway must be still active in order to gain an extra entry.
8. Comment on any of my NON giveaway posts to gain extra entries. Please leave me an extra comment here for every post you commented on.
A winner will be chosen at random via Random.org.   Info will be forwarded to sponsor.

Open to US

The contest ends December  2,  11:59 PM eastern
FTC disclosure :  In adherence to the recent FTC changes pertaining to blogger product reviews and sponsored postings  it  is necessary  to add when ever I receive any compensation in return for posting about a company or product.  I received a SodaStream  Fountain Jet and flavors  for reviewing.  No further compensation was received. Even though free products were received,  my opinion was of my own.)