When I was pregnant I had ideas of grandeur how I was going to decorate my son's nursery.  I went through plenty of decorating books and even bought an expensive image projector so I could easily trace a colorful mural on his wall.  WRONG!  It wasn't nearly as simple as it appeared to be.  I kept making mistakes as I tried tracing the beautiful animal scene on his wall and ended up just painting over the whole mess.  I felt like an artistic failure and gave up on the thought of  designing his room.
Two years later his walls were still bare and boring until Greenie2Steps contacted me and sent me an eco-friendly and educational  Greenie & Friends whimsical wall art print to review.   When I  unrolled the art the first thing I noticed was the difference of the texture of the print compared to other adhesive  art I tried using in the past.  It had a nice fabric feel in contrast to the usual paper or plastic.   The print was a large 48 by 12 inches in size,  but I was not worried about applying it or making a mistake in the process.    All of the  Greenie2Steps products can be easily re-applied hundreds of times without losing any adhesiveness or leaving residue behind, so it made me feel at ease during the application.

I decided to place the adorable print right behind his crib which gives  him   a great view of  his new wall art friends that include Greenie, Garrett, Lenny, Geraldine, and Taj.  I'm not concerned with him being to close to the art because it is safe and non-toxic.  The company uses all eco-friendly water based EcoSol inks, water based laminates, and water based adhesives.  He can safely touch it and stretch his imagination as often as he likes too!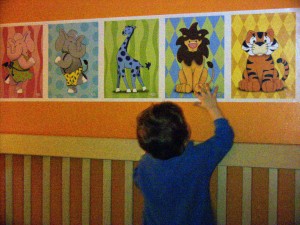 I love how just one print made such a huge transformation in the feel of his room.  Plus,  it also sends him a nice educational message on the importance of caring for the earth!  Each one of the Greenie2Steps characters were carefully crafted to have  a story behind them and inspires my son to learn about the environment.
When finances allow, I would LOVE to purchase one of the HUGE 90 x 40 inch Green2Steps Eco-Murals for the adjacent wall!  The murals are absolutely gorgeous and would take my son on an a daily imaginative journey.  Currently there are 3 available murals including Jungle Excursion, Underwater Adventure, and Skies over TelleyGreen.  Take a look at the incredible Underwater Adventure…
I want it!
Greenie2Steps offers other products  in variable sizes too!  You can choose the individual character Art Prints, Giant Postcards,  or the die-cut Greenie Stickups. What ever product you decide it will surely bring beautiful color and eco-friendly fun to your child's room.
Get It Now And Save!
Greenie2Steps Whimsical Art Prints would make and excellent stocking stuffer! Get it now and save 10% on your next purchase by using the coupon code HAPPY at checkout.  The code can be used now through December 31st, 2009!
News of NEW product release coming soon!
"In the next few weeks Greenie2Steps will launch two new product lines: Greenie's Puppy Pals and Greenie's Farm Friends. I encourage you to stay tuned because these adorable new characters will make the perfect gift this holiday season!"
Get the Free Greenie2Steps Newsletter
"Get special offers, FREE decorating tips, sneak previews of new wall art and updates on Greenie's adventures as she travels the world teaching children of all ages how to make our planet a better place to live with whimsical wall art."
More About Greenie2Steps
"Introducing Greenie2Steps – Fun, Educational and Eco-friendly Wall Art for Children of all Ages
New whimsical wall art from Greenie2Steps is now available. Five original peel-and-stick prints by artist Joanne Coughlin depict characters including Greenie, the eco-friendly elephant, and her friends from TelleyGreen. The brightly colored and engaging characters can be moved easily from room to room without marring walls or leaving residue.
Boston, MA (PRWEB) July 29, 2009 — Greenie2Steps, the creation of three Boston female design professionals, has released an original collection of whimsical wall art that is both educational and eco-friendly. The peel-and-stick prints depict the adventures of Greenie, the eco-friendly elephant who travels the world-teaching children of all ages how to make our planet a better place to live. Starting July 29, 2009, the first prints of Greenie and her friends are available at www.greenie2steps.com.
The original Greenie2Steps whimsical wall art collection is fun and safe for infants, toddlers and children of all ages. Made in the USA with eco-friendly materials, the wall art can be removed and relocated hundreds of times without marring the walls or leaving any residue.
The new Greenie2Steps whimsical wall art collection includes oversized prints of Greenie and her best friends: Garrett her brother, Geraldine the Giraffe, Lenny the Lion and Taj the Tiger. Big (18″ x 24″ – $54.00), Huge (24″ x 36″ – $79.00) and Jumbo (36″ x 48″ – $149.00) print sizes are available. For a limited time only, Jumbo print purchases will come with a free 8 ½" x 11″ oversized peel-and-stick postcard from TelleyGreen, Greenie's eco-friendly island home. The first in the series of Greenie2Steps postcards can also be purchased separately ($9.00), personalized if desired ($14.00). Full-sized, interactive, peel-and-stick wall murals of Greenie's adventures are coming soon, with special orders available for any size.
Greenie2Steps, LLC was founded in 2009 by three Boston-based women. Interior Designer Nancy Serafini, Artist Joanne Coughlin and Marketing Professional Cynthia Laidlaw share a dedication to promoting eco-friendly lifestyles with whimsical wall art designed to delight, engage and educate children of all ages."
Read an exclusive interview with the three Greenie2Steps founders here.
GIVEAWAY
The Greenie2Steps team would like to give one A Happy Hippy Mom reader a LARGE 48 x 12″ Greenie & Friends Art Print! ($100)  To enter the giveaway checkout the Greenie2Steps product line and leave me a comment on which character you would like to add to your child's room the most.
Extra Entries
1.Mention the giveaway on your own blog linking back to this post and Greenie2Steps.  Leave an additional comment with a link to where you blogged about the giveaway. This is worth 10 extra entries.  Make sure you leave ten separate comments. (example blogged extra entry #1, blogged extra entry #2, blogged extra entry #3, ect…)
2.Place my button on your blog and then leave an additional comment with a link to the page where you put the button. If you already have my button leave a comment letting me know you already have it.
3. Follow my blog and leave me an additional comment. ( There is a little widget on my sidebar that shows my followers. Just click follow). If you already follow leave me a comment letting me know you already do.
4. Follow Greenie2Steps and Ahappyhippymom on Twitter and tweet about the giveaway. Please make sure you leave the link where you tweeted in your comment. YOU CAN TWEET ONCE PER DAY TO INCREASE YOUR CHANCES OF WINNING.  USE THE RETWEET BUTTON AT THE BOTTOM OF THIS POST FOR EASY ENTRY.
5. Subscribe to my feed and leave a comment. If you already subscribe leave a comment telling me you are already a subscriber.
6. Facebook, Digg, or Technorati this post and leave me TWO extra comments. ( At the bottom of this post you should see a bookmark button to make this an easy option.)
7.  Enter any of my other giveaways.  Leave me a comment telling me which giveaway you entered.  The giveaway must be still active in order to gain an extra entry.
8. Comment on any of my NON giveaway posts to gain extra entries. Please leave me an extra comment here for every post you commented on.
A winner will be chosen at random via Random.org.   Info will be forwarded to sponsor.
Open to US
The contest ends December  3,  11:59 PM eastern
FTC disclosure :  In adherence to the recent FTC changes pertaining to blogger product reviews and sponsored postings  it  is necessary  to add when ever I receive any compensation in return for posting about a company or product.  I received a Greenie2Steps Greenie & Friends Whimsical Wall Art Print for reviewing.  No further compensation was received. Even though free products were received,  my opinion was of my own.)