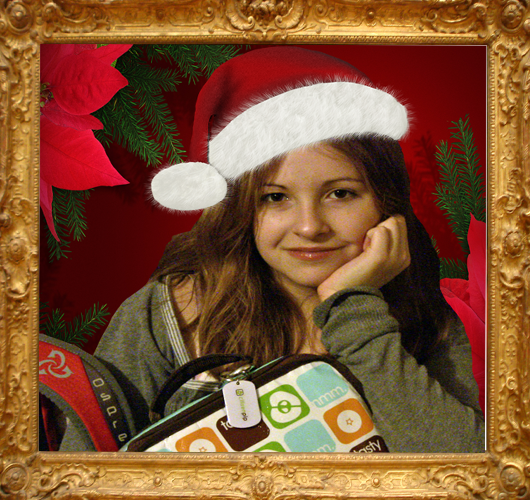 Have you heard of Citizenpip?  I JUST became aware of their eco-friendly reusable lunch kits about a week ago.  Christina, the company owner and an eco -conscious mom,  sent me a Soup To Nuts Kit  to review which included
• 1 insulated lunch bag with nametag and carabiner that easily attaches to a backpack
• 1 stainless steel water bottle
• 1 stainless steel insulated food jar
• 4 BPA-free airtight food containers
• 1 stainless steel fork + spoon set
• 5 100% cotton napkins
10 Reasons Why I Like And Recommend The Citizenpip Soup To Nuts Kit
This is not your average lunch kit.  It is AWESOME!  Here is my top 10 reasons why I like the Citizenpip Soup To Nuts Lunch Kit my daughter is using.
It contains EVERYTHING you need to pack a complete waste free and muck-free lunch.  The kit even includes a stainless steel spoon and fork along with cotton napkins.  There is no more need to use wasteful plastic bags,  brown paper bags, plastic utensils, or paper napkins!


The Citizenpip plastic containers are made from polypropylene which is BPA free and will not leach into the food.

The stainless steel products used are made from food grade 304 stainless steel.

The insulated lunch bag is lead-free, PVC free, and phthalate free.

The food containers are airtight and have a silicone seal making them completely leakproof.  This is great since it prevents spills, cuts down on mess,  and preserves food flavors.

The insulated stainless steel food jar allows easy pouring and filling with the 3.5″ wide mouth opening.  Keeps food hot OR cold and is simple to clean.  Adding a chunky soup to the food jar is a cinch!

The stainless steel water bottle has a nice 1.9″ mouth opening so ice cubes can be added to keep your drink cold and it can also be used  like an ice pack to keep the food chilled in the bag.  The water bottle includes a easy drink spout, attached cap, and carry loop.

The 4 BPA-free food containers are light weight, durable, and freezer safe.  They can be placed in the dishwasher for cleaning.

The stainless steel, polypropylene containers, and lunch bag are recyclable.

The lunch kit is stylish and FUN to use!  My daughter enjoys bringing her lunch even more now that she has her new lunch kit and the containers give more food choice possibilities.
Available Citizenpip Lunch Kits
There are currently three lunch kits and three different styles to choose from. There is the
SOUP TO NUTS KIT ($55.00) The one I was sent to review and mentioned above.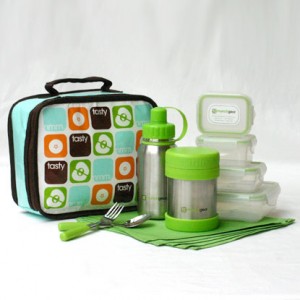 SQUARE MEAL KIT ($42.00)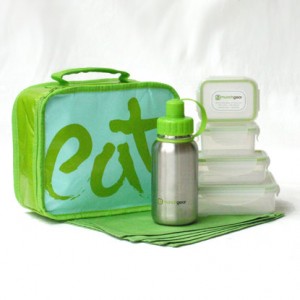 THE SQUARE MEAL KIT INCLUDES:
1 insulated lunch bag with nametag and carabiner that easily attaches to a backpack
1 stainless steel water bottle
4 BPA-free airtight food containers
5 100% cotton napkins
"What makes this a square meal? The sandwich of course! If your kid loves turkey and cheese, or can't live without PB&J, this is the kit for you. Kind of like food armor, the square sandwich container protects your sandwich from being squished. Don't be surprised though if you find yourself using the square container for something other than sandwiches. Absolutely airtight and leakproof, these containers can handle anything from fruit salad to yogurt! Three smaller containers perfectly fit sides and snacks."
BYOB KIT ($46.00)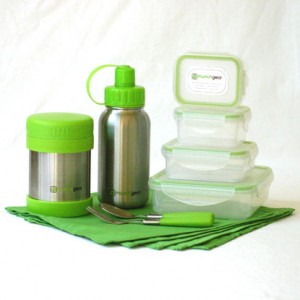 THE BYOB KIT INCLUDES:
1 stainless steel water bottle
1 stainless steel insulated food jar
4 BPA-free airtight food containers
1 stainless steel fork + spoon set
5 100% cotton napkins
"Already have a well-loved reusable lunch bag that still has some miles on it? This is the kit for you. Bring Your Own Bag and we'll provide everything else you need to pack a waste-free lunch."
You have the choice of three appealing styles which include the Yum, Eat, and Tasty!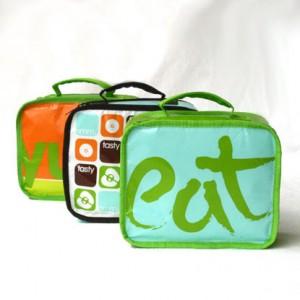 About The Company (quoted from website)
"Citizenpip is a company inspired by the belief that making small changes in your daily habits can make a significant impact.
I strive to be green. I don't want to leave a legacy of landfills for my kids. But as a mom with three young boys, I also place convenience high on my list of priorities. Let's face it, sometimes being environmentally responsible is not the most convenient thing. I'm not ready to ditch disposable diapers and it took me a while to get used to the idea of composting because worms give me the heebie jeebies. But I am trying to gradually adopt small changes where I don't have to completely sacrifice convenience to do the right thing for the environment.
One day, while noticing the gazillion plastic baggies I was using to pack lunches, I decided to make a small change and replace the bags with reusable containers instead. Eliminate three plastic bags a day, five days a week for a year. That's 780 plastic bags I would be personally responsible for eliminating from landfill! Add to that the 260 juice pouches, 260 paper napkins, 260 plastic utensils. Now double that if you have two kids, triple that if you have three…you get the idea. With one small change to a daily habit, one family can make a significant difference in reducing waste.
But in trying to pack a reusable lunch, I had a hard time finding the right containers – it's not clear if the material is food safe, they leak, they don't close properly, they get warped in the dishwasher, and I couldn't find the right size for a sandwich and snacks.
I wanted a reusable lunch kit that was easy to clean, made out of clearly identified materials (free of lead, PVC, phthalates, and BPA), that fit together in the lunch bag nicely, but was flexible enough to accommodate other containers and food items. Oh, and it had to pass the ultimate test – my kids! Something easy to use and cool to carry.
And so Citizenpip was born – products that make it easy to pack a waste-free lunch.
We hope Citizenpip inspires you to make a small change and a huge impact.
Christina Ip-Toma
Owner and Mom"
Citizenpip Lunch Kits Make A Perfect Holiday Gift!
"This holiday season, Citizenpip reusable lunch gear is the gift that keeps on giving. Not only will it be used everyday, but everytime it is used, the recipient will be making a difference and "giving back" to the environment. And to make it easier than ever to give, Citizenpip kits are beautifully packaged with white cotton ribbon in a recycled white box. Customers can include a gift message and even preorder gifts for a later ship date."
Gifts From Citizenpip To You!
A gift to A Happy Hippy Mom readers: Receive a free fork+spoon set with every order over $50 (before tax and shipping).  Just add a fork+spoon to your shopping cart and use coupon code: HHMgives

A gift to one lucky A Happy Hippy Mom reader:  Citizenpip will giveaway one Square Meal kit to one  A Happy Hippy Mom reader in the continental US.
A gift to the environment:  Citizenpip will plant one tree in partnership with Trees for the Future for every $10 spent.
A Gift To A Green Charity
Citizenpip will donate $300 on behalf of the blog with the most coupon codes redeemed between 11/1/09 and 12/31/09!
The  green non-profit organizations to choose from:
* Trees for the Future
* Environmental Working Group
GIVEAWAY
One lucky reader is going to win a Citizenpip Square Meal kit! To enter the giveaway head on over to Citizenpip website to take a look at  the cool eco-friendly lunch kits.  Come back here and leave me a comment on which kit you would like the most and what style you would choose.
Extra Entries
1.Mention the giveaway on your own blog linking back to this post and Citizenpip.  Leave an additional comment with a link to where you blogged about the giveaway. This is worth 10 extra entries.  Make sure you leave ten separate comments. (example blogged extra entry #1, blogged extra entry #2, blogged extra entry #3, ect…)
2.Place my button on your blog and then leave an additional comment with a link to the page where you put the button. If you already have my button leave a comment letting me know you already have it.
3. Follow my blog and leave me an additional comment. ( There is a little widget on my sidebar that shows my followers. Just click follow). If you already follow leave me a comment letting me know you already do.
4. Follow Citizenpip on Twitter and tweet about the giveaway. Please make sure you leave the link where you tweeted in your comment. YOU CAN TWEET ONCE PER DAY TO INCREASE YOUR CHANCES OF WINNING.  USE THE RETWEET BUTTON AT THE BOTTOM OF THIS POST FOR EASY ENTRY.

5. Subscribe to my feed and leave a comment. If you already subscribe leave a comment telling me you are already a subscriber.
6. Facebook, Digg, or Technorati this post and leave me TWO extra comments. ( At the bottom of this post you should see a bookmark button to make this an easy option.)
7.  Enter any of my other giveaways.  Leave me a comment telling me which giveaway you entered.  The giveaway must be still active in order to gain an extra entry.
8. Comment on any of my NON giveaway posts to gain extra entries. Please leave me an extra comment here for every post you commented on.
A winner will be chosen at random via Random.org.   Info will be forwarded to sponsor.

Open to US

The contest ends December  7,  11:59 PM eastern
FTC disclosure :  In adherence to the recent FTC changes pertaining to blogger product reviews and sponsored postings  it  is necessary  to add when ever I receive any compensation in return for posting about a company or product.  I received a Soup To Nuts Kit for reviewing.  No further compensation was received. Even though free products were received,  my opinion was of my own.)