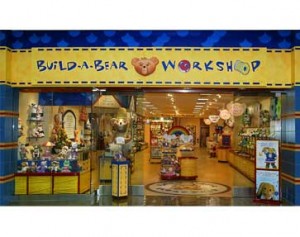 The  beginning of the Build A Bear Workshop idea was born when Maxine Clark (the founder) and her friend Katie were out shopping for stuffed toys.  Katie who was 10 years old at the time could not find the stuffed toy she wanted and simply said "These are so easy, we could make them."
In 1997 the first Build A Bear Workshop store opened its doors at the Saint Louis Galleria in St. Louis, Missouri and children of all ages have been enjoying the teddy-bear retail entertainment experience ever since.   There is now over 400 Build-A-Bear Workshop stores  worldwide, including company-owned stores in the U.S., Puerto Rico, Canada, the United Kingdom, Ireland and France, and franchise stores in Europe, Asia, Australia and Africa.  The teddy-bear workshop stores  have remained to be a HUGE success and  in 2007 a launch of the in-store experience was brought to the virtual  world  with the website buildabearville.com.
Slumber Time Frosty The Snowman
My family has adored the Build-A-Bear Workshop stores for years.  We always have a good time browsing through all the teddy-bears and the experience of making our own fuzzy friend leaves lasting memories.  It's a great  place to bring the kiddos and watch their faces light up with  happiness from all the fun.
Recently the new Build-A-Bear holiday line up was released and I saw the Slumber Time Frosty The Snowman.  I just had to have him!  Frosty The Snowman was my favorite Christmas character as a child and I still love him.  I requested if I could review him and shortly after my  cool friend arrived on my doorstep.
He is absolutely the cutest stuffed fluff of joy I have ever seen.  I don't think anything I can say can truly describe how cute he is,  but I'll try and give as much detail as I can.  He is wearing a pair of adorable snowman pajamas and slippers, and on his head is a soft gray magical hat with a red and yellow flower.  When his hat is tilted up it  activates his cheeks to light up green and red.   The middle of the flower also flashes yellow and a musical magical sound is played.
The Slumber Time Frosty The Snowman is only available for a limited time so if you like him you better grab Frosty as soon as you can.
[slideshow id=10]
Check Out Some Of The Holiday Line Up
[nggallery id=9]
*pictures in gallery borrowed from the Build-A-Bear website
More of the new Build-A-Bear holiday line up here.
GIVEAWAY!
Enter for your chance to win a Build-A-Bear Slumber Time Frosty The Snowman!  To enter the giveaway please visit the Build-A-Bear website and come back here to leave me a comment about which products is your favorite.
Extra Entries
1.Mention the giveaway on your own blog linking back to this post and Build-A-Bear.  Leave an additional comment with a link to where you blogged about the giveaway. This is worth 10 extra entries.  Make sure you leave ten separate comments. (example blogged extra entry #1, blogged extra entry #2, blogged extra entry #3, ect…)
2.Place my button on your blog and then leave an additional comment with a link to the page where you put the button. If you already have my button leave a comment letting me know you already have it.
3. Follow my blog and leave me an additional comment. ( There is a little widget on my sidebar that shows my followers. Just click follow). If you already follow leave me a comment letting me know you already do.
4. Follow Build-A-Bear on Twitter and tweet about the giveaway. Please make sure you leave the link where you tweeted in your comment. YOU CAN TWEET ONCE PER DAY TO INCREASE YOUR CHANCES OF WINNING.  USE THE RETWEET BUTTON AT THE BOTTOM OF THIS POST FOR EASY ENTRY.

5. Subscribe to my feed and leave a comment. If you already subscribe leave a comment telling me you are already a subscriber.
6. Facebook, Digg, or Technorati this post and leave me TWO extra comments. ( At the bottom of this post you should see a bookmark button to make this an easy option.)
7.  Enter any of my other giveaways.  Leave me a comment telling me which giveaway you entered.  The giveaway must be still active in order to gain an extra entry.
8. Comment on any of my NON giveaway posts to gain extra entries. Please leave me an extra comment here for every post you commented on.
A winner will be chosen at random via Random.org.   Info will be forwarded to sponsor.

Open to US

The contest ends December  15,  11:59 PM eastern
FTC disclosure :  In adherence to the recent FTC changes pertaining to blogger product reviews and sponsored postings  it  is necessary  to add when ever I receive any compensation in return for posting about a company or product.  I received a Slumber Time Frosty The Snowman for reviewing.  No further compensation was received. Even though free products were received,  my opinion was of my own.)