I'm an extreme coffee enthusiast who seeks out the perfect cup of Joe.  The ironic thing is I don't even have my own brewer.  This is because of two very important reasons.  The first  being I wrecked my coffee maker by forgetting to take out  the used filter in the machine for days  and disgusting mold accumulated throughout the inside.  I tried cleaning it, but no matter how many times I washed it the coffee still came out with a tint of mold smell and taste. YUCK!  The second reason I don't have my own machine is because  I am the only one in my home who drinks the hot addicting beverage and I can't afford a QUALITY single brewer at the moment.  Brewing a whole pot means I would be drinking it ALL by myself which would result in me  having nervous energy, bouncing off the walls, driving my husband nuts, and a possible divorce.  All great reasons NOT for me to have a huge pot of java ready for immediate consumption.  You might make the argument I could drink instant decaffeinated coffee,  but that is like offering a beer drinker a non-alcoholic Beck's in place of a Budweiser.  It just doesn't work!
Dunkin'  Donuts, Starbucks, FastTrac, or even the  poor neighbor might find me on their doorstep looking for my first cup of the day.  The problem is I am not a very coordinated individual when I first awake and those flimsy cup and top lids are a NIGHTMARE!  The coffee is hot as hell and the cups leak the lava!  PLUS, I usually have to add ice-cubes to the coffee  or wait till it cools enough to drink it which causes  the coffee to lose its robust flavor.  If I don't wait or insert cubes, every sip  is like playing Russian roulette with my lips.  These are the headaches  a coffee freak has to endure by consuming the beverage away from home.
BRUGO mug
A few weeks ago I was asked if I would be interested in trying the BRUGO mug.  What is it?  The mug is an ingenious invention designed by Spero Pavlopoulos (a coffee addict),  that allows coffee and tea nerds to enjoy every sip of their hot beverage in the "Perfect Temperature Zone." It also eliminates the spills, spatters, burnt lips, and stained clothes all associated with the "to-go" coffee experience.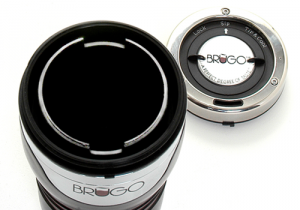 How Does It Work?
The BRUGO mug's patented design controls the hot beverages by giving you the option to LOCK, SIP, or TIP & COOL. The thermodynamic patented temperature control chamber makes your coffee the perfect temperature of 150 t0 170 degrees to give your taste buds the full enjoyment of the coffee flavor desired with every sip.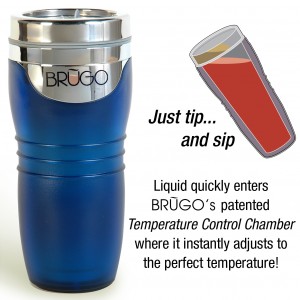 LOCK
"Lock seals the flavor of your favorite brew in tight."
SIP
"Sip lets you bypass the Temperature Control Chamber after your brew has cooled to your desired drinking temperature."
TIP & COOL
"Tip your BRUGO Travel Mug away from you for a few seconds to move your hot brew from the lower chamber to the patented Temperature Control Chamber. Swill with a "brandy" motion to cool that sip to the Perfect Temperature. The longer the motion, the cooler the sip."
BRUGO Executive and Jazz Mug Features
Patented 2 oz/25 ml Temperature Control Chamber giving you sip by sip satisfaction at the perfect temperature
3-position drink mode selector – "Lock, Sip, Tip & Cool" – allowing you perfect taste and temperature control whether you need a bolt of caffeine or prefer to linger over your coffee ritual
16oz / 450ml capacity cup size – a large cup
Non-slip bottom keeping your coffee where you put it
Ergonomic grip for maximum comfort
Stainless Steel and Chrome accents
MY NEW FRIEND
When I first received the BRUGO  I was impressed by the overall look and elegant design of the mug, BUT I was a little scared to put my lips to the test.  I poured the blazing coffee into the mug, set the control to Tip & Cool and did the magic presto tip and swish action.   I braced myself for the burn as I took a sip.  No burn?  How could this be?  I was in love with the mug after the first sip.  The coffee was still HOT yet it was not scalding.  I now take the mug everywhere I go and it has become my new friend.   I know that sounds  melodramatic but I honestly don't leave my home without it.
BRUGO For The Holidays!
BRUGO would make a great gift this holiday season for the coffee addict in your life. The Executive and Jazz  BRUGO can be purchased for $19.95 or the Sport BRUGO for $14.95 at  www.brugomug.com.  Enjoy free shipping now with any order over $50 by using promo code "holidays" at checkout.



GIVEAWAY!
BRUGO would like to give one of my readers their very own BRUGO mug.  To enter the giveaway check out all the cool colors at the BRUGO website and leave me a comment telling me which one is your favorite.

Extra Entries
1.Mention the giveaway on your own blog linking back to this post and BRUGO.  Leave an additional comment with a link to where you blogged about the giveaway. This is worth 10 extra entries.  Make sure you leave ten separate comments. (example blogged extra entry #1, blogged extra entry #2, blogged extra entry #3, ect…)
2.Place my button on your blog and then leave an additional comment with a link to the page where you put the button. If you already have my button leave a comment letting me know you already have it.
3. Follow my blog and leave me an additional comment. ( There is a little widget on my sidebar that shows my followers. Just click follow). If you already follow leave me a comment letting me know you already do.
4. Follow BRUGO on Twitter and tweet about the giveaway. Please make sure you leave the link where you tweeted in your comment. YOU CAN TWEET ONCE PER DAY TO INCREASE YOUR CHANCES OF WINNING.  USE THE RETWEET BUTTON AT THE BOTTOM OF THIS POST FOR EASY ENTRY.

5. Subscribe to my feed and leave a comment. If you already subscribe leave a comment telling me you are already a subscriber.
6. Facebook, Digg, or Technorati this post and leave me TWO extra comments. ( At the bottom of this post you should see a bookmark button to make this an easy option.)
7.  Enter any of my other giveaways.  Leave me a comment telling me which giveaway you entered.  The giveaway must be still active in order to gain an extra entry.
8. Comment on any of my NON giveaway posts to gain extra entries. Please leave me an extra comment here for every post you commented on.
A winner will be chosen at random via Random.org.   Info will be forwarded to sponsor.

Open to US

The contest ends December  11,  11:59 PM eastern
FTC disclosure :  In adherence to the recent FTC changes pertaining to blogger product reviews and sponsored postings  it  is necessary  to add when ever I receive any compensation in return for posting about a company or product.  I received a BRUGO mug for reviewing.  No further compensation was received. Even though free products were received,  my opinion was of my own.)