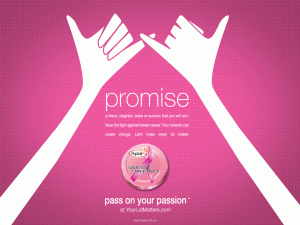 Did you know one in eight women will be diagnosed with breast cancer within her lifetime?  WOW, those statistics are very frightening!  I just received an email from General Mills concerning a new campaign to help raise awareness about the disease and how I can also make a difference in the fight against breast cancer.  I wanted to pass the information along so you can also join in!
Yoplait and the celebrity breast cancer surgeon,  Dr. Kristi Funk,  are teaming up to help educate men and women about breast cancer, potential risks,  and ways we can all live healthy lives.  Watch the video to hear what Kristi has to say…
You can make a difference simply by participating in Yoplait's Save Lids to Save Lives. Look for the Yoplait containers specially marked with the pink lids when purchasing yogurt and send the lid in no later than December 31st, 2009.  For every lid sent Yoplait will donate 10 cents to Susan G. Komen for the Cure, up to $1.5 million, with a guaranteed donation of $500,000!
Still want to do more?  Grab your friends and log on to YourLidMatters.com where you can start your own lid collecting team!
To help spread the word about the campaign download the pink pride website badge and place it on your blog sidebar, facebook, emails, or where ever you like!  Remember every lid matters and you CAN make a difference!