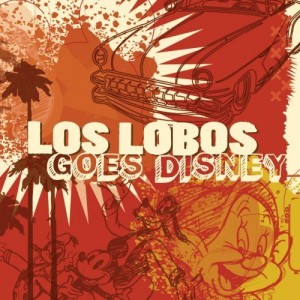 Los Lobos, the three time grammy winning East Los Angeles band, is back with their new first album after three years!  The Los Lobos Goes Disney CD features 13 loved Disney favorites  including Zip-A-Dee-Doo-Dah, Cruella De Vil, and Heigh Ho.  You may think you have heard these songs before, but you haven't heard them quite like this!  The band renews the timeless classics  by adding their brilliant Spanish-rock style charm to each song. The album is a must for  Disney fans and can be enjoyed by all ages.
Album Features
1. Heigh-Ho [From Snow White And The Seven Dwarfs]
2. I Wan'na Be Like You [From The Jungle Book]
3. Not in Nottingham [From Robin Hood]
4. Tiki, Tiki, Tiki Room [From The Enchanted Tiki Room], The
5. Grim Grinning Ghosts [From Haunted Mansion]
6. I Will Go Sailing No More [From Toy Story]
7. Ugly Bug Ball [From Summer Magic], The
8. Cruella De Vil [From 101 Dalmations]
9. Bella Notte [From Lady and the Tramp]
10. Zip-A-Dee-Doo-Dah [From Song of the South]
11. Bare Necessities [From The Jungle Book], The
12. Oo-De-Lally [From Robin Hood]
13. When You Wish Upon a Star/It's a Small World [From Pinocchio/It's a Small World]
LOVED IT AND TODDLER APPROVED

I was sent the new album to review and loved it!  I like how the band made each song seem like I was hearing it for the first time.  Los Lobos definitely added a unique fun twist and made each tune their own!  I keep the cd in my car and pop it in to calm the toddler boredom fits while going on shopping trips.  Aiden tries to sing along and I have to laugh because he is only 23 months!  His words don't always come out correct and he is adding his own rendition of the songs.  Too funny!
PREVIEW
If you would like  to preview the Los Lobos Goes Disney

CD  yourself Amazon.com has a sample of each song you can listen to.
BUY IT
The CD is expected to hit the shelves October 27, but you can purchase the MP3  Los Lobos Goes Disney [Amazon.com Exclusive]
now.
(FTC  disclosure :  In adherence to the recent FTC changes pertaining to blogger product reviews and sponsored postings  it  is necessary to add when ever I receive any compensation in return for posting about a company or product.  I received  a Los Lobos Goes Disney CD  sample to review and share my experience. No further compensation was received.  Even though a GC  was received,  the opinions were of my own. )