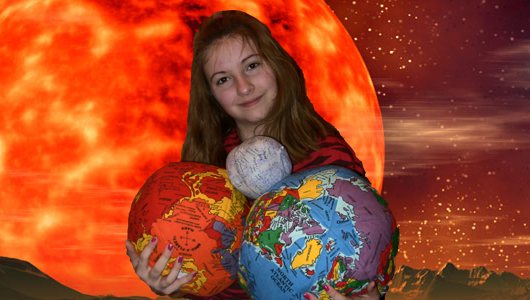 Have you hugged your planet, mars, or the moon today? This might sound impossible, but its not with the educational, yet extremely fun, peacetoys.com Hugg-A-Planet Product line. Roll, toss, hug, hang, study, or use as a pillow-what ever you decide the soft, accurate, and highly detailed globes are fun for the whole family.   No matter if your 1 or 92 you can enjoy a Hugg-A-Planet!
Did you know there is a Hugg-A-Planet Earth, Moon, and Mars at the International Space Station?  The toy globes arrived at the ISS on September 18, 2009 via the Japanese launch vehicle HTV/H-IIB.  The Hugg-A-Planets will make a full orbit around the Earth every 90 minutes on the Space Station.  That is 5860 orbit per year!  They will remain there for as long as the space station remains active, or at least until 2016.  NASA chose the globes because of their geographical accuracy plus soft construction and to be used  as a "space-based" teaching tool.  How cool is that?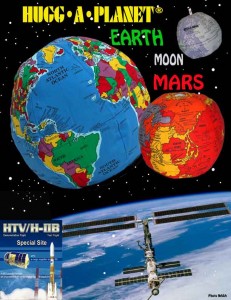 I was sent the Hugg-A-Planet Space Station Earth, Moon and Mars set to review.  Right away I noticed how detailed the globes were and how they could be an excellent tool in teaching children global awareness and to love their planet.

The Hugg-A-Planet Earth is a soft, huggable, stuffed globe with over 600 places labeled on it.  It is 12″ in diameter, 36″ in circumference and printed with vivid, non-toxic ink. The globes eye-catching colorfulness helps keep a child's attention and promotes geographic literacy along with environmental consciousness!   The globe is light enough for a toddler to carry and toss.
The Hugg-A-Planet Earth  won the Parents "Best 25 of 25 Years" toy award and  is recommended by The National Association For Gifted Children.  The soft globe is also loved and enjoyed by Presidents, Governors, Senators, Congressmen, Entertainers, and celebrities.
It is available in English, Spanish and French.  The toy comes with a removable tag which displays important facts about our Planet Earth and the Universe.

The Hugg-A-Planet Mars  soft globe is approximately 8″ in diameter, proportion to the Hugg-A-Planet Earth,  and recognizes more than 400 places.  The meticulous sphere of the red planet features craters, windy valleys and other landforms.  It is said to be the most detailed globe of Mars currently available anywhere with updated cartography.
The sturdy constructed shell of Mars contains brilliant splashes of orange and red.  It also comes with a fact sheet about the Planet Mars where you can  learn about Mars' Moons,  successful missions to Mars and more!

The Hugg-A-Planet Moon is perfect for tiny hands to grab and squeeze.  The globe  is 4″ in diameter,  and  follows the proportion to Classic Earth.  The  plush toy might be small but it still depicts 100 placenames!
All three of the Hugg-A-Planet globes have a shell made with 100% cotton  stuffed with all new materials, and are machine washable!
Other  Hugg-A-Planet and Peacetoys.com products.
Super Hugg-A-Planet, Pocket Planet, Baby Hugg-A-Planet Earth, Hugg America, President Hugg-A-Planet, Pocket Classic Hugg-A-Planet Earth with the Moon in it's Pocket, Planets for Corporate Gifts, Organic Foundlings, and Multi-player Chess.
HOT HOT HOT!
The Hugg-A-Planets are unique and would make a fantastic gift for students, teachers, toddlers, co-workers, and kids of all ages.  I even read an article how nursing homes were using Hugg-A-Planets to help seniors remember geography and hospitals found the plush globe toys useful to post-surgery patients who needed abdominal support for post-anesthesia coughing.
My son enjoyed throwing, kicking, hugging, squeezing, and looking at the Hugg-A-Planets.  The globes are a hot toy to grab now for placing under the  Christmas tree!
More about Hugg-A-Planets
"Every time I think of how far we have traveled with the Hugg-A-Planet product line it puts a smile on my face," said Robert Forenza, President and Founder of Hugg-A-Planet. Making "green toys" since 1982. Forenza is amazed to think that two of our Planets and our Moon is in space. "Now we can add astronauts to the list of people including world leaders, politicians , celebrities, and business executives who enjoy our products."
Hugg-A-Planets were voted as one of Parents Choice Foundation "Best 25 Toys of the Past 25 Years" and "Classic Toy of the Year" by Dr. Stevanne Auerbach ( "Dr. Toy" ) who said "The Hugg-A-Planet belongs in every toy box."
Caring adults appreciate this ideal way to start children's geographic education. Over 600 locations are labeled on the Hugg-A-Planet, including the world's smallest nation ( Niue ). And they offer something extra … they can be hugged. Studies have shown that the majority of our personality is formed from birth to 7 yrs old. "Imagine generations growing up hugging the world. It is incredibly rewarding", said Forenza. "I believe that people who hug the earth encourage others to care for the earth. besides, it's a good way of promoting global awareness, sustainability, ecological consciousness and geography."
(FTC  disclosure :  In adherence to the recent FTC changes pertaining to blogger product reviews and sponsored postings  it  is necessary (even though I have a full disclosure on my site) to add when ever I receive any compensation in return for posting about a company or product.  I received the Hugg-A-Planet Space Station Earth, Moon and Mars set listed in my review. No further compensation was received.  Even though free products were received,  the opinions were of my own. )

WIN WIN WIN
Peacetoys.com would like to give one lucky A Happy  Hippy Mom reader a Hugg-A-Planet Earth!  To enter visit Peacetoys.com and check out all the products, and then come back here to leave me a comment telling me which product you like the best.
Extra Entries
1.Mention the giveaway on your own blog linking back to this post and Peacetoys.com.  Leave an additional comment with a link to where you blogged about the giveaway. This is worth 10 extra entries.  Make sure you leave ten separate comments. (example blogged extra entry #1, blogged extra entry #2, blogged extra entry #3, ect…)
2.Place my button on your blog and then leave an additional comment with a link to the page where you put the button. If you already have my button leave a comment letting me know you already have it.
3. Follow my blog and leave me an additional comment. ( There is a little widget on my sidebar that shows my followers. Just click follow). If you already follow leave me a comment letting me know you already do.
4. Follow me on Twitter and tweet about the giveaway. Please make sure you leave the link where you tweeted in your comment. YOU CAN TWEET ONCE PER DAY TO INCREASE YOUR CHANCES OF WINNING.  USE THE RETWEET BUTTON AT THE BOTTOM OF THIS POST FOR EASY ENTRY.
5. Subscribe to my feed and leave a comment. If you already subscribe leave a comment telling me you are already a subscriber.
6. Facebook, Digg, or Technorati this post and leave me TWO extra comments. ( At the bottom of this post you should see a bookmark button to make this an easy option.)
7.  Enter any of my other giveaways.  Leave me a comment telling me which giveaway you entered.  The giveaway must be still active in order to gain an extra entry.
8. Comment on any of my NON giveaway posts to gain extra entries. Please leave me an extra comment here for every post you commented on.
A winner will be chosen at random via Random.org. Upon notification the winner has 72 hours to send me their contact information.  Upon receiving I will mail out the prize.
Open to US residents only 18+
The contest ends November 5th,  11:59 PM eastern