WOW,  I was really impressed on how dedicated some of you were to win this giveaway!  You were blogging, Twitter tweeting, and commenting maniacs! The giveaway was only going for a little over three days and it pulled in 4,196 entries!

Thank you so much for participating in this giveaway and I hope we can do  something similar in the near future.
There were 4,196 entries (4,199-3 pings =4,196) and Random.org results…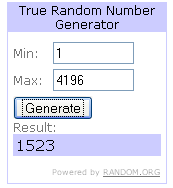 and the winning comment…

Congrats to Skip and Trina Davidson!  Trina tweeted 71 times during the giveaway!  WTG Trina! Please respond to my email within 48 hours to claim your prize.

A HUGE thanks to the sponsors of the giveaway-Walmart and Rockfish Interactive!
Don't forget to check out Walmart Your Zone for your teens favorite bedroom decor at affordable prices!