Occasionally I come across a skin care product line so good I can't say enough to actual do it justice and that is exactly how I feel about the Skin Free Skin Care Products!
Skin Free was designed and formulated by a practicing pharmacist, Julie Hilton, who has over 30 years experience in compounding and natural skin care.  Julie personally suffers from chronic allergies and eczema.  She knows how important it is  for people who battle with debilitating skin conditions to reduce future breakouts  by maintaining the integrity of their skin and limit their exposure to irritating antigens.  Julie understood the frustration of  not being able to find products on the market to address important skin care ailments  and reached out to people by developing a 100% natural skin care product line to fill the void.
The Skin Free Skin Care Products are recommended for individuals with (quoted from manufacturer website):
* Extreme Dry Skin
* Skin or Fragrance Allergies
* Psoriasis
* Dermatitis
* Eczema
* Pregnant Moms
* Babies
* The Elderly
* Diabetics
* Renal Patients
* After Radiation or Chemotherapy
The products contain all natural vegan ingredients and are free from perfumes, petroleum, steroids, toxic chemicals, and colorants.  Furthermore, the Skin Free Skin Care Products are entirely cruelty free!
Julie contacted me and asked if I would be interested in reviewing some of the Skin Free products.  I agreed and she sent me the Skin Free Extra Moisturizing Soap, Whipped Tamanu Body Butter, and Niaouli Scrub for Blemish Prone Skin.
Product Description, and Ingredients
The Skin Free Extra Moisturizing Soap – 3.5 oz – $3.99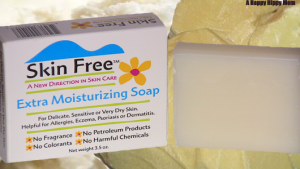 The Extra Moisturizing Soap is recommended for delicate, sensitive, or very dry skin.  It is helpful for allergies, eczema, psoriasis, or dermatitis.
The soap is enriched with extra virgin olive oil, which has been found to have anti-inflammatory properties, beneficial antioxidants, and vitamins that can promote healing, soften and soothe skin.  Moisturizing  shea and cocoa butters have also been added to reduce the tight and dry feeling normally experienced when using typical commercial soaps.
The rich, creamy lather leaves the skin feeling rejuvenated and fresh.  One of the many  great features of the soap is it can also be used as a conditioning shampoo without any greasy feel or look.  To prolong the life of the soap make sure to remove it from the shower and allow it to thoroughly dry after each use.
ingredients: Saponified oils of Cocos nucifera (coconut) oil, Elaeis quineesis (palm) oil, Olea europea (olive) seed oil, Butyrospermum parkii (shea butter) fruit, Theobroma cacao (cocoa) seed butter, Tocopherol (Vitamin E)
*Awarded the National Eczema Association Seal of Acceptance August, 2008
Skin Free Whipped Tamanu Body Butter- 8 oz – $18.99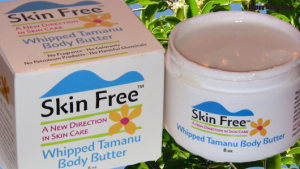 The whipped body butter contains a unique combination of Tamanu oil, Organic Extra Virgin Olive Oil, and Shea.
Scientists claim Tamanu oil possesses significant antimicrobial qualities.  Calophyllum tacamahaca (Tamanu Oil's botanical name) is said to be  a remarkable topical skin healing agent with anti-inflammatory, antibiotic, and  antioxidant properties.  French scientists also discovered the oil contains a fatty acid that stimulates skin growth!
The Whipped Tamanu Body Butter can be applied on the face or body.   Manufacturer suggests  using the body butter  to help sun-damaged skin, eczema, psoriasis, and to aid in the reduction of  scarring.
ingredients: water, Shea Butter, Tamanu Oil, Olive Oil, Sweet Almond Oil, Emulsifying wax, Stearic Acid, Grapefruit Essential Oil, Geranium Essential Oil, polyaminopropyl biguanide, potassium sorbate
Skin Free Niaouli Scrub for Blemish Prone Skin -4 oz – $15.99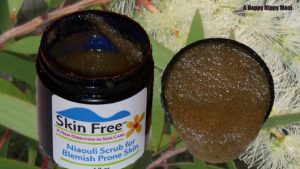 The natural scrub can be used daily or weekly to gently remove excess oil, minimize pores, and remove dull, dead skin cells.
The very fine cosmetic grade pumice gently exfoliates the skin while the Organic Macadamia nut oil and Organic Extra Virgin Olive Oil moisturizes.  The end result is a  healthier glowing skin appearance with fewer problem areas.
The Niaouli oil (Melaleuca quinquenervia) acts as a powerful stimulant and  antiseptic.  It is said to aid in the healing of acne and other skin conditions.  Niaouli has a slightly sweet, fresh aroma and is sometimes used in place of Tea Tree Oil for its more pleasant scent.
ingredients: Aqua (water), Olea Europea (Olive) Seed Oil, Macadamia terrifolia Seed Oil, Prunus amygdalus dulcis (Sweet Almond),Ricinus communis (Castor), Butyrospermum parkii (Shea butter) fruit, Melaleuca quinquenervia viridiflora (Niaouli) oil, Vanilla fragrance, Sodium Hydroxymethylglycinate, Sodium Hydroxide, and Sodium Borate.
Conclusion
My personal opinion about the three Skin Free Skin Care Products I tested is   they are wonderful. Why are they wonderful?  The products are all natural, effective, and extremely affordable.  I loved the way the products made my skin feel soft and refreshed!
My favorite out of the three items would have to be the Skin Free Niaouli Scrub for Blemish Prone Skin.  I've been using it for the last couple of days and love the way it makes my face feel after using it.  I happen to enjoy the scent of the Niaouli oil and the gentle exfoliation from the fine pumice.  I will be purchasing it  and adding it to my daily skin care regimen.
*Product  claims are based upon manufacturer product descriptions.  The opinions expressed in this review are of my own.  Other than the complimentary products for testing, no further compensation was received.
For some excellent skin care tips go here.
The Skin Free products are available at Walgreens and CVS!  You can also purchase Skin Free online at SkinFree.net or drugstore.com.
Learn more about Skin Free's new BOGO with Walgreens!  Buy product at Walgreens & Skin Free will send you a free product.  Click here for more information.
Skin Free offers FREE SHIPPING on orders of $25 or more!
WIN WIN WIN
Julie would like to give one of my readers a $30 virtual gift certificate to be able to try some of the Skin Free Skin Care Products for free!  To enter the giveaway please check out SkinFree.net and leave me a comment telling me what product you are most interested in trying.
Extra Entries
1.Mention the giveaway on your own blog linking back to this post and SkinFree.net.  Leave an additional comment with a link to where you blogged about the giveaway. This is worth 10 extra entries.  Make sure you leave ten separate comments. (example blogged extra entry #1, blogged extra entry #2, blogged extra entry #3, ect…)
2.Place my button on your blog and then leave an additional comment with a link to the page where you put the button. If you already have my button leave a comment letting me know you already have it.
3. Follow my blog and leave me an additional comment. ( There is a little widget on my sidebar that shows my followers. Just click follow). If you already follow leave me a comment letting me know you already do.
4. Follow me on Twitter and tweet about the giveaway. Please make sure you leave the link where you tweeted in your comment. TO INCREASE YOUR CHANCE OF WINNING I AM ALLOWING 50 TWEETS PER PERSON.  USE THE RETWEET BUTTON AT THE BOTTOM OF THIS POST FOR EASY ENTRY.

5. Subscribe to my feed and leave a comment. If you already subscribe leave a comment telling me you are already a subscriber.
6. Facebook, Digg, or Technorati this post and leave me TWO extra comments. ( At the bottom of this post you should see a bookmark button to make this an easy option.)
7.  Enter any of my other giveaways.  Leave me a comment telling me which giveaway you entered.  The giveaway must be still active in order to gain an extra entry.

A winner will be chosen at random via Random.org. Upon notification the winner has 72 hours to send me their contact information.  Upon receiving I will mail out the prize.
Open to US residents only 18+
The contest ends October 21st,  11:59 PM eastern