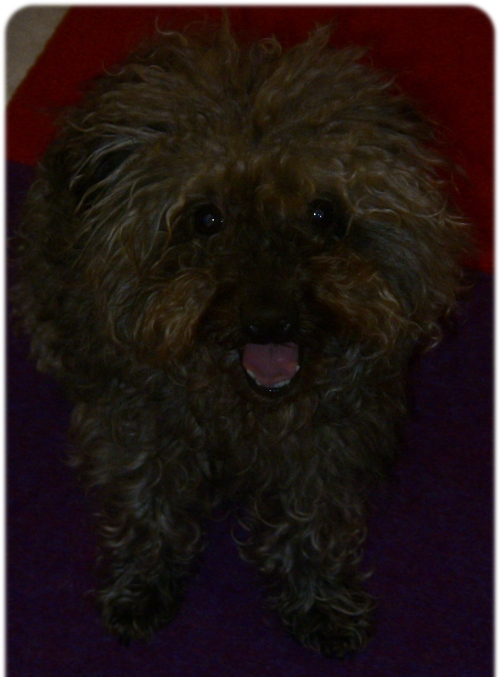 This is my dog Pepper. Don't let her big beautiful brown eyes cloud your judgment. If Pep could confess, she would tell you she is a piddle queen. She sometimes mistakes my rug for grass and decides it looks like a wonderful place to squat and relieve herself.
When my sweet breathable floor mop (the piddler) first entered my house (4 years ago) she was a screaming puppy peeing machine. With me being VERY inexperienced in how to handle life's little pet indiscretions, I used ammonia based cleaning supplies and caused her to re-visit the same spot on my rug. The more I cleaned—the more she would re-soil the area. I thought she was two kibbles shy from a full bag (clueless) and was destined to have extensive doggy training. By this time, I was completely frustrated and decided to research on successful methods of housebreaking a dog. During my fact-finding, I learned NEVER to use any cleaning products containing ammonia to clean pet urine. Apparently, ammonia smells like urine to pets and they will keep offending the same area.  I ended up throwing out my wool rug (wish I knew about Simple Green I probably could have saved it), because I couldn't get the smell out of it and she was constantly remarking the spot.  This is why it is important to only use a product formulated to clean pet messes!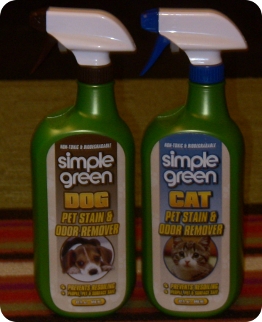 Simple Green Pet Stain and Odor Remover
Simple Green Dog Pet Stain & Odor Remover and the Simple Green Cat Pet Stain & Odor Remover are products made precisely to clean pet urine, feces, scent-markings, dirt, blood, vomit, and work on new stains or old ones.  The  pet cleaning solutions contain a special advanced "Fresh Bond Technology" which eliminates pet odors and prevents re-visiting.  They are powerful, but yet non-toxic and biodegradable making them people, pet, and surface safe.
Having a toddler who likes to play on the floor and innocent pets who sometimes lick or chew surfaces, it is extremely important for me to use cleaners that are safe but effective.  Simple Green gives me the peace of mind of knowing the areas are clean, and my loved ones are not exposed to severe toxins.
Even though the Simple Green products are people and pet safe,  it is still wise to avoid any unnecessary contact and wash hands thoroughly after use.
Where to use…
"Carpets, rugs, upholstery, pet bedding, litter boxes, crates & carriers, tile, finished wood, laminates, concrete, clothing, curtains & drapes, auto carpet & upholstery, sleeping bags, anywhere pet soils and stains occur!"
(*Just don't use on silk, velvet, leather, or suede.)
How to use…
"Assure color-fastness and compatibility – spot test on a small inconspicuous area of the surface to be cleaned before making full application. Remove any solid residue from surface, and blot up excess liquid. Shake container gently. Saturate soiled area with cleaner* and scrub gently with brush or cloth (*do not saturate wood or laminates – spray those surfaces lightly.) Leave on until dry (restrict traffic from area while drying.) Repeat if necessary. Application to older stains or those that have been previously treat with other products maybe require repeat applications. If cleaning carpet, once stain is gone and area is dry, vacuum to restore softness and even nap."
Pepper hasn't had any recent accidents since  I have received the products—thank goodness!  I did try the Simple Green Dog Pet Stain & Odor Remover on a small dirt spot  on my Olefin rug made by her paws after coming inside from running around in the dirt.  I sprayed a generous amount of the cleaner on the spot,  rubbed it out gently with a bristle brush, waited a while until the spot was almost dry, and then vacuumed over the rug to lift the nap.  Dirt was gone and the carpet smelled incredible.  I also used the cleaner to freshen up around her sleeping area.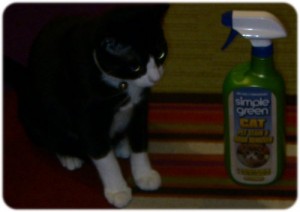 My dog is not the only odor offender in my house.  I also have two cats who share the same litter box.  Nothing to me is worse than the smell of an overused litter pan.  It permeates through the entire house,  and to me, makes my home feel unclean.  I've used other leading brands ( you know which ones) on the market to maintain the stinky box, but all they did was mask the smell and leave me with a high intensity fragrance along with the already potent urine odor.  I want a cleaning solution to eliminate the odor, not just mask it!
I really put the Simple Green Cat Pet Stain & Odor Remover to the litter pan test!  I dumped all the litter out of the pan, sprayed down the entire box with the cleaning solution, and wiped it dry.  The bad thing about plastic is sometimes no matter how much you clean it, it absorbs smells and stains.  I was really amazed how the box looked cleaner and actually smelled good!  The scent was strong, but not overpowering and I didn't even detect a hint of urine. The box is over a year old,  so this was terrific results.
With ease…

I can with ease recommend the Simple Green Pet Stain and Odor Remover products to anyone who has pets, but don't like the smell and mess that accompanies them!  Both products have a pleasant fragrance (the Simple Green Dog Pet Stain & Odor Remover has a slightly more concentrated scent), eliminate odors, prevent remarking, have great cleaning results, can be used in extraction machines for cleaning larger carpeted areas, plus are people and pet safe.  Give  the new Simple Green Pet Stain and Odor Remover products a try and let me know what you think!
The Simple Green Pet Stain and Odor Remover products are now available at Petsmart and Petco!
The Great Green Sweeps! Enter to win an HP Compaq 6735s Notebook PC and a one year supply of Simple Green household  cleaning products  here! (ends September 23, 2009)
Grab the Simple Green "Good News" e-newsletter to be the first to hear about what's happening at Simple Green.

Win Win Win
Simple Green would like to give one of my readers a chance  to experience the new Simple Green Pet Stain & Odor Remover for free!  To enter the giveaway please leave me a comment letting me know which one you would like to win (cat or dog) and what you like most about  Simple Green.
Extra Entries
1. Mention the giveaway on your own blog linking back to Simple Green and this post.  Leave an additional comment with a link to where you blogged about the giveaway. This is worth 10 extra entries.  Make sure you leave ten separate comments. (example blogged extra entry #1, blogged extra entry #2, blogged extra entry #3, ect…)
2. Place my button on your blog and then leave an additional comment with a link to the page where you put the button. If you already have my button leave a comment letting me know you already have it.
3. Follow my blog and leave me an additional comment. ( There is a little widget on my sidebar that shows my followers. Just click follow). If you already follow leave me a comment letting me know you already do.
4. Follow me on Twitter and tweet about the giveaway. Please make sure you leave the link where you tweeted in your comment. YOU CAN TWEET ONCE PER DAY TO INCREASE YOUR CHANCES OF WINNING.  USE THE RETWEET BUTTON AT THE BOTTOM OF THIS POST FOR EASY ENTRY.

5.  Subscribe to my feed and leave a comment. If you already subscribe leave a comment telling me you are already a subscriber.
6. Facebook,  Digg, or Technorati this post and leave me TWO extra comments. ( At the bottom of this post you should see a bookmark button to make this an easy option.)
7.  Subscribe to the Simple Green Newsletter for TWO extra entries.
8. Enter any of my other giveaways.  Leave me a comment telling me which giveaway you entered.
A winner will be chosen at random via Random.org. Upon notification the winner has 72 hours to send me their contact information.  Info will be forwarded to sponsor.

The contest ends September 21st, 11:59 PM eastern.
OPEN TO US
The winner must provide a street address, no PO
Boxes,  for prize to be shipped.