Have you tried the new Febreze Home Collection products yet? Thanks to Febreze and MyBlogSpark,  I was recently able to try several products of the new modern  collection.   I received a fantastic kit which included a packet with product information and images,  Green Tea & Citrus Flameless Luminary, three refill shades, Green Tea & Citrus Soy Blend Candle,  canister of Green Tea & Citrus Room Spray, and a Green Tea & Citrus Diffuser.
About the Febreze Home Collection Products
The Febreze Home Collection gives your home a refreshing atmosphere with its inspirational modern designs and unique premium scents.  Freshen your room with the herbal earthy and soothing scent of the Green Tea Citrus,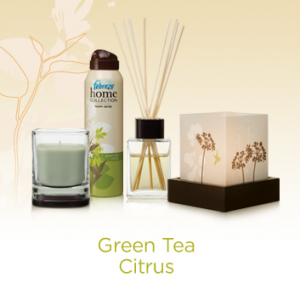 the invigorating fruity wholesome fragrances of the Pomegranate Mango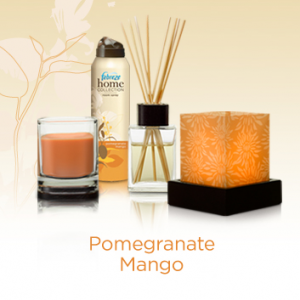 and tart Cranberry Pear,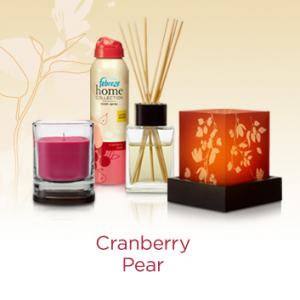 or add a breath of fresh air with the gentle aroma of the Willow Blossom.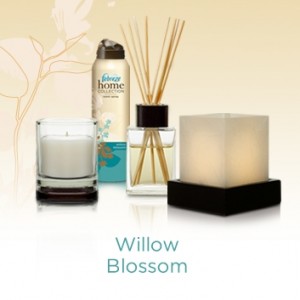 No matter what you choose, the Flameless Luminaries, Soy Blend Candles, Scented Reed Diffusers, or room sprays, the Febreze Home Collection will refresh your home and  welcome you with an enjoyable aromatic ambiance.
The Febreze Home Collection Flameless Luminary.
The Flameless Luminary happens to be my favorite product out  of the Febreze Home Collection.  It is powered by two batteries and the soft, flickering light automatically turns off after 4 hours. The Luminary has a wooden base and you simply change the shade to match your room decor or mood.  The manufacture recommends to change the shade weekly to refresh the scent.
I have a mischievous toddler running around who gets into EVERYTHING. The Flameless Luminary is much safer to have around him than a hot waxy candle.  I love that I can still get the feel of a warm inviting candle burning without the actual flame.
The Febreze Home Collection Scented Reed Diffuser.
The scented reed diffuser adds a fabulous stylish flare to a room and keeps an area fresh for up to 60 days.  The diffuser comes with 10 slender rattan reeds which absorb the scented oil and releases the fragrance into the air.
I placed the reed diffuser in my foyer to make a good first impression of my home.  The delightful crisp Green Tea Citrus welcomes my guests as they walk through my front door.
Febreze Home Collection Soy Blend Candle
The soy blend candle is slow-burning and lasts for 30 to 40 hours.  As the candle burns, the scented oils in the soy blend release their fragrance into the air giving a "premium scent experience."   It comes with a nice wooden lid which also works as a decorative base for the candle.
I'm using the candle in my kitchen to freshen the room from the lingering smell of my cooking.  Fish has a way of staying around for a while after cooking it and the candle takes away the odor. Plus, the soft glow of the candle looks beautiful displayed on my counter.
Febreze Home Collection Room Spray
With a few simple sprays you can enjoy the Febreze Home Collection premium scents in each room.  The Room Spray is easy to use and has a decorative stylish canister.
I know you may think this is to much information, but I have the Room Spray stored on the back of my commode.  This way after someone uses the bathroom they can easily refresh the room with a few spritz of the spray.
For more tips on how you can use the Febreze Home Collection to enhance your home check out www.walmart.com/febrezehomecollection .
(This product review was based on using complimentary Febreze Home Collection products provided by P&G. P&G does not represent or warrant the accuracy of any statements or product claims made here, nor does it endorse any opinions expressed within this blogsite.)
Product  claims are based upon manufacturer product descriptions.  The opinions expressed in this review are of my own.  Other than the complimentary products for testing, no further compensation was received.
Win Win Win
MyBlogSpark also sent me a $20 Walmart GC to give away so one of my readers can purchase and try the new Febreze Home Collection.  To enter the giveaway leave me a comment on how you would use the Febreze Home Collection to spruce up a room.
Extra Entries
1.Mention the giveaway on your own blog linking back to this post and Febreze.  Leave an additional comment with a link to where you blogged about the giveaway. This is worth 10 extra entries.  Make sure you leave ten separate comments. (example blogged extra entry #1, blogged extra entry #2, blogged extra entry #3, ect…)
2.Place my button on your blog and then leave an additional comment with a link to the page where you put the button. If you already have my button leave a comment letting me know you already have it.
3. Follow my blog and leave me an additional comment. ( There is a little widget on my sidebar that shows my followers. Just click follow). If you already follow leave me a comment letting me know you already do.
4. Follow me on Twitter and tweet about the giveaway. Please make sure you leave the link where you tweeted in your comment. TO INCREASE YOUR CHANCE OF WINNING I AM ALLOWING 50 TWEETS PER PERSON.  USE THE RETWEET BUTTON AT THE BOTTOM OF THIS POST FOR EASY ENTRY.

5. Subscribe to my feed and leave a comment. If you already subscribe leave a comment telling me you are already a subscriber.
6. Facebook, Digg, or Technorati this post and leave me TWO extra comments. ( At the bottom of this post you should see a bookmark button to make this an easy option.)
7.  Enter any of my other giveaways.  Leave me a comment telling me which giveaway you entered.  The giveaway must be still active in order to gain an extra entry.

A winner will be chosen at random via Random.org. Upon notification the winner has 72 hours to send me their contact information.  Upon receiving I will mail out the prize.
Open to US residents only 18+
The contest ends October 16,  11:59 PM eastern