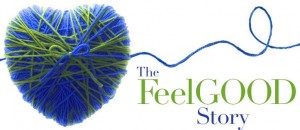 We are heading towards the time of year when the cold weather becomes a real hardship for homeless families.   The harsh conditions can be brutal and even deadly for the homeless on the account they lack the adequate clothing and shelter to keep themselves warm.
Lands' End has recently kicked off their FeelGood Campaign in the effort to bring some warmth to the homeless individuals and families across the country.  For every Lands' End FeelGood sweater purchased, the company will donate signature FeelGood yarn to One Heart Foundation's Warming Families, a nationwide knitting charity.   Lands' End anticipates to donate thousands of pounds of the yarn to the  charity where volunteers are preparing to knit up to 25,000 hats and other items to help keep the homeless warm.
"We appreciate the hundreds of volunteer knitters donating their time and talent for this great cause," said Susan Sachatello, Lands' End senior vice president of marketing. "By joining forces, we can all do something amazing by bringing warmth to thousands of those in need this season."
How You Can Help.
You can help by simply spreading the word about the campaign and  FeelGood Collection.  For every blog post made now until September 16th,   a sweet donation of a cone of FeelGood yarn will be given to volunteer knitters at the Warming Families.  One cone of FeelGood yarn is enough to make 28 hats to be donated to the homeless.  For me just donating a few minutes of my spare time  to whip up this post is going to make a difference to 28 people in need!  I LOVE it!
Another way to get involved  is by purchasing a sweater from the Lands' End FeelGood collection.  The sweaters are knitted with proprietary yarn that gives the soft feel like cashmere, but at affordable cotton prices.  There are a variety of sweater styles to choose from in the collection along with scarves, hats, and gloves in the beautiful autumn colors such as  Aztec Gold, Charcoal Heather and Iris.  Check out the FeelGood Collection here.
Are you crafty and know how to knit?  You can do more to help by knitting a hat or two!  Send your finished hats to a participating volunteer group in your area.  If you are looking for a pattern, Vickie Howell,  best-selling craft author, and well known host of the popular DIY Network's Knitty Gritty has designed two hat  patterns exclusively for Lands' End!  Download your  FREE FoolGood Beanie Patterns plus  Hat Tag and get busy knitting to spread some warmth!
Watch Vickie Howell's knitting "How Too" video which gives a detailed demonstration on how to knit a hat.

Upcoming FeelGood Twitter Party
Join Lands' End and Vickie Howell, host of TV's Knitty Gritty, for a Twitter Party to celebrate the kick-off the FeelGood Campaign! The party will feature more than 20 fun giveaways ranging from the FeelGood sweater and Vickie Howell's books to Lands' End gift cards and FeelGood yarn.
Lands' End FeelGood Twitter Party
Date:     Wednesday, September 16th
Time:     7:00 p.m. until 9:00 p.m. CST
Location:     #landsend