Not every night in the kitchen needs to be a meal extravaganza.  I like to take one evening out per week and make a simple dinner without the fuss of the usual complicated preparation.  I am a firm believer moms need a break once in a while and I take full advantage of products that give me the chance to sit back, reflect, and allot me some extra time to enjoy my family.
Myblogspark.com presented me with the opportunity to try a Wanchai Ferry frozen entree and I LOVE Chinese food,  so I accepted.  My first thought and reaction was to do a small investigation on the ingredients to make sure no monosodium glutamate (MSG) has been added to the food.  MSG is a flavor enhancer used extensively in Asian cuisine, but I happen to be sensitive to it and it causes me to have a splitting headache.  Magnificently none of the Wanchai Ferry entrees contain MSG.  YEAH!
The Wanchai Ferry entrees come in five appetizing flavors including Orange Chicken,  Shrimp Lo Mein,  Spicy Garlic Chicken, Sweet  & Sour Chicken and Sweet & Spicy Shrimp.  Each frozen entree has all the necessary ingredients to be able to prepare a delightful restaurant quality Chinese meal for two people in only 14 minutes!
I decided to sample the Sweet  & Sour Chicken.  The meal contained battered chicken breast pieces, pineapple, sugar snap peas, red peppers,  sweet & sour sauce, and jasmine rice.  The directions to make the  entree were uncomplicated and it can be prepared in a single skillet.   I went from this…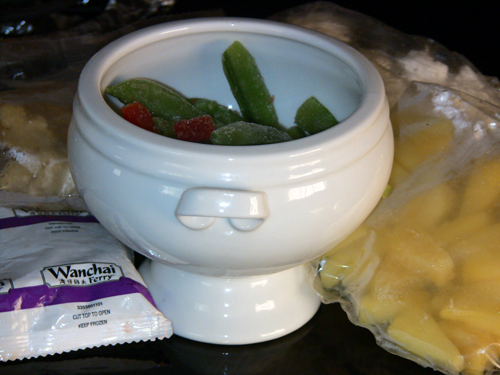 to…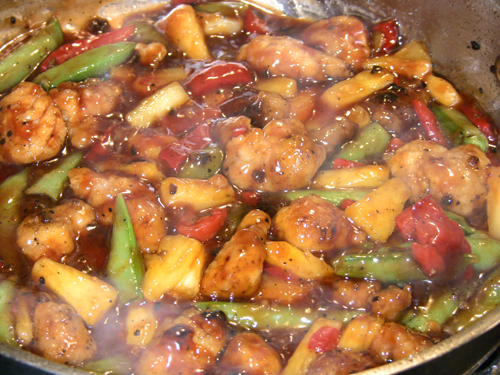 and this…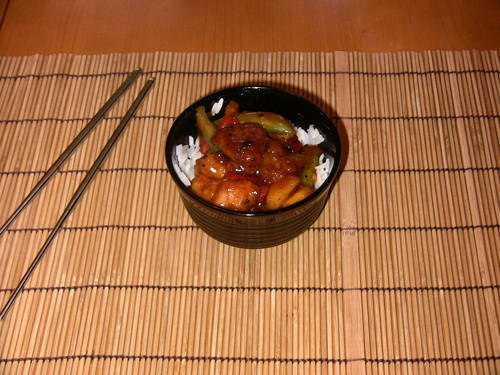 in about 14 minutes!  It was scrumptious!
Madame Chong's Story
The Wanchai (Wahn-chaye ) district is one of Hong Kong's busiest commercial areas. People from every part of Hong Kong society pass through—business people and laborers, shoppers and even commuters trying to get to the pier so they can take the Wanchai Ferry across Victoria Harbor to Kowloon.
In 1972, Madame Chong left her home in Central East China for a new life in the bustling city of Hong Kong. To support her two young daughters, Madame Chong began making dumplings from an old family recipe and selling them from a cart in Wanchai.
Although her dumplings attracted many fans, Madame Chong was not satisfied. She listened to her customers carefully and revised her recipes until they were perfect in every detail. Word soon spread across the city and her dumplings became the talk of the town. The Hong Kong press even named Madame Chong the city's "Dumpling Queen."
In 1985, Madame Chong established the Wanchai Ferry® Peking Dumpling Company to make her creations more widely available.
Since that time, Wanchai Ferry has become a leading brand not only in Hong Kong but the world over. Now people across Asia, Europe and even the United States can enjoy restaurant quality Chinese food in the comfort of their own homes.
SAVE  $1.50 off  Wanchai Ferry coupon!
For meal tips to enhance your Wanchai Ferry frozen entrée check out their website at: http://www.wanchaiferry.com/MealTips.aspx.
"Stay-At-Home" Prize Pack Giveaway!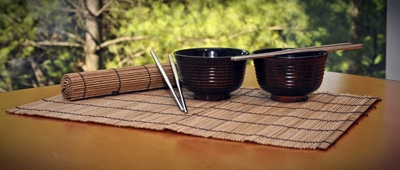 One lucky A happy hippy Mom reader will win a Wanchai Ferry "Stay-At-Home" prize pack that includes two coupons, Asian inspired rice bowls, chopsticks and bamboo placemats.  To enter the giveaway leave me a comment telling me which Wanchai Ferry meal kit you would like to try the most.
Extra Entries
1.Mention the giveaway on your own blog linking back to this post. Leave an additional comment with a link to where you blogged about the giveaway. This is worth 10 extra entries.  Make sure you leave ten separate comments. (example blogged extra entry #1, blogged extra entry #2, blogged extra entry #3, ect…)
2.Place my button on your blog and then leave an additional comment with a link to the page where you put the button. If you already have my button leave a comment letting me know you already have it.
3. Follow my blog and leave me an additional comment. ( There is a little widget on my sidebar that shows my followers. Just click follow). If you already follow leave me a comment letting me know you already do.
4. Follow me on Twitter and tweet about the giveaway. Please make sure you leave the link where you tweeted in your comment. YOU CAN TWEET ONCE PER DAY TO INCREASE YOUR CHANCES OF WINNING.  USE THE RETWEET BUTTON AT THE BOTTOM OF THIS POST FOR EASY ENTRY.

5. Subscribe to my feed and leave a comment. If you already subscribe leave a comment telling me you are already a subscriber.
6. Facebook, Digg, or Technorati this post and leave me TWO extra comments. ( At the bottom of this post you should see a bookmark button to make this an easy option.)
7.  Enter any of my other giveaways.  Leave me a comment telling me which giveaway you entered.

A winner will be chosen at random via Random.org. Upon notification the winner has 72 hours to send me their contact information.  Info will be forwarded to sponsor.

Open to US residents only 18+
The contest ends September  4th,  11:59 PM eastern